NTRA Top Thoroughbred Polls steady as bigger weeks near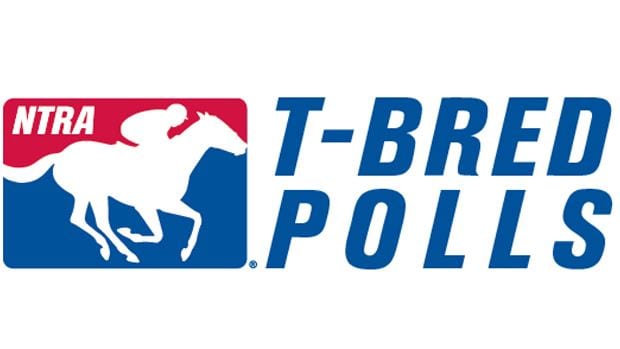 From a National Thoroughbred Racing Association release
The addition of Fasig-Tipton Holy Bull Stakes winner Harvey Wallbanger into the tenth position was the only change in this week's National Thoroughbred Racing Association (NTRA) Top 3-Year-Old Poll.
Champion Game Winner (28 first-place votes, 296 points) and stablemate Improbable (1 first-place vote, 235 points) remain in the 1-2 spots, respectively, with War of Will (209) third in advance of his expected run in Saturday's Grade 2 Risen Star Stakes at Fair Grounds. Mucho Gusto, stablemate to Game Winner and Improbable, is fourth with a single first-place vote and 179 points.
Instagrand (126 points) sits fifth followed by Hidden Scroll (99), Signalman (77), Gunmetal Gray (69), and Tax (51). Following an off-the-board effort during his seasonal bow in the Sam F. Davis Stakes, Grade 1 winner Knicks Go was dropped from the top 10 in favor of the Ken McPeek-trained Harvey Wallbanger, who garnered one first-place vote and 49 points.
The status quo held in the NTRA Top Thoroughbred Poll with no change in that top 10. City of Light, winner of the $9 million Pegasus World Cup Invitational, remained in the top poll position with 27 first-place votes and 279 points with champions Monomoy Girl (4 first-place votes, 217 points) and Roy H (200 points) second and third, respectively.
Battle of Midway is fourth with 178 points. Rounding out the top 10 are: Bricks and Mortar in fifth (149 points), Accelerate (143), McKinzie (119), Seeking the Soul (112), Sistercharlie (61) and Game Winner (46).
The NTRA Top Thoroughbred polls are the sport's most comprehensive surveys of experts. Every week eligible journalists and broadcasters cast votes for their top 10 horses, with points awarded on a 10-9-8-7-6-5-4-3-2-1 basis. All horses that have raced in the U.S., are in training in the U.S., or are known to be pointing to a major event in the U.S. are eligible for the NTRA Top Thoroughbred Poll.
The NTRA Top Thoroughbred Poll concludes November 4 after the running of the Breeders' Cup.
NTRA TOP THOROUGHBRED POLL
City of Light
Monomoy Girl
Roy H
Battle of Midway
Bricks and Mortar
Accelerate
McKinzie
Seeking the Soul
Sistercharlie
Game Winner
NTRA TOP THREE-YEAR-OLD POLL
Game Winner
Improbable
War of Will
Mucho Gusto
Instagrand
Hidden Scroll
Signalman
Gunmetal Gray
Tax
Harvey Wallbanger