Jocks Hiraldo, Rodriguez sentenced on drug charges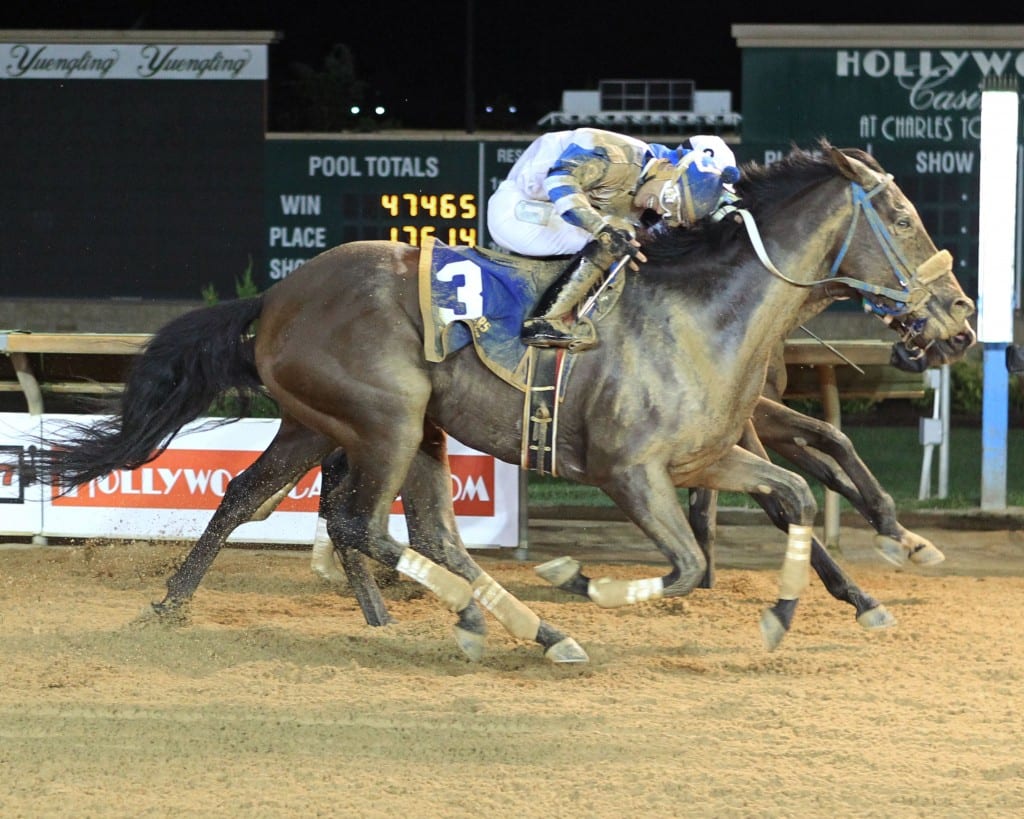 Charitable Annuity's win in the 2017 West Virginia Breeders Classic was one of nine stakes wins that year for jockey Christian Hiraldo. Photo by Coady Photography.
by Frank Angst, The Blood-Horse
The criminal cases for a pair of Hollywood Casino at Charles Town Races-based jockeys facing cocaine-related charges have been resolved.
As part of a plea deal, Christian Hiraldo entered a guilty plea to one count of simple possession of cocaine hydrochloride, a misdemeanor. On Dec. 6, U.S. Magistrate Judge Robert Trumble sentenced Hiraldo to time served. Hiraldo was ranked second in wins at the 2018 Charles Town meeting until he was summarily suspended July 19. He did not return to action until early September.
Hiraldo also had been charged with intent to distribute cocaine in his position. As part of an agreement with the U.S. attorney, more serious charges related to distribution were dropped in exchange for the guilty plea to possession.
Jockey Guillermo Rodriguez entered a guilty plea to aiding and abetting possession with intent to distribute cocaine hydrochloride, a felony. On Dec. 7, U.S. District Judge Gina Groh sentenced him to two years of probation.
Both jockeys are natives of Puerto Rico. According to Equibase, the 26-year-old Hiraldo's career record stands at 514 wins from 3,368 mounts, with earnings of $9,085,732. A year ago, he enjoyed his best season, winning 144 races, including nine stakes, and posting over $2.5 million in purse earnings. This year to date, he has 88 wins and about $1.4 million in earnings.
Rodriguez, 25, has ridden 265 winners from 3,123 starts for earnings of $5,143,794. Also suspended in July, he has not raced since.
The indictment alleged that on or about Jan. 25 in Jefferson County, W.Va., Rodriguez and Hiraldo, aiding and abetting each other, possessed with the intent to distribute a mixture and substance containing cocaine, a Schedule II narcotic.
Story provided as part of a content-sharing agreement with The Blood-Horse.