WV Racing Commission approves Charles Town stakes schedule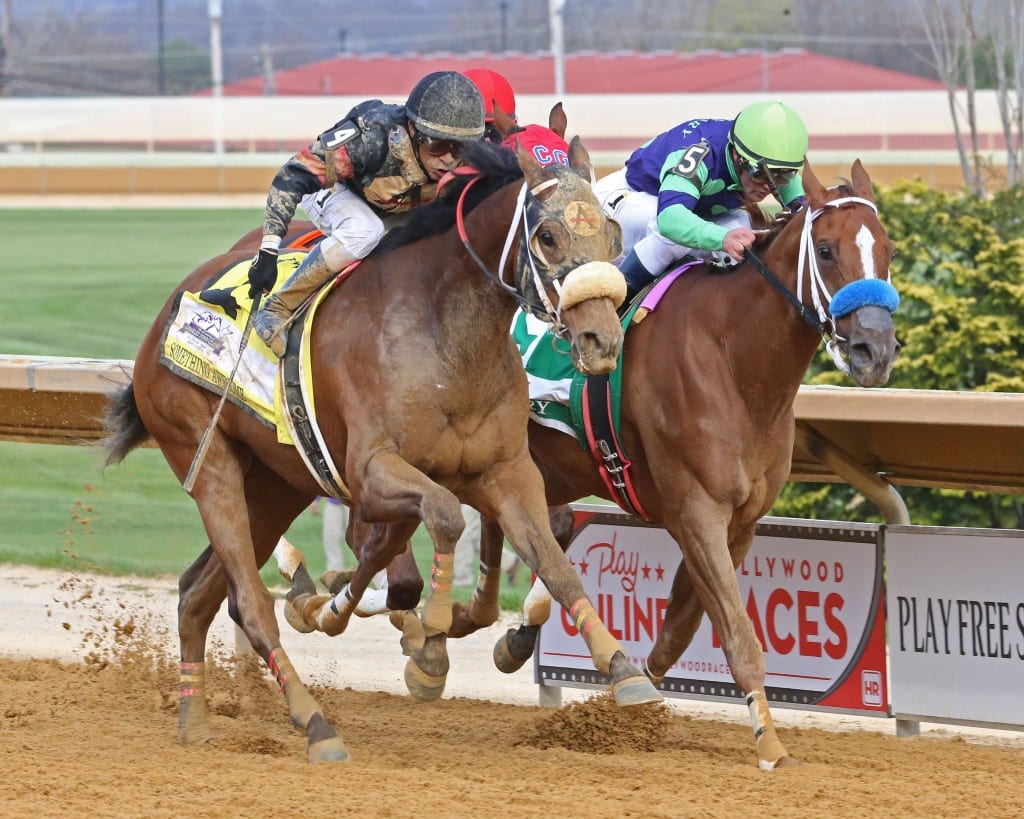 Something Awesome (#4, outside) was narrowly best in the Grade 2 Charles Town Classic. Photo by Coady Photography.
by Frank Vespe
A year ago, the West Virginia Racing Commission balked at Charles Town's proposed stakes schedule, Commissioner Ken Lowe's ire raised by the $1.2 million purse attached to the Grade 2 Charles Town Classic. The impasse dragged into the new year — and triggered the involvement of Governor Jim Justice (R) — before reaching resolution.
What a difference a year makes.
At its meeting Thursday morning, the three-member Commission voted unanimously to approve the track's proposed stakes schedule for 2019. That proposed schedule includes a $1 million purse for the Classic — down from $1.2 million a year ago but far above the $300,000 that Lowe had last year suggested.
"We're very pleased," said Charles Town Vice-President of Racing Erich Zimny. "I don't think anyone wanted a repeat of last year, when it got protracted, and we're thankful to the Racing Commission for passing the schedule like it did."
The track's horsemen, represented by the Charles Town Horsemen's Benevolent and Protective Association, submitted a letter agreeing to the stakes schedule, commissioners said.
The approval includes all of the non-West Virginia-bred stakes for 2019. In addition to the Classic, those include the Dance to Bristol (fillies and mares four-years-old and up, 7 furlongs), Robert Hilton Memorial (three-year-olds, 7 furlongs), Russell Road (three-year-olds and up, 7 furlongs), Grade 3 Charles Town Oaks (three-year-old fillies, 7 furlongs), and Misty Bennett Pink Ribbon (fillies and mares three and up, 7 furlongs). The first three of those, along with the Classic, will take place April 20.
The list also includes a new race, named in honor of longtime Charles Town general manager of racing Dickie Moore. The $100,000 Dickie Moore Stakes will take place on the Charles Town Oaks undercard September 21 and be contested by two-year-old fillies at a distance of seven furlongs.
Lowe, who led the opposition to the stakes schedule a year ago, this morning was the one to move its approval — though he did so, he said, with some misgivings.
Claiming that a Nobel Prize laureate receives only $700,000, he said that, "One million dollars is a lot of money for one race."
Nevertheless, he added, "I'm looking to continue the live racing at Charles Town and breeding. Charles Town is in my backyard. I want it to continue. I want it to be prosperous."
Commissioner Anthony Figaretti sounded a similar note.
"We're okaying $1 million for one race," he observed. "Was it successful [in 2018]? The figures I looked at, no."
But Charles Town officials maintain that the large purse is necessary to draw high-quality fields to Charles Town, and they point out that the winners of both New York-based Breeders' Cup Classic "Win and you're in" races — Jockey Club Gold Cup victor Discreet Lover and Whitney champ Diversify — raced in the 2018 Charles Town Classic.
Classic day annually provides Charles Town's largest one-day wagering handle. Classic day handle in 2018 topped $3.3 million — about $2 million more than it had done the prior Saturday. And it serves as the track's year-round calling card to simulcast bettors.
The advent of the Dickie Moore Stakes is one partial response to commissioners' concerns.
"We wanted to take some of the things from the debate last year into account," Zimny said in an interview, adding, in a release, that the race "should fit in a good spot on the calendar within the region. And to name it after Dickie who has contributed to and meant so much to not only the track but this community for such a long time is both fitting and appropriate."
Commission chairman Jack Rossi, who said he agreed with the concerns other commissioners raced, added, "I encourage [the track and horsemen] to continue to be innovative."
Added Lowe, "Let's all work together to make this process continue… We're not going to lose racing."