Belial tabbed as Maryland Juvenile Filly Championship favorite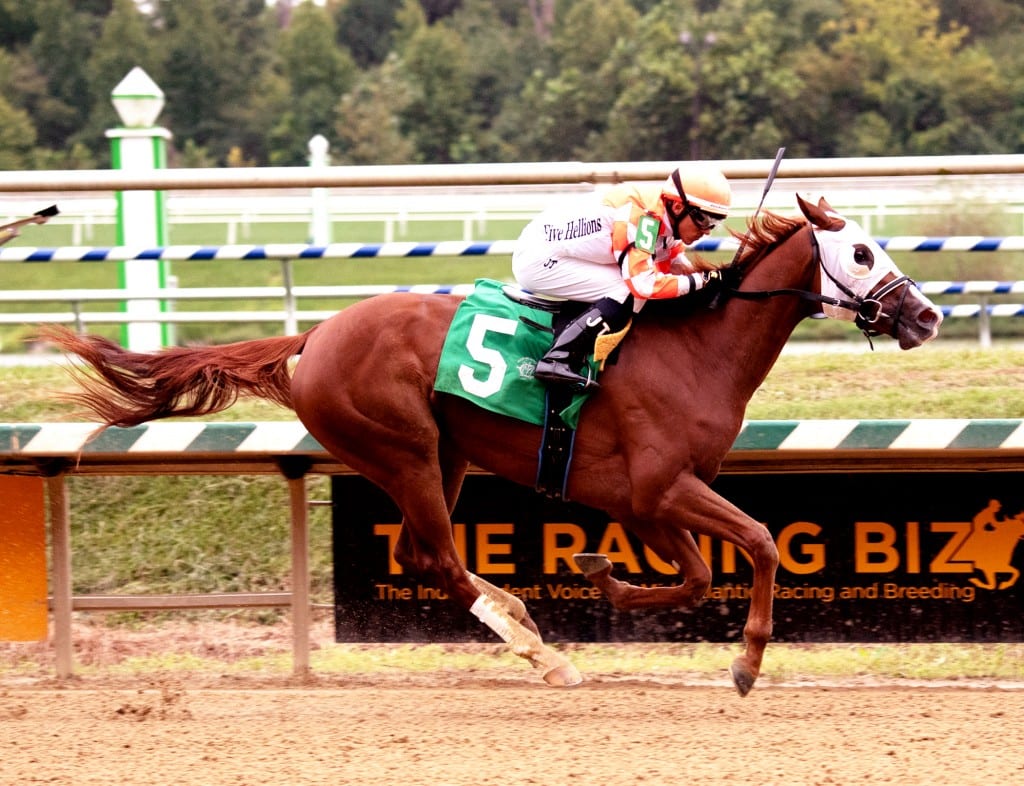 Abbo is 8-1 on the morning line. Photo by Jim McCue, Maryland Jockey Club.
From a Maryland Jockey Club release
Having won the $100,000 Maryland Juvenile Filly Championship last December with another daughter of Freedom Child, trainer John Salzman Jr. will be looking to make it two in a row with streaking filly Sip of Sunshine.
Owned by Salzman's wife, Marla, Sip of Sunshine will be making her stakes debut in the Juvenile Filly Championship off three consecutive wins by six combined lengths, all at Laurel, going both 5 ½ and six furlongs. She finished fifth in her first two races before running second in a four-furlong maiden claimer Aug. 31 at Timonium that preceded her streak.
"It took her a little while. None of her races are bad; she's run good from the time I started running her," Salzman said, "but, she's just matured now and filled out and is turning into a pretty nice filly. She's done everything I've asked of her, lately anyway."
Limited View won last year's race for Salzman, clinching Maryland-bred champion 2-year-old filly honors. Salzman feels Sip of Sunshine could be on a similar track, despite more humble beginnings. Consigned to Fasig-Tipton's Midlantic Winter Mixed Sale in January 2017, she failed to meet her $1,000 reserve.
"I bought her out of a field. A guy had her out in the field and somebody had given her to him to I guess keep his foal company," Salzman said. "I went to the sale and I just happened to run into the guy. We were talking about Freedom Child and he said, 'I got one out in the field. Come look at her.' So, I went out there and looked at her and bought her. She was a late foal so everybody was laughing at her because she was a little, small-looking thing and I said, 'You laugh now, but when she grows up you ain't gonna laugh.'"
"I had a Freedom Child win last year and hopefully this filly might be a champion, who knows? We'll see," he added. "She's turning into quite a little filly. She's not a real big, strong one like Limited View but she's my kind of horse – compact, speedy and all muscled up now. She's a very pretty filly."
Trainer Cal Lynch will send out Belial, a daughter of Tritap he co-owns with Norah B Stable. Also with seven starts behind her, Belial has finished first or second in her last four including a seven-furlong optional claiming allowance win Nov. 17 that followed a runner-up finish to My Star Potential in the Maryland Million Lassie.
"Belial came out of that allowance race really well. The seven-eighths suits her. I think the further she goes, the better. It just so happens it's seven furlongs again in this race," Lynch said. "There's a couple nice fillies in there, but she's doing well. She's getting stronger and stronger and her numbers are going in the right direction. We expect her to run her race again."
Make Family First Stable's Money Fromheaven will test stakes waters for the first time, coming off a 1 ¼-length waiver maiden claiming triumph moved from the grass to the main track at one mile. Each of her last four races have come off the turf, and she has finished worse than third just twice in seven starts.
"Every time I've put her in it's been on the grass because that's what she's bred for, but she's been running well enough on the dirt, too," trainer Hamilton Smith said. "She hasn't run a bad one yet. I don't know how good she is but we're going to take a little bit of a shot. We were going to give her some time off but we figured we'd try her one time against the Maryland-breds in the stake and see how it goes, so that's what we're doing. She likes a little route of ground. She's a little, tiny thing and you wouldn't think she would but with this race being seven-eighths, I thought it'd be a little bit of a better shot, too."
Rounding out the field are Abbo, Like a Pro, Nine Martinis, No Mo Lady, Past Perfect, Questionoftheday Waiting for a Star.