With bolstered Midlantic operation, owner Bob Bone making his presence felt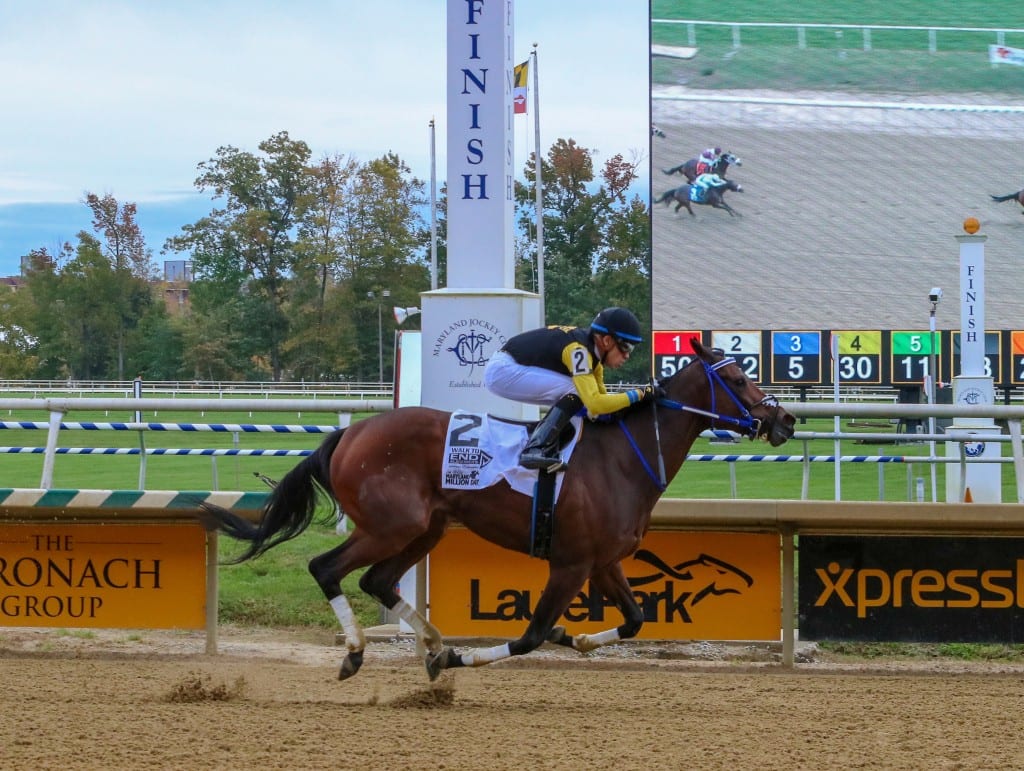 Hashtag Selfie won a Maryland Million starter handicap for owner Bob Bone. Photo by Dottie Miller.
by Doug McCoy
The owners in thoroughbred racing aren't often in the spotlight, though they basically bankroll the business. The old joke – that the way to make a small fortune in horse racing is to start with a large fortune – has been proven true countless times over the years.
Bob Bone is a claiming horse owner, a category whose ranks are shrinking in these days of higher costs and limited opportunities, and he's been making some noise in the Mid-Atlantic.
"It's not easy, that's for sure," Bone said by phone from Del Mar this week. "With the decrease in yearly foal crops it means there the horse population is smaller and there are fewer attractive opportunities to claim. Any horse whose pps look good gets claimed, then claimed again, then claimed again."
By his own account, Bone has owned horses either in partnership or on his own for some 30 years. A lifelong fan of the sport, Bone spent his summers as a youth selling ice cream at Saratoga and had always been an avid handicapper. When he achieved success with a string of car dealerships in the Sacramento, CA area, Bone got into the game as an owner, concentrating on making shrewd claims of horses he perceived as having potential.
He struck gold in 2004 when he put up $40,000 for trainer Jeff Mullins to claim a horse named Choctaw Nation out of a maiden race from trainer Bruce Headley. Choctaw Nation went on to win the Grade 2 San Diego Handicap twice, run third in the Dubai World Cup to favored Roses  in May, and earn more than $1.1 million.
He has won as many as 156 races in a single season (2005) and has had as many as 70 horses in training. But he's also had a year, 2011, when he won just once, and he's seen his stable dwindle to just a single runner.
In short Bob Bone has seen it all when it comes to owning and racing thoroughbreds and has managed to survive in a business that has claimed more than its fair share of owners, many with more money available than Bone. Since 2000 his horses have won at better than a 25 % clip and have earned some $18.8 million.
"I take a little different approach than a lot of owners," Bone explained. "I guess you could say I take a more active approach when it comes to the horses I claim and run. I put a lot of time into watching races and replays and I try to get every bit of information I can about a horse when I'm thinking about claiming one. Then I talk it over with my trainer to see what they know and what they think about the horse in question. When it comes right down to it, I leave the final decision up to the trainer. If they see something they don't like or just don't think claiming a certain horse is a smart move, then we pass. After all, they're the ones who have to work with the horse."
Though he is based in California, Bone has had a growing presence in the mid-Atlantic region. He won three times at Delaware during that meeting and has won with seven of 15 starters at Laurel Park during the fall stand.
"There were a couple of reasons," the owner pointed out. "First was economics. In the depths of the recession I was down to just one horse. When I was able to put more money into the business and get more horses I took a good, hard look at the economics of the business. It costs approximately $50,000 to own and maintain a horse on the Southern California circuit whereas expenses for a horse in Maryland or other states in the Mid-Atlantic runs around $40,000."
Bone said he was also attracted to what was happening in Maryland.
"When the Stronach Group took over in Maryland, you could see things begin to turn around there, and racing has continued to improve and generate more revenue, which means bigger purses," he said.
And, he added, having a bunch of racetracks within driving distance of each other doesn't hurt.
"But one of the biggest reasons why I wanted to race in this region was the flexibility of being able to run at five or six different tracks within reasonable distances from one another," Bone said. "I'm a condition book junkie, you could say. I love to pore over the books from different tracks trying to find spots for my horses. With the different tracks and the state-bred incentives you can sometimes find a spot or a condition that fits a horse at one track or another. In Southern California it's like racing on an island. You either run there and claim there or you don't run. I love California, but it's a tough place to be an owner who runs claiming horses."
With all his involvement, Bone says that one key is to be hands-on where it makes sense – and hands-off where that makes sense.
"I really take an active part in the selection of who we claim and where we run them but I leave the training to my trainers," he said. "They know what they're doing and I'm lucky I've got people like Claudio Gonzalez, Danny Velazquez and Mike Gorham handling my horses. They're all top-flight horsemen who know what they're doing and they know how I operate."
Bone's Maryland runners have had a good year in 2018. He won eight races from 30 starters at the winter meeting at Laurel, captured six races from 22 starts at the summer meet and thus far at the fall meeting he has seven winners and a pair of seconds from 15 starters. All told, he has won 21 races from 77 starts in the Free State this year.
Bone said he loves the business and has since he was working summers at Saratoga while attending Oswego State University. It's a gift that keeps on giving.
"Racing has enabled me to have some of the greatest experiences of my life," he recalled. "Going to Dubai twice to race in the World Cup was very special then having a horse I owned (Bad Student) win at Saratoga where I used to sell ice cream was a huge thrill. Unfortunately I wasn't able to be there in person but it was still a very big day for me. I think with racing in Maryland getting stronger and sports betting at the tracks boosting purses it can only help owners. We (owners) understand you don't get in the business thinking you're going to make a living or make a lot of money from your horses. I was one of the lucky ones who has had 'the big horse,' but a lot of owners never get that lucky. They're in the game because they love it, and they love their horses. Changes and difficulties notwithstanding, it's still a great game to be part of."