Afterthought Scottish Man moves to head of Casey class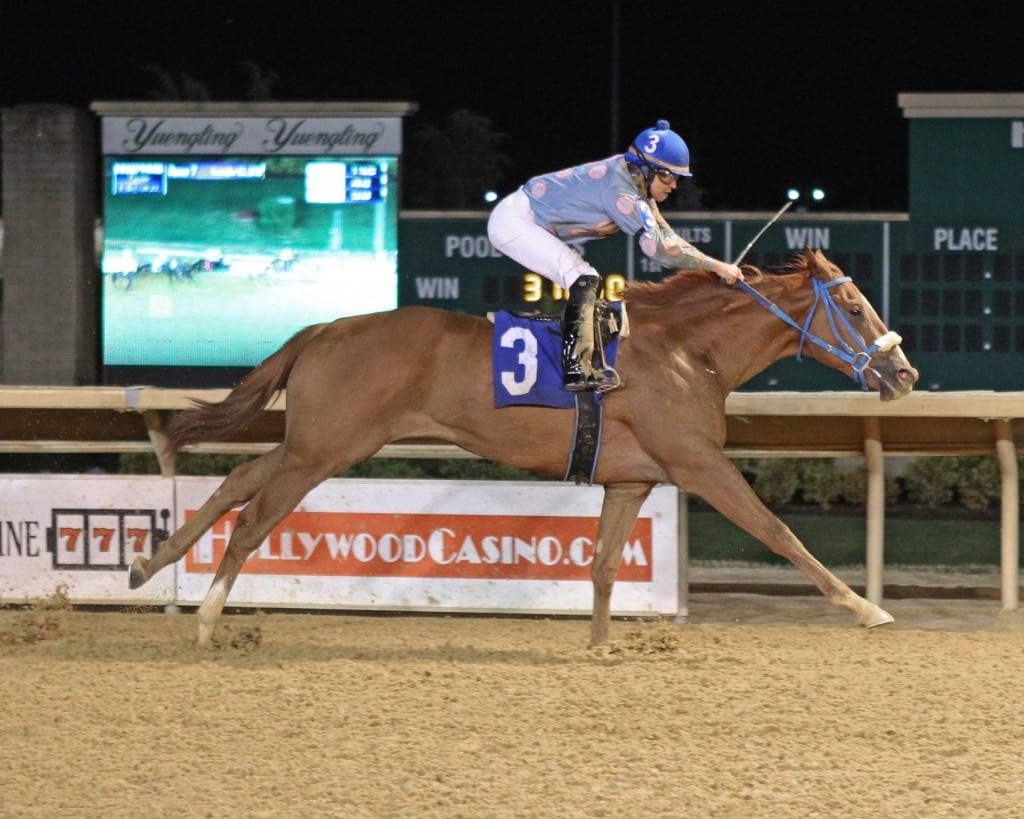 Scottish Man. Photo by Coady Photography.
by Ted Black
Heading into the November 3 edition of the $50,000 West Virginia Futurity for state-bred two-year-olds, trainer James W. Casey fully expected his homebred, Midday Man, to upend the undefeated Burnin Ring O Fire.
As for his other entrant, Scottish Man, Casey's expectations were, let's say, quite a bit more modest.
"I just dropped him into the race just to make sure it would fill," Casey said of Scottish Man, who nevertheless powered home 1 ¾ lengths clear to notch his second win in four starts and push his career earnings to nearly $56,000 with his West Virginia Futurity triumph. "Honestly, I thought my other colt [Midday Man] was going to win. He had run a big race in the [Vincent Moscarelli] Breeders Classics and had some trouble that night, so I thought he was sitting on a big race. Just goes to show you that you never really know in this business."
Like many who overlooked Scottish Man, sent out at 12-1 in the compact field of five, Casey was surprised by the outcome. Midday Man led the field briefly but was eventually overhauled by Scottish Man, who covered the seven furlongs in 1:27.73 to prevail over his stablemate in his stakes debut while Burnin Ring O Fire finished a nondescript fourth as the odds-on choice for trainer Ollie Figgins, III.
Scottish Man and Midday Man, now second in each of his two stakes outings after graduating at first asking on September 28, gave Casey his second consecutive one-two finish in the West Virginia Futurity. In 2017 it was the late filly, Bound To Windsor, who overhauled William and Mary in the lane to capture the faster division of the split West Virginia Futurity.
"You know, from 1988-2000 me and my son, John [A. Casey], won the race a total of nine times," Casey remarked, including the 1991 edition with Coin Collector, who would return to win the West Virginia Breeders Classic the next two years for owner-breeder John A. Casey. "Then, for at least the next 15 years we never won it. We had some good horses in there, but we always seemed to be second or third best. Of course, a lot of the horses like Russell Road and Charitable Annuity got really good at [ages] three and four."
Casey noted that Charitable Annuity, the Classic hero in 2015 and 2017, is currently at his Taylor Mountain Farm recovering from a hind ligament injury and seems unlikely to return to the races again. Casey's talented homebred, William and Mary, who was never made eligible to the WV Breeders Classics, is also on the farm recovering from a mild injury but is expected to return next spring for a four-year-old campaign. Both of his two-year-olds, Scottish Man and Midday Man, while sound, should soon be joining them.
"There might be another race for Midday Man in the fall, but he and Scottish Man have both done well for me this year," Casey said. "I was disappointed William and Mary had to be turned out. I thought he was going to be really good this year. When he started training at two, he was ahead of Russell Road and Charitable Annuity. I was sick to find out that I had never made him eligible to the Breeders Classics. I will consider supplementing him [at a fee of 10 percent] if I think he's going to be the favorite in that race. In the spring, I thought he was heading in that direction."
One year after Casey's Bound to Windsor toppled the boys to capture the West Virginia Futurity and then ended her freshman campaign with a victory in the $50,000 Eleanor Casey Memorial for state-bred two-year-old fillies, a race named in honor of Casey's late wife, the longtime local owner-breeder-trainer admitted his current juvenile filly group is somewhat thin on talent. Several of them will make their career debuts in maiden special weight events this month.
"You know, I only had 14 two-year-olds this year and my colts were far ahead of my fillies," Casey said. "I've got a few scheduled to run for the first time this week and again next week, but I really don't think they're much. I'm hoping one or two of them surprises me, but at this point I really don't see any of them doing much this year. I may not even have anything to run in Eleanor's memorial race this year. But I'm hoping at least one of them proves me wrong and can go in there."