Breeders' Cup: Ladies weekend as fillies steal the show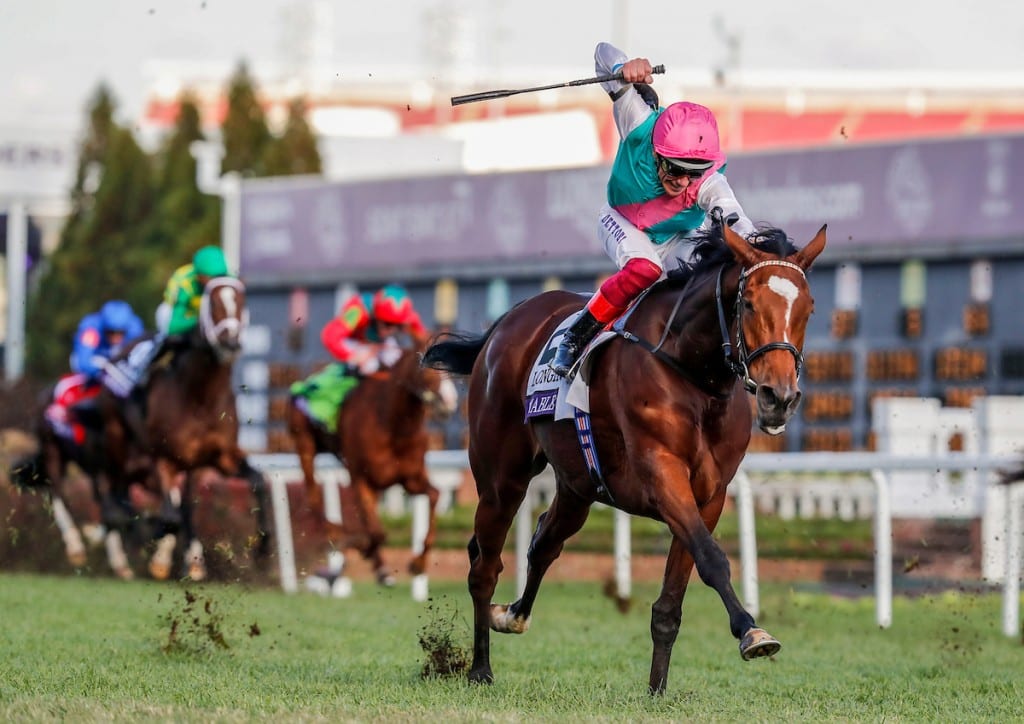 Enable, with Frankie Dettori up, proved best in the Breeders' Cup Turf. Photo by Eric Patterson/Eclipse Sportswire/CSM
by Frank Vespe
Plenty of colts and geldings ran in Breeders' Cup races this past weekend. But make no mistake: this year's Cup was Ladies Weekend at Churchill Downs.
Fillies stole the show early, late, and in between. Indeed, while Accelerate won the biggest race, the $6 million Classic, Saturday's most lasting image — which also captured its best performance — will be of the two fillies who routed their male rivals and slugged it out to the wire in the $4 million Breeders' Cup Turf.
The British-bred Enable won that tussle, wearing down Magical — a three-year-old Irish-bred filly — to win the event by three-quarters of a length. It was nine more lengths back to late-running Sadler's Joy in third — nine more lengths. The victory made Enable, a four-year-old daughter of Nathaniel owned and bred by Juddmonte Farm and trained by John Gosden, the first horse to complete the Arc de Triomphe-Breeders' Cup Turf double.
"I think the sort of most important thing is to at least sit back and just enjoy this," said Lord Teddy Grimthorpe, racing manager for Juddmonte. "We tend to sort of move on far too quickly. Really the enormity of this, for the whole team, it's been so emotional. She has created those emotions within us all, especially within Juddmonte."
How good a performance was this? In the final quarter-mile, through which the two fillies sped in 25.10 seconds, they gained more than seven lengths on every other horse in the field. It was clearly the best performance of the two-day event, and their flying finish contrasted sharply with Accelerate's laboring, 27-second final quarter mile in the Classic.
Enable is one of just eight horses to win multiple runnings of the Arc, the prestigious French Group 1 race, and now is the lone Arc winner to take the Turf in the same year. But she was hardly the only filly to star during the weekend.
Saturday's results also included stellar performances from, among others, Monomoy Girl and Sistercharlie. The former, trained by Brad Cox, completed a banner 2018 in which she won six of seven starts — the lone defeat coming via disqualification in the Grade 1 Cotillion at Parx Racing — with a smashing victory in the Distaff in which she was the only horse in the early vanguard to finish in the top three and had plenty in reserve to hold off the closers. It was Monomoy Girl's fifth Grade 1 win of the season.
"You know, I don't think it struck me how good she was until the Coaching Club this summer and the way she just went around there," said Michael Dubb, one of Monomoy Girl's four-headed ownership group. "Then I realized maybe this is one for the ages, not just a champion but one for the ages."
Sistercharlie, who closed with a late rush to win the Filly and Mare Turf by a neck, enjoyed a similarly productive 2018. She won four of her five 2018 outings, and oddly enough, all of her wins — but not her lone defeat — came in Grade 1 company.
This year's Breeders' Cup kicked off with the newly christened "Future Stars Friday," which featured five events for juveniles. (Parenthetically, why do we need a Turf Sprint for juveniles? Are there not enough opportunities for young horses to sprint? I mean, c'mon, man…)
Friday, not unlike Saturday, belonged to the distaff set.
The performance of the day came in the Juvenile Fillies Turf and it came from Newspaperofrecord, an Irish-bred daughter of Lope de Vega trained by — who else? — Chad Brown. With Irad Ortiz, Jr. up, Newspaperofrecord simply ran her baker's dozen worth of rivals off their feet, setting a solid early tempo over yielding ground before drawing away to win by nearly seven lengths. Newspaperofrecord's final time for the mile distance was 1:39 flat — just over a second faster than that recorded by the juvenile boys two races later in the Juvenile Turf. She zipped the last quarter-mile in 25.25 seconds — quite a bit faster than it took the colts and geldings, who closed in 26.46 seconds.
It was, all in all, an absolutely dazzling performance.
"She showed her class today," the typically understated Brown said. "She's up there with one of the best. She's a remarkable talent."
Not to be outdone in outdoing the boys, Jaywalk turned in a similarly strong effort in winning the Juvenile Fillies by over five lengths. The John Servis trainee's running time for 1 1/16 miles on a fast main track was 1:43.62 — five-hundredths of a second faster than that turned in by Juvenile winner Game Winner.
"It has to be at the top of our experience as owners and breeders. We were overwhelmed and thrilled to be able to be here and win," said Lois Green, who with her husband Leonard and son Jonathan comprises Jaywalk's co-owner D J Stable. Cash Is King LLC is the other half of the ownership group.
Of course, whether Friday's fillies will go on to join Saturday's stars — or even those that belong to the ages — is a question for Breeders' Cups yet to come. What isn't in question is that in Breeders' Cup 2018, the boys were fine — but the fillies stole the show.