Breeders' Cup Day 1: Jaywalk, Midlantic-connected runners thrive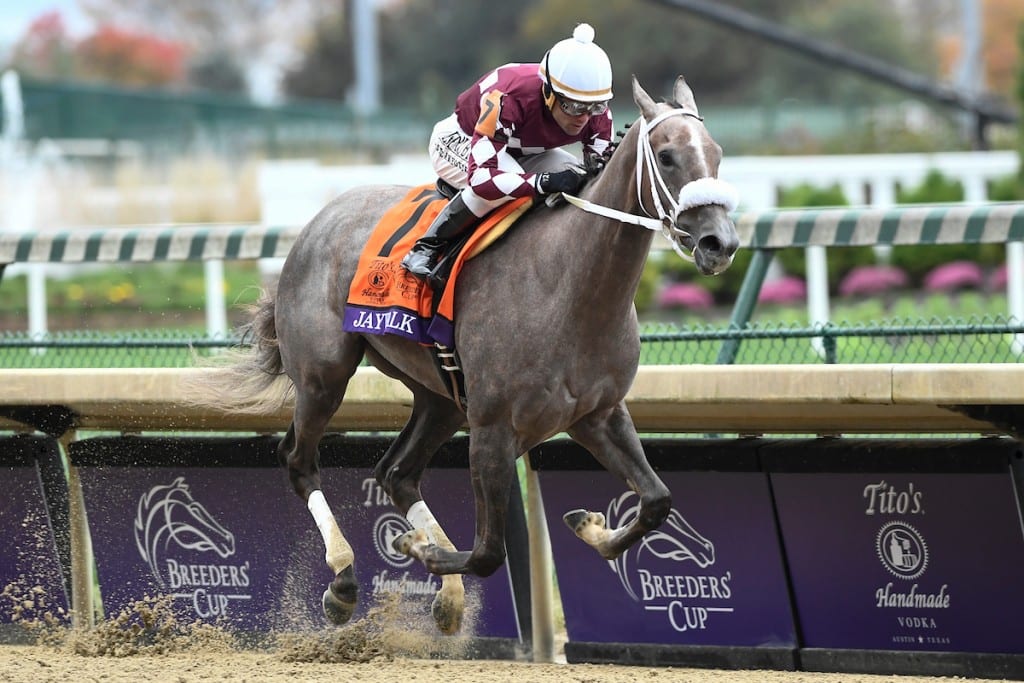 Jaywalk wins the Juvenile Fillies. Photo by Eric Patterson/Eclipse Sportswire/CSM.
by Frank Vespe
In a running of the Breeders' Cup Juvenile Fillies that seemed to have plenty of early speed, Jaywalk proved to have the most of all.
The two-year-old daughter of Cross Traffic simply ran 'em off their feet en route to a 5 1/2 length victory — and she led a procession of runners with mid-Atlantic connections who ran big on opening day of the two-day World Championships.
JAYWALK DOMINATES JUVENILE FILLIES
Parx-based Jaywalk began her career at Monmouth Park, broke her maiden at Parx Racing, earned her first stakes win at Delaware Park — and now, after Grade 1 wins in the Frizette at Belmont Park and the Breeders' Cup Juvenile Fillies Friday afternoon at Churchill Downs, the world is her oyster.
Jaywalk surges to White Clay Creek victory
Trained by John Servis, Jaywalk, a daughter of Cross Traffic, is owned by Chuck Zacney's Cash is King LLC and the D J Stable LLC operation of husband and wife Leonard and Lois Green and their son Jonathan. Servis had picked out the horse for $190,000 at last fall's Keeneland September yearling sale.
In her Frizette score, Jaywalk had zipped right to the lead and dazzled while setting a stakes record. But in her prior race, the White Clay Creek at Delaware Park, she had stalked the pace before running on late. With plenty of speed signed on today, that seemed to be the play.
For Jaywalk, Glorious Empire, Breeders' Cup bids began with Delaware wins
"I was looking for a big effort from her, but I didn't expect for her to go to the lead again," Servis said. "I really thought there was enough speed in here that she'd probably be sitting off it a bit. But, Joel (Rosario) said when she left the gate, he knew right then she had running on her mind. And, he just took it from there. Once she got the front, she started flicking her ears and looked nice and relaxed."
Jaywalk and pilot Joel Rosario grabbed the lead early and never looked back, pulling away to a 5 1/2-length win while stopping the timer in 1:43.62 — slightly faster than the juvenile boys did it a couple of races later.
Jaywalk now has four wins from five starts and earnings of nearly $1.4 million — and probably will be able to put an Eclipse Award on her shelf in a couple of months.
It was the first Breeders' Cup win for trainer John Servis, who achieved his greatest fame when winning the 2004 Kentucky Derby and Preakness with Smarty Jones.
UNCLE BENNY NEARLY PULLS TURF UPSET
One race later, John Servis' brother Jason nearly pulled the upset with his juvenile turfer Uncle Benny — an 8-1 shot who put his head in front late but could not quite second betting choice Line of Duty.
Jason Servis arrives with an entourage
In fact, had Uncle Benny managed a cleaner trip, he likely would have gotten the money in the $1 million test.
Under Irad Ortiz, Jr. Uncle Benny bobbled early and lagged in the rear third of the field early and managed to pick his way forward while inside until mid-turn — which is where the action began. He lost momentum then while steadying near the quarter-pole, regrouped, then tipped off the hedge and bumped a rival while trying to find running room, finally did secure a spot, made steady progress but was involved in two more bumps — one with tiring leader Somelikeithotbrown and another with surging eventual winner Line of Duty — before finishing second.
Ortiz, aboard Uncle Benny, filed an objection with the stewards who, after lengthy consideration, dismissed it. That left the order of finish as is: Line of Duty-Uncle Benny-Somelikeithotbrown.
"It looked like he banged him pretty good," Jason Servis said. "I got beat a neck. But my dad was a steward for 40 years, and you've got to respect their opinions."
Uncle Benny, who won the Futurity in his second start now has two wins from three starts and earnings of $274,100. The Declaration of War colt is owned by Beach Haven Thoroughbreds LLC, who paid $185,000 for him, and spent his summer at Servis' Monmouth Park base.
KNICKS GO NEARLY DOES
On a day when logical contenders ruled the roost — and in a race won by the even-money favorite — Knicks Go nearly stole the show.
The Maryland-bred son of Paynter was 70-1 when he won the Breeders' Futurity at Keeneland October 6. With that big win in hand, he was bet all the way down… to 40-1 in Saturday's $2 million Breeders' Cup Juvenile.
But he validated his win last month with a near-victory today. Under regular pilot Albin Jimenez, Knicks Go was part of the early speed mix but was the only one of that vanguard to be around late. He led leaving the furlong grounds but could not contain the favorite, the undefeated Game Winner, who is trained — yawn — by Bob Baffert. Knicks Go was a couple of lengths behind Game Winner at the end while still a length clear of show horse Signalman.
Knicks Go is trained by Ben Colebrook for KRA Stud Farm, who purchased him for $87,000 as a Keeneland September yearling. He now has two wins from five starts and earnings of $670,515 — and has validated his earlier shocking win.
Knicks Go was bred in Maryland by Angie Moore and is out of the Outflanker mare Kosmo's Buddy, who won the 2008 Maryland Million Turf Sprint.