Breeders' Cup: Spotlight beckons for Sacco, Mind Control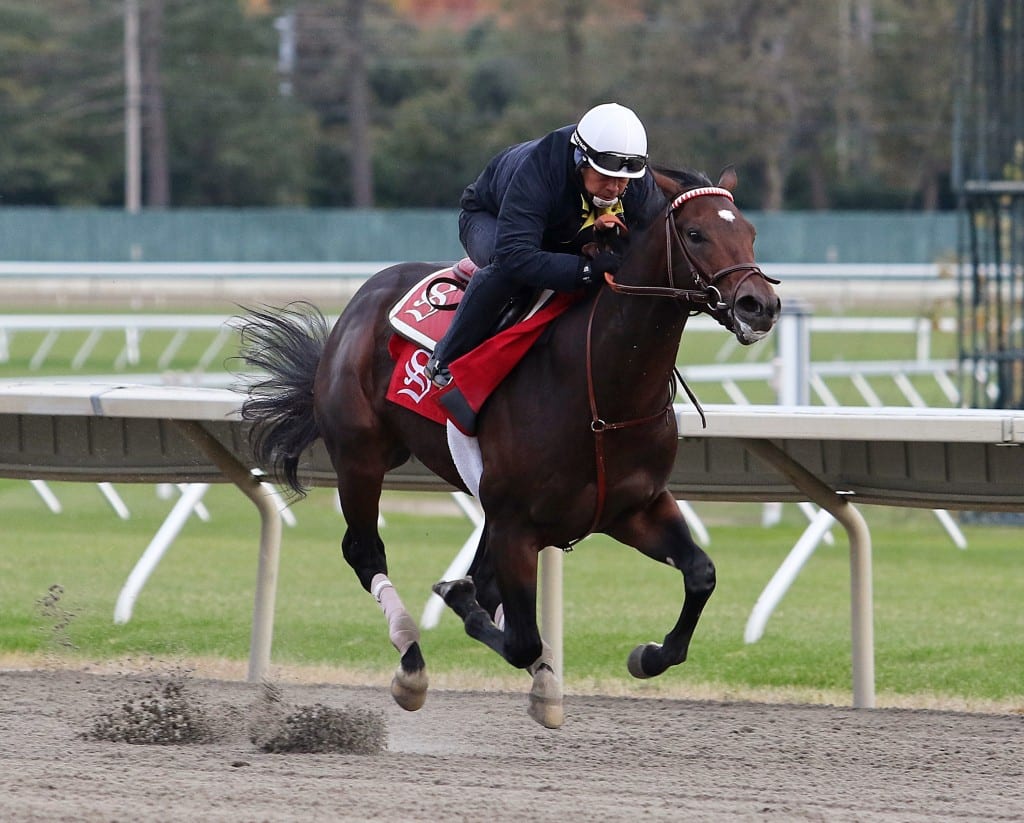 Mind Control breezes at Monmouth Park for trainer Gregg Sacco. Photo by Bill Denver/EQUI-PHOTO.
by Jim Hague
He's been involved in thoroughbred horse racing for as long as he can remember and has been a respected, if under the radar, thoroughbred trainer for almost 30 years.
Gregory Sacco takes a step out of the shadows this weekend, when the New Jersey-based trainer saddles Mind Control in the Grade 1, $2 million Breeders' Cup Juvenile Friday afternoon at Churchill Downs in Louisville.
In New Jersey racing circles, the Sacco family is highly respected, even revered. Sacco's father, William, was a highly successful trainer, having captured the Monmouth Park trainer's title in 1962. Gregg's brother, Rick, is the racing manager for Red Oak Stable, the operation of the late John Brunetti and his family — and co-owner of Mind Control.
But the Sacco family never really had a chance to gain a name on the national racing scene. It was more regionally-centered with a home base at Monmouth Park.
Mind Control, the winner of the Grade I Hopeful Stakes on Labor Day weekend at Saratoga, can change all of that. The 2-year-old has a chance Friday to make a case for an Eclipse Award — and take a quantum leap into the forefront of 2019 Kentucky Derby favorites.
Mind Control, a son of Stay Thirsty who is a homebred for Red Oak, will race out of the No. 7 hole and was given morning line odds of 20-1 with Irad Ortiz, Jr. aboard.
"Personally, for me, winning a Breeders' Cup race would be a dream come true," said Gregg Sacco, who earned his first-ever Grade I victory when Mind Control romped home to win the Hopeful. "The winner of this race is always the leading contender for the Kentucky Derby. Now I have a colt who deserves to be there. The emotions are running high, no question. I think everyone is excited."
Sacco said that he first thought of his father and uncles (also trainers in the thoroughbred business) when he realized he had a colt going to the Breeders' Cup.
"My Dad and uncles put their hearts and souls into racing," Sacco said. "We're the oldest racing family in New Jersey. Now, I'm getting a shot at the big time. It means a lot to me. It's exciting to get a chance to go up against the big guys. A lot of people dream about reaching these goals and now we're fortunate to get there."
Sacco had a horse in the Breeders' Cup before, having finished fourth in the 2009 Juvenile at Santa Anita with 50-1 longshot Piscitelli. He's won nearly 700 races in his career dating back to 1989 and his horses have collected nearly $20 million in purses. But he hasn't won — yet — on the biggest stages.
"We've been fortunate to win a lot, but we haven't been on the national stage," Sacco said.
Sacco likes Mind Control's chances.
"He has been training so well at Monmouth," Sacco said. "It was one of the reasons why we didn't ship him earlier."
Mind Control was set to arrive in Louisville on Wednesday to be galloped for the first time by exercise jockey Ben Sanchez. In his final pre-Breeders' Cup work October 26, Mind Control breezed five furlongs at Monmouth Park in 1:00 ⅘, the fastest of 17 at the distance.
"Ben is the regular rider," Sacco said. "I was surprised he went 1:00 4/5 on a dead track at Monmouth. I was pleased that he did it."
Needless to say, Sacco has high hopes heading into Friday's race.
"I think we're going in very confident," Sacco said. "We're pleased with everything that has been going on. Of course, we knew we had a talented horse. One of his best attributes is that he's a very smart horse. He lies down all night and there is no wasted energy. He checks everything out in the barn before he goes down. He's very smart beyond just being talented. He's amazing for a 2-year-old. He has a good head on his shoulders. He has a lot going for him."
Sacco has already envisioned the race in his mind. He hopes that the call for rain early in the week doesn't materialize for race day Friday. He also has thoughts on the trip he'd like.
"I don't want to be parked wide," Sacco said. "I think the pace will be pretty honest. I don't necessarily think we need the lead, but once we hit the 3/8 pole, we better be in position. It's a tall order going two turns, but I have a lot of faith in Irad. Irad is pretty straightforward and is not a step down (from regular jockey John Velazquez). Irad knows what he's doing, He knows what when to do coming out of the gate. I know [Mind Control] doesn't like having dirt kicked in his face. Mind Control has a lot of natural speed. I think we'll be fine."
Sacco knows that the national spotlight beckons this weekend, even with a longshot like Mind Control.
"It going to be a monumental task," Sacco said. "We do feel like we're representing New Jersey and representing Monmouth Park. We want to represent Monmouth Park. It's our home base. We've had a real good season and we're developing some good horses. We just have to see what happens."
Sacco is hoping for a little bit extra to help put Mind Control over the top. John Brunetti, Sr. passed away in March at the age of 87 — four months before his stable's latest star arrived on the scene.
"I miss him dearly," Sacco said of Brunetti. "I'm hoping that maybe he's riding Mind Control."