Maryland Million: For new stallions, future starts here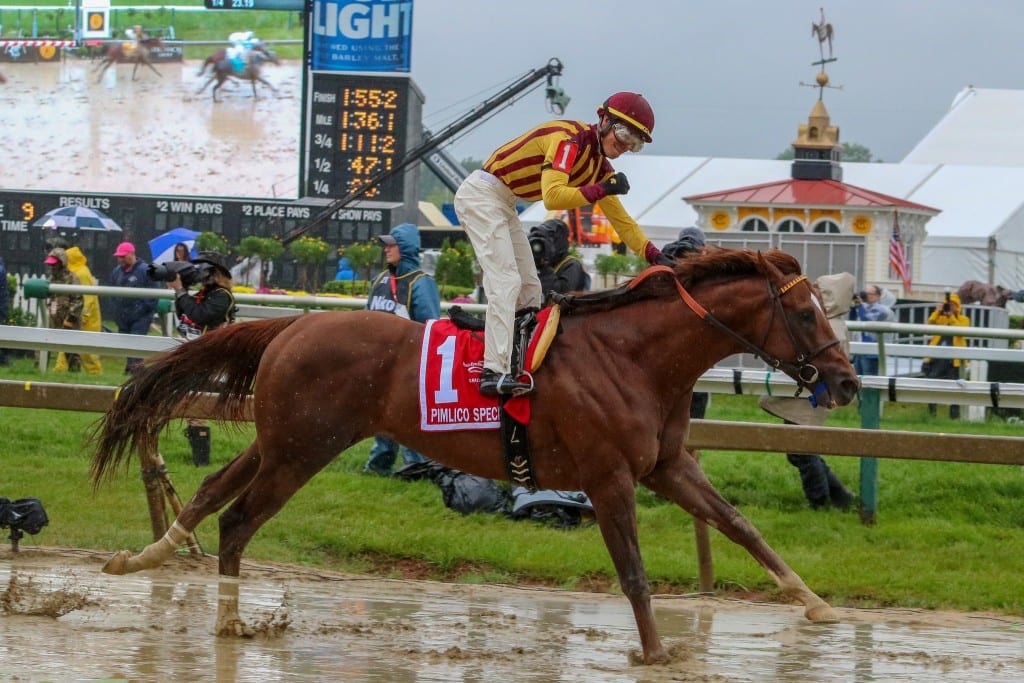 Pimlico Special winner Irish War Cry enters stud duty in Maryland in 2019. Photo by Dottie Miller.
by Frank Vespe
Buffum did not exactly enter study duty with a bang. A 10-year-old son of Bernardini, Buffum is the sire of two crops of racing age – but just nine starters to date.
"He just was not a popular stallion," said Northview Stallion Station general manager David Wade. Northview stands Buffum.
That may be changing – "We bred quite a few more this year," Wade said – and if it does, the Maryland Million will have played a key role in that.
Of Buffum's nine to run, two are stakes winners and a third is stakes-placed. That all started last year on Maryland Million day – in the third race, to be precise.
That's when Buffum's son Clever Mind, left at the gate, swung wide entering the stretch and drove clear to win the Maryland Million Nursery, for two-year-olds, by two lengths.
Two races later, Buffum's daughter Buff's in Love mounted a similar rally from the rear of the field to earn third place in the Maryland Million Lassie, for two-year-old fillies.
It was the kind of stallion debut – on what Wade calls "one of two days that everybody in Maryland is paying attention" – that can turn heads.
"There's no question that it helps [to have a stallion's progeny do well on Maryland Million day]," Wade said. "It calls people's attention to them. A lot of Maryland breeders want to breed to the Maryland sires."
Maryland Million day is unusual in the racing world in that it features not state-bred but state-sired horses – the progeny of stallions standing in Maryland. It can serve as a showcase for Maryland's stallions – and as an advertisement for the type of runners they can get.
It also, these days, points to a question: who will be the next top-quality Maryland stallion?
The top Maryland Million sire by wins is Not for Love, with 36. He's followed by Allen's Prospect (22), Two Punch (13), Deputed Testamony (11), and Caveat and Horatius, with 10 each.
In addition to their Maryland Million success, all of these sires have something else in common: all were born in 1990 or earlier.
Great Notion, also standing at Northview, is the leading active sire of Maryland Million winners with nine. He's a solid regional sire with a reputation for moving his mares up and a chance to add to his Maryland Million total on Saturday with the likes of Lewisfield, Crabcakes, and Talk Show Man, among others, expected to play prominent roles in their races.
But Great Notion is also 18, and while he likely will continue to be a good thing, he's not likely to be the next big thing in Maryland.
Fortunately, there has been in recent years an influx of intriguing and high-profile stallion prospects into Maryland. They include Northview's own Irish War Cry, who will enter stud service there next year; Divining Rod at Country Life Farm and Dortmund at Bonita, both of whom entered stud this year; and Anchor and Hope's Imagining, whose oldest are yearlings.
Those four are among a bevy of new sires in the Free State that will be slugging it out to attract new mares – and to find success on showcase days like Maryland Million.
"We're competitive as far as the stud farms go, but there's a camaraderie," said Wade. "A competitive camadraderie."
So for folks, like Wade, in the stallion business, this year's Maryland Million will be exciting, as it always is, but it's really the future that holds the greatest promise.
"There's every opportunity [for a new star to emerge]," Wade pointed out. "I think the most exciting part for us is over the next three of four years [as their new stallions get runners]. Once of them is going to hit big time."
MARYLAND MILLION NOTES The first-crop sires with runners nominated to Maryland Million races are Tritap (who is deceased), Bandbox, and Super Ninety Nine. Second crop sires with runners are Freedom Child and Buffum.