Stronach 5 features turf, big fields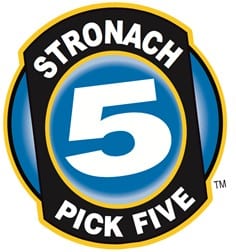 From a Stronach Group release
There's plenty to look forward to in Friday's Stronach 5.
The national wager, which has a guaranteed $50,000 pool and industry-low 12-percent takeout, will feature an average field size of 11.6, three turf races, and coast-to-coast action in less than 60 minutes.
The first week of the Stronach 5 rewarded 14 bettors with winning tickets of $9,888.30. Last week the Stronach 5 returned $1,161.10 despite the highest-priced winner being $12.
This week's Stronach 5 will begins at 4:32 ET (1:32 PT) at Gulfstream West with Race 7, a 2-year-old maiden event at 7 ½ furlongs on the turf. Here is the sequence:
Leg One from Gulfstream West Seventh Race (13 horses, turf) 4:32 ET, 1:32 PT
Leg Two from Santa Anita Third Race (13 horses, turf) 5:03 ET, 2:03 PT
Leg Three from Gulfstream West Eighth Race (13 horses, turf) 5:09 ET, 2:09 PT
Leg Four from Laurel Park Ninth Race (10 horses) 5:22 ET, 2:22 PT
Leg Five from Santa Anita Fourth Race (9 horses) 5:36 ET, 2:36 PT
You can find past performances for the Stronach 5 here. And you can watch the Stronach 5 preview show here.