WVBC: Fiber Sonde won't be present but may win big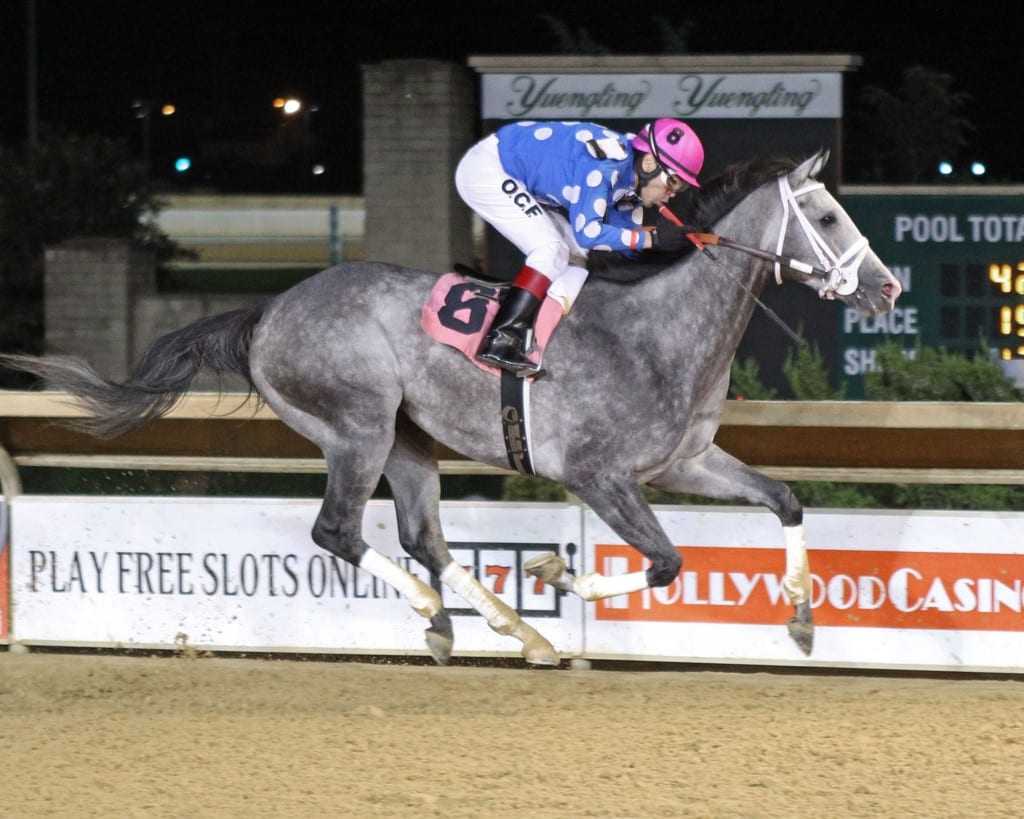 Runnin'toluvya took the Frank Gall Memorial Stakes and is the slight morning line favorite for the West Virginia Breeders Classic. Photo by Coady Photography.
by Ted Black
Since the outset of the West Virginia Breeders Classics just over 30 years ago, owner-breeder-trainer John McKee has had an impact on the card at every level. Even on those occasions when he does not saddle a winner, especially in recent years, the longtime Charles Town conditioner has been well represented by his prominent stallion at Beau Ridge Farm, Fiber Sonde.
McKee, who has saddled over 1,146 winners from just over 11,000 starters with earnings of $13.2 million over his more-than-40-year career, is best known locally for his success with WVBC winners Rachel's Turn, Aye Jacoby, Aye A Song and Last Enchantment, two of which have stakes races named in their honor that serve as preps for the Classics. Yet while he has won 15 WVBC races in his career, including two Classics races in 2014 and another in '15, his prominence on the big night at Charles Town in recent years has largely come courtesy of Fiber Sonde, whose legend as a stallion could reach greater heights this weekend.
Fiber Sonde is an unraced son of Unbridled's Song out of the stakes-winning Storm Cat mare Silken Cat, and McKee and partner Cynthia O'Bannon bought the then-two-year-old colt for only $8,000. Since becoming a stallion at Beau Ridge, Fiber Sonde has stood for $1,000 and typically attracted anywhere from 50 to 97 mares in a season. This past year Fiber Sonde was bred to nearly 60 mares as many local owners, breeders and trainers in addition to McKee begin looking for the next Runnin'toluvya, Moonlit Song and Late Night Pow Wow, all Fiber Sonde offspring who should be prominent players this weekend.
"He's definitely been a blessing to us," McKee said of having Fiber Sonde standing stud at Beau Ridge Farm. "I set his price at $1,000 when I got him because I wasn't sure how many people would want to breed to an unraced stallion. But once some of his offspring started winning it wasn't difficult to get people to bring their mares over. A lot of people up here really don't have a lot of money to spend on stallion fees, so I've kept him at $1,000 and he's always going to stay at $1,000. But he won't get 75-80 mares anymore. That's probably too many for him."
As a stallion, Fiber Sonde, now 13, has also been anything but one-dimensional. His offspring include a blend of talented males, including full brothers Hidden Canyon and Bullets Fever, and fleet-footed fillies such as Moonlit Song and Late Night Pow Wow.
In fact, Moonlit Song will head into the $125,000 Cavada as the defending champion of that event for trainer Tim Grams, while Late Night Pow Wow captured the Grade 3, $300,000 Charles Town Oaks and will head into the Cavada as the 6-5 favorite despite the presence of the reigning champ.
"Some of the other owners and trainers pay close attention to which mares cross well with him," McKee said. "When you get a good mare, like some of mine and some of those that Javier [Contreras] and Tim [Grams] have, and they produce good foals after being bred to Fiber Sonde, you see why they keep coming back to him. I bred Hidden Canyon, and Javier bought him privately from me and he did well with him. His full-brothers have done really well."
Hidden Canyon, who earned over $300,000, ran second in the 2015 West Virginia Breeders Classic for older runners traveling the three-turn distance of nine furlongs at Charles Town,  Another son of Fiber Sonde, Runnin'toluvya, looms the 8-5 favorite to capture the $300,000 Classic this weekend for Grams following a stellar performance in the $50,000 Frank Gall Memorial last month.
A victory by Runnin'toluvya in the Classic and from either Moonlit Song or Late Night Pow Wow in the Cavada would give Fiber Sonde a difficult stakes double to attain.
"It will probably be a better night for him as a stallion than it will be for me as a trainer," said McKee, who will saddle four runners Saturday night, all by Fiber Sonde. "He's more than paid his own way over the years. Some of the ones that I've kept have done pretty well, but most of the ones that I've sold have made money for their owners. I don't know too many owners or trainers that can win both the Classic and the Cavada, but it would be nice to see two horses that Fiber Sonde sired win it on the same night."
And those aren't the only Fiber Sonde offspring in with a chance Saturday. In all, 15 of his offspring are scheduled to face the starter. That means that, whether McKee himself has a chance to visit the winner's circle on Saturday night, offspring of his talented and inexpensive stallion Fiber Sonde might make several visits there this weekend.