Fasig-Tipton yearling sale: Some hips to watch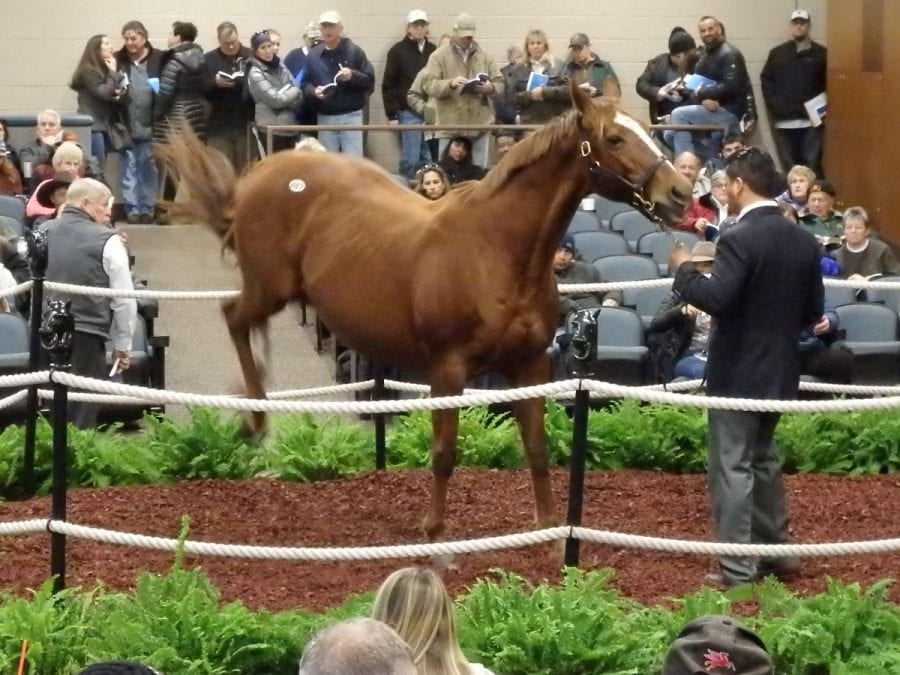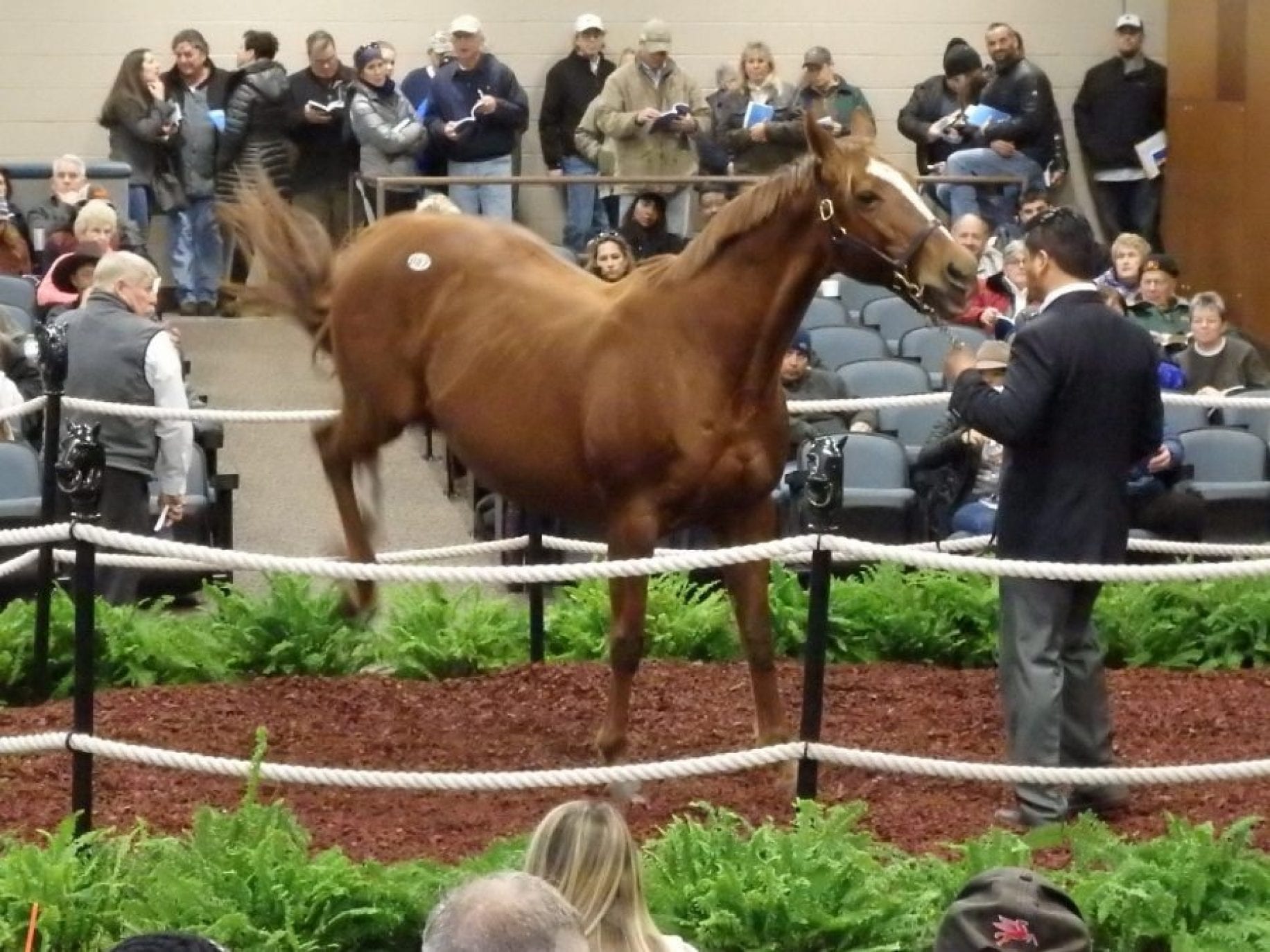 File photo of a sale at Timonium by The Racing Biz.
by Chelsea Lowman
Crowds will flock to the Maryland State Fairgrounds in Timonium, Md on October 1-2, searching for new recruits for their racing stables and prospects to pinhook. The Fasig-Tipton Midlantic Fall Yearlings Sale has attracted a strong selection of 500 yearlings to choose from. With so many yearlings in the sale, there are bound to be some future stars hidden among the assembly. At this point, there is no way to tell for sure which of these yearlings will go on to have a successful future, but here are a couple that, for one reason or another, caught our eyes.
Hip 12, a bay colt by Uncle Mo, owns a promising family tree. Consigned by Northview Stallion Station, this registered Maryland-bred comes from a family of winners and producers on both sides of his pedigree. His sire rewrote history when he entered the breeding shed in 2012, siring twenty-five individual stakes winners in his first crop alone, including 2016 Kentucky Derby winner, Nyquist.
The lure with Hip 12 continues through the maternal side of his pedigree, as he comes from a rich and powerful line of female producers. His dam, Who's Cozy, a stakes-placed mare by Cozzene, may have only won two races during her career as a racehorse, but she made up for it in the breeding shed. All four of her offspring to hit the track have made it to the winner's circle, including her Speightstown filly, Who's in Town, who won the Safely Kept Stakes in 2014 and placed in two other stakes events. Who's Cozy is also responsible for producing Campaign Vows, who took down two victories at the age of three, and placed third in the Squan Song Stakes, as well as the unraced Who's in Love, the dam of Buff's in Love, a winner who was third in two 2017 stakes as a juvenile.
Hip 12's second dam, a stakes winner named Who Did it and Run, has produced eight individual winners, with three of them being black-type horses. Her two standouts, Giant Run and American Victory, are each stakes winners. The third and fourth dam of Hip 12 are also both winners in their own right, as well as producers of winners, holding true to the trend of success that runs deep within this family line.
Another one to watch in the Midlantic Fall Yearling Sale is a bay colt selling as Hip 21, whose dam is sure to be familiar to regional racing fans. Consigned by Woodford Thoroughbreds, this young colt is by the promising first-crop sire Wicked Strong and out of the Dixieland Heat mare, Xtra Heat, who in 2015 was inducted into racing's Hall of Fame.
While Wicked Strong's first foals are yearlings of this year, the potential for his offspring remains strong. A multiple graded stakes winner on the track, the son of Hard Spun out of a Charismastic mare completed the 2014 edition of the Wood Memorial (Gr. 1) in a swift final time of 1:49.16 for 1 1/8 miles, the fastest Wood since Bellamy Road in 2005. After finishing in the money 10 times spanning from age 2-4, Wicked Strong retired with earnings of $1,994,460.
While Wicked Strong may be unproven as a producer, the dam of Hip 21 is not. Named as the Champion Three-Year-Old Filly in 2001 and inducted into the Hall of Fame in 2015, Xtra Heat was a talented and fierce competitor on the track. With 26 victories, a runner-up effort against the boys in the G1 Breeders' Cup Sprint and career earnings of almost $2.4 million, Xtra Heat carried her dominance right into the breeding shed, producing five winners from nine horses to race, including Southwestern Heat and Elusive Heat, who have both won stakes and placed in graded events.
The second dam of Hip 21, Begin, a half-sister to stakes winner, Shonda's Girl, is a winner herself, as well as stakes-placed. Begin went on to find her greatest glory in the breeding shed, producing 11 individual winners, who along with Xtra Heat include stakes-placed runners Bless Our Home and Fit and Ready, who each went on to produce winners of their own upon retiring from the track.
Hip 108 is a bay colt who's all about the potential. Consigned by CandyLand as agent, this young prospect is by first-crop sire Tonalist and out of the graded stakes-winning mare Dancing Afleet.
Tonalist's first foals are yearling this year. But the combination of his royal bloodlines and impressive race record have the market paying attention. During his career on the track, Tonalist won four Grade 1 races among six graded stakes victories, including the 2014 Belmont Stakes (Gr.1). A son of Tapit, America's leading sire in 2014, 2015, and 2016, Tonalist carries great potential to become a lucrative producer.
His early return are promising. His yearlings to sell have averaged $118,500, among them a filly that fetched $410,000 at Keeneland's September yearling sale.
Just like Tonalist, Dancing Afleet has yet to have a horse hit the racetrack, as her only other offspring to date is a two-year-old of 2018, which has not started. But once again, the promise is there. A daughter of 2005 Preakness Stakes winner (Gr.1), Afleet Alex, Dancing Afleet made it to the winner's circle three times in six career starts, including a score in the Grade 2 Delaware Oaks in 2013.
Dancing Afleet's dam, Mrs. Vanderbilt, by Citidancer, has produced five winners from six foals to race. Along with Dancing Afleet, Mrs. Vanderbilt also produced the stakes winner Tujoes, whose 10 career wins included the Roanoke Stakes and Lyman Handicap.
Both the third and fourth dam of Hip 108 have seen every single one of their foals to race become winners. The third dam, Hey up There, by Cormorant, is responsible for producing the highly regarded, Sagamoon, winner of the Busanda Stakes and an earner of nearly $200,000 and a producer in her own right. The fourth dam, Tall Glass O'Water, is best known for producing Ewer All Wet, who scored in multiple stakes races during his time on the track, retiring with earnings just below half a million dollars.
Hip 108, a Kentucky-bred, is Delaware-certified and Breeders' Cup-nominated.
A chestnut filly that might turn some heads is Hip 206. She is by Friesan Fire, the sire of Army Mule, the undefeated winner of the Grade 1 Carter Handicap, and Call Paul, the recent winner of the Grade 2 Saratoga Special. Coincidentally, the aforementioned colts both came from past editions the Fasig-Tipton Midlantic Fall Yearling Sale themselves. Indeed, Call Paul has a half-sibling in the sale, a filly by El Padrino cataloged as Hip43.
The dam of Hip 206 is Hot Fun, a mare by Latent Heat. Hip 206 is the first foal that this mare has produced. Hot Fun won three times in her career and ran second in the Maryland Juvenile Filly Championship at Laurel Park.
The dam of Hot Fun, Final Humor, also produced E Dubai's Humor, a stakes-placed daughter of E Dubai, along with three other winners. The third dam, So Generous, and the fourth dam, Rabida, are also race winners and producers, with Rabida producing nine winners from 10 to race, among them three stakes winners and three stakes producers.
Consigned by Bill Reightler for Randy Ridgely and Gary Ridgely, Hip 206 has been given the name Ridgelysredhot.
As for Hip 43, the filly by El Padrino is Delaware-certified and Pennsylvania-bred. Avani Force, a Forestry mare, was a three-time winner on the track. Call Paul is clearly her best offspring, but all three of her progeny to hit the racetrack are winners.
This filly's third dam, the unraced Seattle Slew mare Royal Strait Flush, was a half-sister to the champion Landaluce. She was also the dam of four stakes winners, among them Royal Danzig and Stydahar, who both became sires, and Jade Flush and Tenga, both stakes winners who became stakes producers.
Hip 43 is consigned by Marshall Silverman for Beatrice Patterson and Vicky Schowe.