At Owners' Day, jocks Piermarini, Hamilton steal the show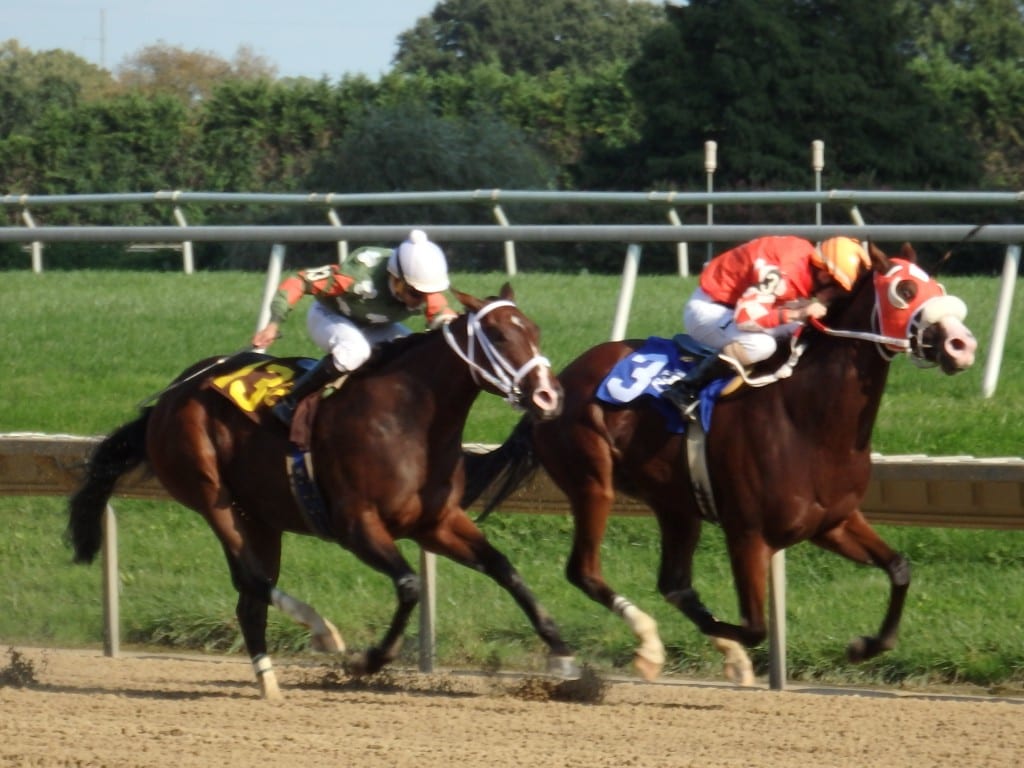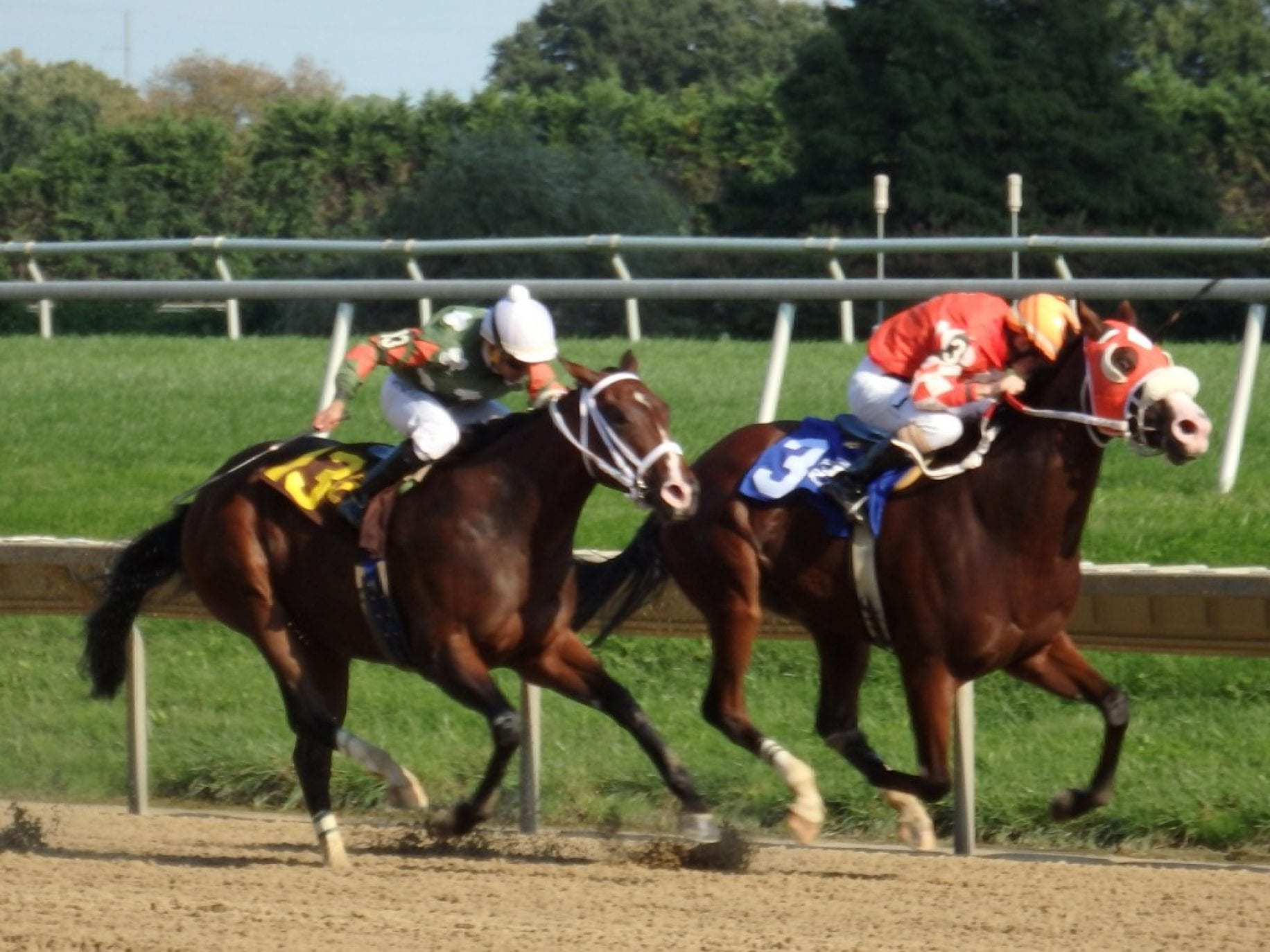 Come Sundown held off Smithwick's Spice to win the First State Dash and give jockey Weston Hamilton his first stakes win. Photo by The Racing Biz.
by Frank Vespe
The theme for Saturday's 26th annual Owners' Day at Delaware Park was "Disco Fever," it being the 40th anniversary of the release of the movie Saturday Night Fever, Delaware Thoroughbred Horsemen's Association executive director Bessie Gruwell pointed out.
And while it is a day to celebrate horse owners, it's a safe bet that two jockeys — one beginning his career, and one closer to the end of hers — were the ones who felt like boogeying by day's end.
Veteran rider Tammi Piermarini shipped in to ride the richest horse she's piloted, Dr. Blarney, to victory in the first of the day's six stakes for Thoroughbreds, the DTHA Governors Day Handicap, for three-year-olds and up that had started at Delaware Park during the 2018 season.
And two races later, young apprentice Weston Hamilton piloted two-year-old Come Sundown to a hard-fought neck victory in the  First State Dash for Delaware-bred or -certified two-year-olds.
For Piermarini, whose career began in 1985, the win was the 2,500th of her career. For Hamilton, meanwhile, it marked the first stakes victory of a career that began last year.
"It's amazing," Hamilton, the son of journeyman jockey Steve "Cowboy" Hamilton, said after the race. "This is a pretty nice horse. The first time out, he ran big, and we knew he was a nice horse. Today he really showed he's getting a lot better. He's a game horse."
Come Sundown, a Maryland-bred Great Notion gelding, is trained by Dale Capuano for Steven T. Newby. A $30,000 purchase at last fall's Fasig-Tipton Midlantic Fall Yearling Sale, Come Sundown began his career winning a waiver maiden claiming race at Laurel Park, stalking the pace before pouncing to win by a couple. Of the seven horses that had run back from that test since, six had finished in the money.
Today, by contrast, Come Sundown broke alertly to the lead, led throughout, and held off a big challenge from Smithwick's Spice to win by a neck in 1:04.17 for 5 1/2 furlongs.
"I definitely wanted to get a sharp break," Hamilton said. "I didn't think anybody would be sending very fast. He made the easy lead, and I just sat on him from there. When it was time to go  he finished strong, so that was good."
Piermarini, who won 11 races in 1985 to kick off her career, now has 2,500 wins from more than 17,000 starts. She has amassed purse earnings of more than $24 million. About a half-million of that total has come from the remarkable Massachusetts-bred Dr. Blarney. Piermarini and the five-year-old Dublin gelding, trained by Karl Grusmark, have combined to win 16 of 20 starts together, including a spotless six-for-six ledger in 2018.
"It's a really special day, not only to win this race here at Delaware Park, but also this is my big horse," said Piermarini. "This win was the milestone win of 2,500, and it was for a wonderful owner [Joseph DiRico] and a great trainer that, before I ever started riding and I was a teenager, the trainer was one of the first trainers that I was galloping for, and he was one of the trainers that gave me a recommendation to be approved to be a rider."
Dr. Blarney began his career well enough, with a debut win against maiden claimers at Monmouth, before running up the track in his next two starts.
Then-trainer Tom McCooey put Piermarini aboard Dr. Blarney for his fourth start, and the duo ripped off five consecutive wins by a combined total of more than 60 lengths, starting with a 10-length romp in the Norman Hall Stakes for Mass.-breds at Suffolk Downs.
"I knew the first time I rode him as a two-year-old [how special he is]," Piermarini said of Dr. Blarney. "He coulda broke the track record as a two-year-old. It's a record that's stood there forever. And I said, 'There's no telling what this animal could be.'"
Judiciously spotted by Grusmark — Dr. Blarney has won nine stakes races against state-breds — what he has become is a consistent, reliable, check-cashing machine with 17 wins and three thirds from 23 career starts.
In today's contest, Dr. Blarney pressed the sharp early pace of Twocubanbrothersu, gained the lead at the quarter-pole, and was fully extended to hold off the late run of Unbridled Juan. Running time for the 1 1/16 miles on the fast main track was 1:39.54, less than a second off the track record. Dr.Blarney returned $4.40 as the 6-5 betting favorite.
"And he's a character. He loves carrots, he loves grass, he'll take a mint every now and then," Piermarini added. "He likes to be petted, he'll lick me all the time. He'll nip some people, but he likes me."
Meanwhile, Gruwell said that more than 600 people attended the Delaware Thoroughbred Horsemen's Association's luncheon on a day when the rain finally broke, and a gloriously sunny day settled over the old oval. And disco garb was in plentiful supply.
"I think the bottom line is our Horsemen's Association really wants to be able to have everybody come and know how much we appreciate their support of racing at Delaware Park," she said.