Fasig-Tipton Midlantic fall yearling sale: By the numbers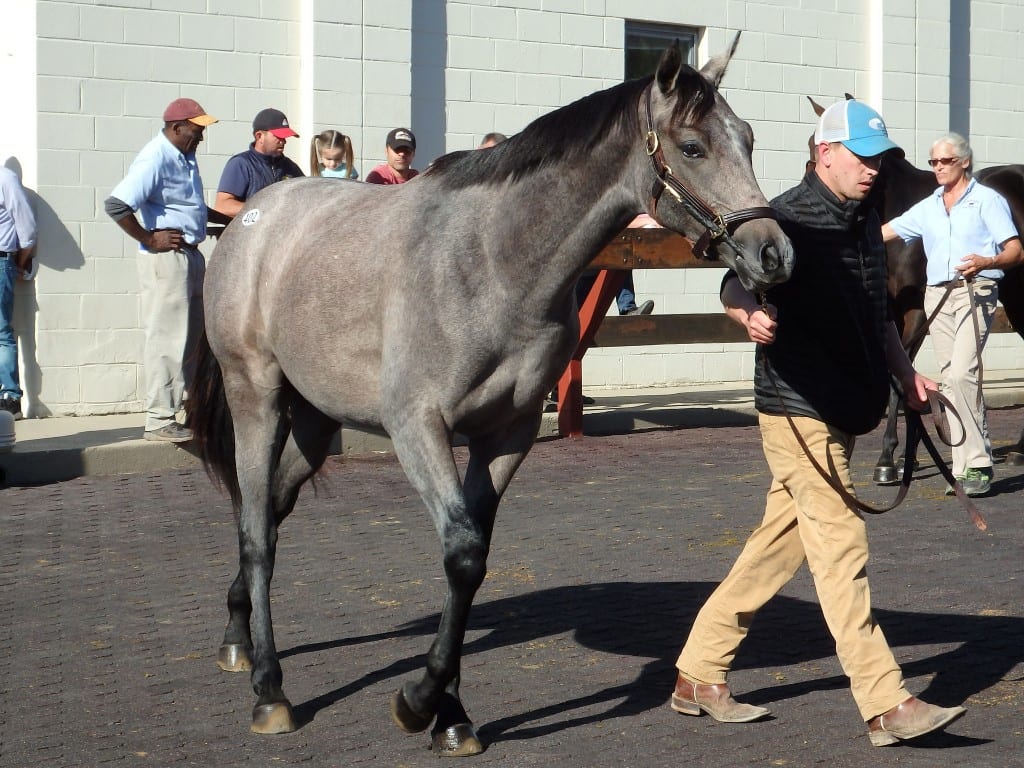 by Frank Vespe
This year's cover models for the Fasig-Tipton Midlantic fall yearling sale are a pair of Grade 1 winners — Army Mule and Long On Value — and a pair of Grade 2 winners in Call Paul and Still Having Fun. On the back cover is a list of 16 additional stakes winners.
In between are the 500 numbered hips that breeders, consignors, and would-be buyers hope will one day grace the cover of a future sale catalog.
The sale takes place Monday, October 1, with the first hip through the ring at 4:00 p.m., and Tuesday, with hips 151 through 500 starting at 10:00 a.m. Some odds and ends about the sale:
RANDOM FACTS
STATELY The hips on offer were bred in 11 different states, ranging (alphabetically) from Arkansas to West Virginia. The former is represented by one hip, the latter by 16.
ONE OF THESE THINGS IS NOT LIKE THE OTHERS Amid the usual array of chestnuts (124), browns (202), dark bays (137), and grays (35) is a single horse whose color is listed as black. Hip 67 is a black Shakin It Up filly out of the Banker's Gold mare Boffo.
SIRE POWER There are 164 different sires represented in the catalog, ranging alphabetically from Admiral Alex (one yearling) to Wicked Strong (four). The sire with the largest number of yearlings on offer is Golden Lad, with 22.
SEXY There are 267 colts on offer at the sale to go along with 230 fillies. Oh, and don't forget the two — count 'em, two — geldings.
HIPS BY STATE
MARYLAND – 178
NEW YORK – 110
KENTUCKY – 105
PENNSYLVANIA – 65
WEST VIRGINIA – 16
VIRGINIA – 13
FLORIDA – 6
INDIANA – 2
OHIO – 2
TEXAS – 1
ARKANSAS – 1
HIPS BY SIRE
GOLDEN LAD – 22
IMAGINING – 20
SUPER NINETY NINE – 17
OXBOW – 14
EL PADRINO – 12
NORMANDY INVASION – 11
BANDBOX – 11
BOURBON COURAGE – 10
GEMOLOGIST – 9
SEVILLE (GER) – 9
BELLAMY ROAD – 8
MUNNINGS – 8
HIPS BY CONSIGNOR
MARSHALL W SILVERMAN – 48
WILLIAM S REIGHTLER – 43
VINERY SALES – 37
PARAMOUNT SALES LLC – 36
NORTHVIEW STALLION STATION – 35
CARL MCENTEE – 25
STUART MORRIS – 25
CANDYLAND FARM – 22
WOODFORD THOROUGHBREDS – 22
CHRISTOPHER GRACIE – 19
BECKY DAVIS – 19
HARRY L LANDRY BLOODSTOCK LLC – 16