The thrill — or relief — of victory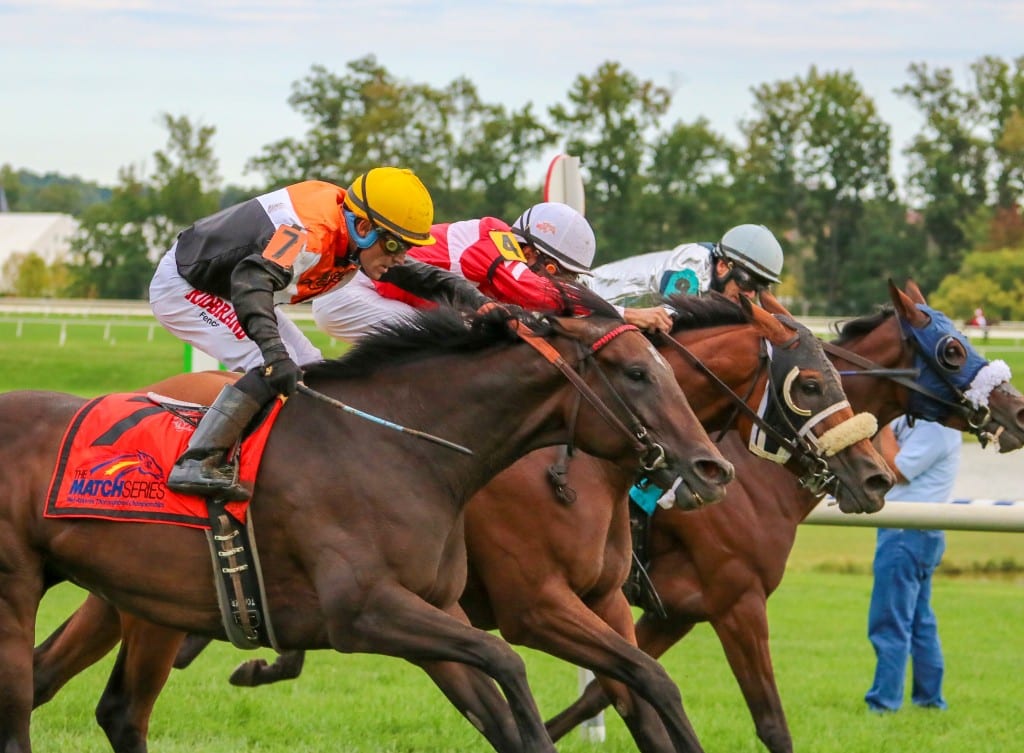 Fire Key (between) narrowly prevailed over Compelled (outside) and Fear No Evil (inside). Photo by Dottie Miller.
by Frank Vespe
Sometimes the thrill of victory is, you know, the thrill of victory.
And other times it's more like relief.
Both reactions were on display Saturday in the stakes-filled racing program at Laurel Park.
Epic Racing's Harriet Sawyer showed plenty of joy when her horse Valedictorian, a four-year-old, New Jersey-bred filly Kelly Breen trains for her, led all the way under J. D. Acosta to take the $150,000 All Along Stakes by a length-and-change. It was Valedictorian's second stakes win — and Sawyer's second as an owner.
"She always brings her best when she goes to the track. She leaves it on the track," Sawyer said after leading her charge into the post-race winner's circle. "I just love her."
A daughter of Temple City, Valedictorian, once a $25,000 claim, sped to the early lead under Acosta, opened up by nearly half-a-dozen lengths leaving the furlong grounds, and was still a length-and-a-half clear at the wire. She paid $27.40 to win and, over the boggy, sluggish turf course rated yielding, recorded a career-high Beyer speed figure of 86 after stopping the timer in 1:45.74 for 1 1/16 miles.
"That's the way she was running in lesser races," Sawyer exclaimed. "To see her out in front in this race — I haven't even seen it because I'm so out of it."
Always a horse with promise, Valedictorian seems to be blossoming this year. She won the Jersey Girl Stakes, a state-bred race at Monmouth Park, on July 4, and easily won an allowance in the race prior to the All Along. This was the toughest group she'd seen, but Sawyer believed the Temple City filly was ready.
"This year she just learned to change her leads," Sawyer explained. "Kelly Breen worked all last winter to get her to change her leads. So now we've got it. Now we can do some bigger races."
Then there's the case of trainer Pat Kelly and Fire Key. The five-year-old Friesan Fire mare rallied wide under Julian Pimentel to win the Sensible Lady Turf Dash, a six-furlong sprint for older fillies and mares, by a nose in a frantic, three-way photo finish.
"Finally, it went according to plan," Kelly, whose top trainees have included Grade 1 winners like Evening Attire and Riskaverse, said afterwards.
Indeed, if 2017 had been full of promise, 2018 had provided a steady string of frustrations. Last year, Fire Key, a New York-bred based at Belmont Park, had run second in this event, two races later winning the Autumn Days at Aqueduct to cap a productive, four-win, $280,000 season.
Then the calendar changed. After a useful season debut against allowance foes, Kelly took Fire Key to Saratoga, where a couple of stakes races beckoned. But the Caress was on very soft turf not to her liking. An allowance race came off the grass, and she ran up the track. And in the Smart N Fancy, a rival broke down in front of her, and in avoiding the spill, she lost all chance and was eased through the lane.
Call it a lost summer.
"It was a rough Saratoga, with the rain and the horse fell in front of us in the last deal when I thought she was gonna run a hole in the wind that day," Kelly said. "But we got her home and got down here, and the turf wasn't too soft for us, so it was OK."
It was Fire Key's first win from five starts this year and pushed her career earnings past the $400,000 mark.
It also marked a happy — and relieved — homecoming for Kelly. The son of Hall of Famer Tommy Kelly, Pat Kelly lived his first 10 or so years in Brighton, MD and recalled an "early memory riding up to Pikesville to go to Catholic school up there."
He added, "I love [coming to Maryland]. It's always fun to get down here. Uncle John's still here, 90-something years old. It's great, still got a lot of family here."
Fire Key is a homebred for Ed McInerney's Backwards Stable, and while McInerney did not attend the race — perhaps feeling snake-bitten after Fire Key's Saratoga travails — Kelly said another trip might be in the offing for Fire Key.
"Maybe we'll go to Keeneland," he said with a smile. "Maybe he could use a julep cup."
Meanwhile, Harriet Sawyer already knew exactly where she was going next: Belmont Park, where on Sunday, Epic Dreamer, an Orb colt she'd purchased as a two-year-old in training for $185,000, was set to make his debut.
"It's a double-header this weekend," Sawyer said. "Those dreamers are circling around to the winner s circle."
Alas, it was not to be. Epic Dreamer ran well but, after a troubled trip, had to settle for second. Still, you can probably expect to find Sawyer at other racetracks, or sales, soon.
"I love this business," she said.