On Pennsylvania Derby day, mystery, misplaced chomps, and megastars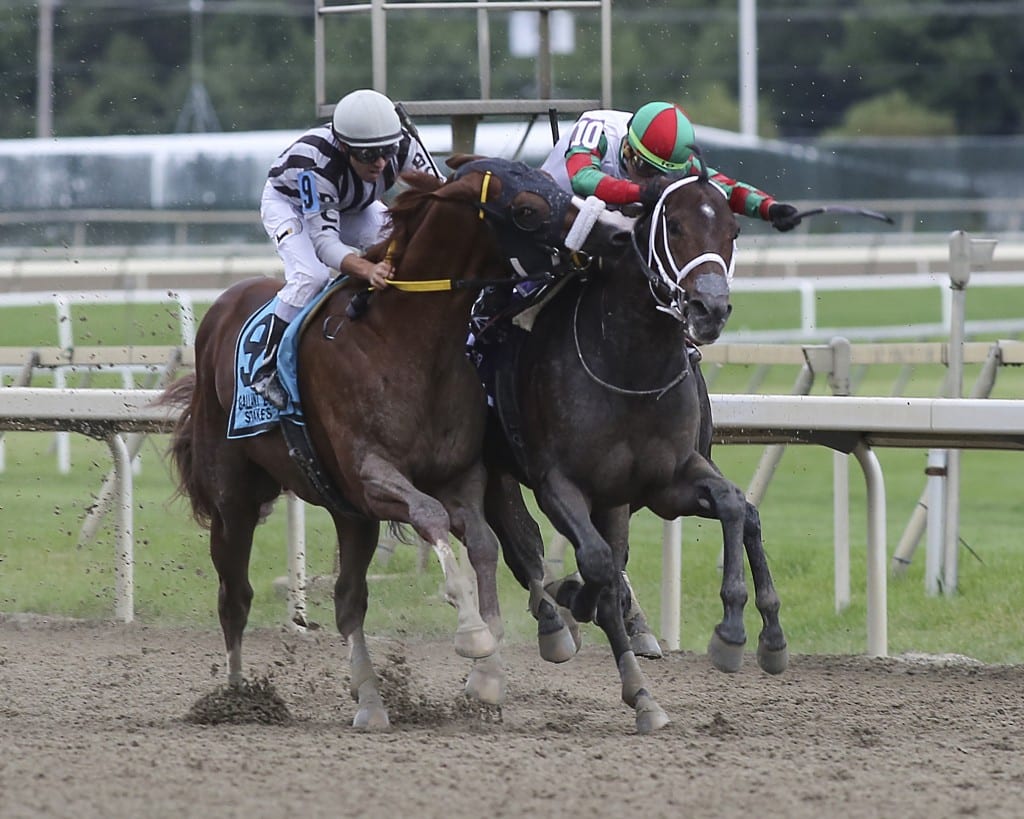 Whereshetoldmetogo tried to take a chomp out of Firenze Fire, to no avail, in the Gallant Bob. Photo By Taylor Ejdys/EQUI-PHOTO.
by Teresa Genaro
There's no way to know how many people showed up at Parx on Saturday for its biggest day of Thoroughbred racing. There is no admission fee, and Parx doesn't release attendance figures.
But using the unofficial measuring method of eyeballs and lines, I can confidently say that the place was packed. It was difficult to walk from one part of the track to the other, either because people were so tightly packed, or because lines—for betting, for beverages, for food (though not, interestingly, for bathrooms)—snaked out so far from windows and concessions. Early in the card, I ventured forth to buy a cup of coffee, then gave up because the line was 20-deep.
On-track handle of $647,894 was down a smidge (2.5 percent) from last year, but off-track handled soared 13.4 percent to $8,319,280, despite the social media warnings from veteran gamblers about Parx's high takeout.
This was not a hats-and-high-heels and bowties-and-seersucker crowd. Shorts were more ubiquitous than sundresses (though by mid-card both seemed like bad choices, given the gray skies, breeze, and temperature drop), and I seldom saw a customer who wasn't carrying a program—even in and out of the stalls in the women's room.
Unsurprisingly for Philadelphia sports, these customers were passionate. I've never heard a horse and rider booed as vociferously as I did when Mike Smith and Midnight Bisou walked into the winner's circle after the $1 million, Grade 1 Cotillion. Smith and his mount had been elevated to winners after a lengthy review led to the disqualification of favored super-filly Monomoy Girl, and many fans were none too pleased.
Yet forty-five minutes later, those same customers wouldn't let Smith walk a step without a call for an autograph, a selfie, a comment, a photo with an enthusiasm and ardor that I seldom see outside of Saratoga. He was their guy, and he was happy to accommodate as many of his fans as he could.
They reacted with equal energy when, steps before the wire in the Grade 3 Gallant Bob, a determined Whereshetoldmetogo, apparently willing to win at all costs, tried to savage Firenze Fire, who, unperturbed, cruised under the wire a neck in front. Neither Firenze Fire nor Irad Ortiz Jr. were harmed, and Whereshetoldmetogo was defiantly unrepentant while being unsaddled.
As he dismounted, Whereshetoldmetogo's rider, Jeremy Rose, quipped, "This is my kind of horse. If you can't beat 'em, bite 'em!"
Owner Sol Kumin found himself in something of a delicate spot during the Cotillion inquiry. As part-owner of both Monomoy Girl and Midnight Bisou, he was going to win the race regardless of the outcome. Not so for his partners, and so Kumin detached himself from both groups while the stewards examined the stretch run, walking in circles on the track. When Midnight Bisou was declared the winner—a win that pushed her lifetime earnings over $1 million–his celebration was subdued; he got his picture taken, then went back to sit with his Monomoy Girl partners.
"They're probably going to spit in my drink," he chuckled.
The bettors made the comebacking McKinzie the narrow favorite in the $1 million, Grade 1 Pennsylvania Derby—has a Grade 1 race ever felt so anticlimactic?—with Hofburg the second choice, and the bettors got it right. Looking impressively fit as he strode into the paddock, the one-time Kentucky Derby contender was a decisive winner in his first start in six months. Hofburg was fourth, a finish that has to drive his connections nuts, given his obvious talent… and, given his setbacks this year, perhaps his frailty.
In so many ways, Parx gets it right on Pennsylvania Derby day. The day is affordable to most people, without ridiculously jacked-up prices that alienate the day-to-day customers. The stakes races attract some of the best horses in the country. They bring in live commentary from respected racing analysts like Caton Bredar and Dick Jerardi.
Then, of course, there is the question of take-out. And $4.99 ATM fees. And a track so slow and a rail so dead that I heard from more than one analyst that betting became a joke. Watch the replay of the Pennsylvania Derby, and see how wide all the horses are on the first turn.
And then there's the unnecessary mystery.
Following the DQ in the Cotillion, DRF's Jim Dunleavy reported that "Per Pennsylvania Racing Commission policy, the stewards did not explain their decision to the media." That's a bad look, and an unnecessary one. Why further antagonize the people who bet on your product by adopting a policy that embraces opacity?
For that matter, if one measure of success of a day of racing is the health of the horses and jockeys, Pennsylvania Derby day earned an A+ for that, with everyone coming home safely. The rest of the year? Hard to tell; while Parx participates in the Jockey Club's Equine Injury Database, it does not – unlike nearby tracks such as Laurel, Pimlico and Delaware Park — make its results available to the public.
Wishful thinking it is, I know, but having had so many good experiences at Parx on Pennsylvania Derby Day, in the company of so many others having similar experiences, I can't help but wistfully contemplate what Parx racing could be – if state and corporate decision-makers put the customer, and the product, first all year long.