Contreras: "Have to try" Late Night Pow Wow in CT Oaks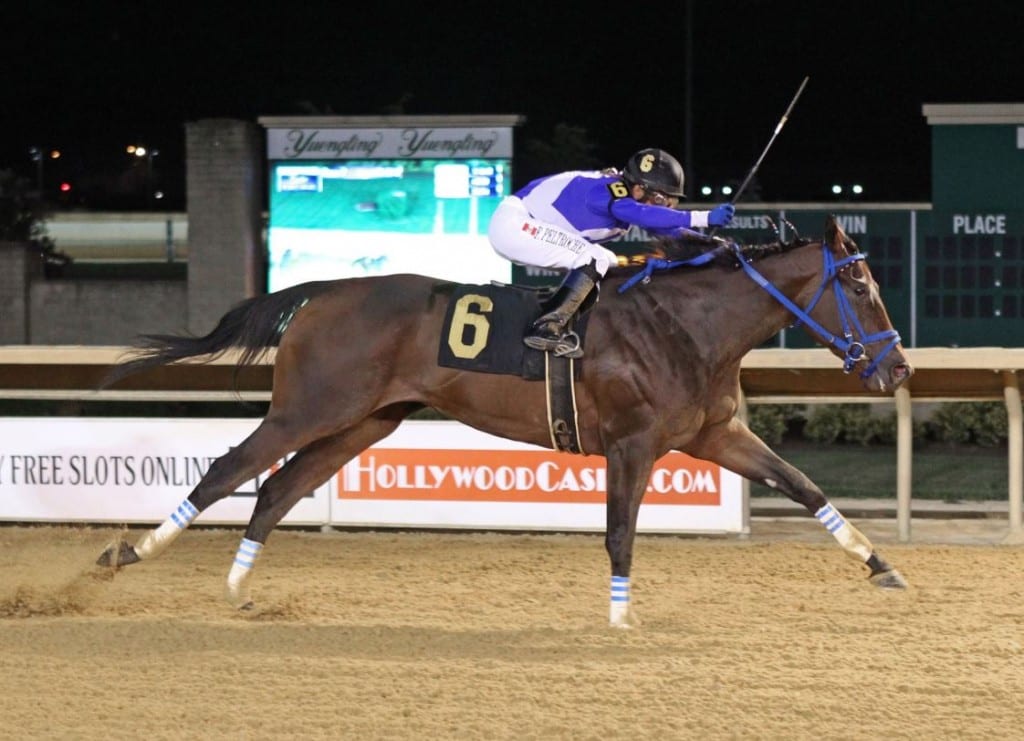 Late Night Pow Wow won the Sylvia Bishop Memorial Stakes easily. Photo by Coady Photography.
by Ted Black
In the weeks leading up to the "Race For The Ribbon" card at Charles Town this Saturday night, trainer Javier Contreras faced a dilemma with his talented sophomore filly, Late Night Pow Wow.
Try her in the featured Grade 3, $300,000 Charles Town Oaks against open stakes rivals? Or put her in the $50,000 Sadie Hawkins against older state-bred fillies and mares, highlighted by reigning division leader, Moonlit Song?
On Saturday, Late Night Pow Wow breezed five furlongs in 1:00 1/5 at Contreras' Charles Town base. That was the fastest of five workers at the distance.
And on Wednesday morning, Contreras made his call: Late Night Pow Wow will try the Oaks. The sophomore daughter of Fiber Sonde will head into the race riding a four-race win streak, topped by a recent score in the $50,000 Sylvia Bishop Stakes for state-bred three-year-old fillies. Her first meeting with Moonlit Song has been placed on hold until possibly next month in the $150,000 Cavada Breeders Classics.
"I really liked her last workout on Saturday, so I think she deserves a try in the Oaks," Contreras said. "I was hoping to keep her with three-year-olds this year and then try her against older next year when she's four. I know Moonlit Song is really tough and she loves the track, just like my filly. When you have a filly like this, you like to run her when you have the home town advantage. She's just a nice filly who's done everything that we've asked to do and we think at this point you have to try her in the big one."
Late Night Pow Wow has won six of seven in her career, all at Charles Town. The lone blemish was a runner-up effort this past April in the Its Binn Too Long Stakes. She has earned $112,250
Late Night Pow Wow is a sophomore daughter of Fiber Sonde owned and trained by Contreras. She made her career debut one year ago in the "Race For The Ribbon" card and captured a two-turn maiden special weight event by six lengths. She has been favored in each of her last six starts and scored in five of them, including a recent triumph as the 1-5 favorite in the Sylvia Bishop, the same stakes Moonlit Song won last summer prepping for the Sadie Hawkins.
Late Night Pow Wow has won four straight races as the odds-on choice over the track, with three of them in seven-furlong events including the Sylvia Bishop. Her resume is eerily similar to that of Moonlit Song, who won six of seven starts over the latter portion of her sophomore season which also included a handy score in the Sylvia Bishop as the odds-on choice.
But don't look for Late Night Pow Wow to vie for the favorite's role in this year's wide-open Charles Town Oaks. Alter Moon is listed as the tepid 7-2 choice for trainer Chad Brown exiting the Grade I Test Stakes, and Sower is the 4-1 second choice for trainer Linda Rice.
Trainer Tim Grams, who has conditioned Moonlit Song to the top of her local division – as well as 13 wins in 20 career starts and earnings north of $330,000 – likes what he's seen of Late Night Pow Wow.
"I've seen her last couple of races and she's a very nice filly," Grams said of Late Night Pow Wow. "She's got plenty of early speed and she looks like she can get two turns up here with no trouble. I think it will be a good race if we meet in the Sadie Hawkins or in the Cavada or maybe in both."
Oddly enough, while Late Night Pow Wow is postponing her first encounter with Moonlit Song by going in the Oaks, among the starters for the Oaks is Devine Mischief, the talented three-year-old filly who handed Moonlit Song her only setback over the strip in a two-turn event. Devine Mischief was second to Sower in the Jersey Girl Stakes at Belmont Park, and the Joe Sharp trainee figures to get ample attention at the windows based on her local triumph over Moonlit Song two months ago.
"She ran really well in the Jersey Girl up at Belmont Park," Sharp said. "The race after that [The Victory Ride] came up tough, so we saw the non-winners of three allowance down there [at Charles Town] in the book and figured we would give her a prep over the track. I thought she handled it well and I'm glad we did. I have a ton of respect for the filly she beat that night [Moonlit Song]. So now we'll find out if she's just good enough."
Contreras will also seek stakes success when he runs both Lime Crush and Thislillimeofmine in the $50,000 Rachel's Turn Stakes for state-bred two-year-old fillies. Lime Crush, a juvenile daughter of Limehouse he trains for owner-breeder O'Sullivan Farms, won her career debut on Aug. 25 by nearly a length as an overlooked 13-1 shot by getting the 4 1/2-furlongs in 54.19. Thislillimeofmine, another freshman daughter of Limehouse, was second in a split maiden special weight event on Sep. 8 won by Amelia Bedelia, who is also in the Rachel's Turn, as is Parisian Diva, the other division winner that evening.
"I'm hoping they both run well," Contreras said of the Limehouse fillies. "Lime Crush looked good first time out and Thislillimeofmine ran well in her first start. There are some good fillies in there. The fillies look better than the boys right now, so it will be a tough spot."