For Catalano, roller coaster ride on an upswing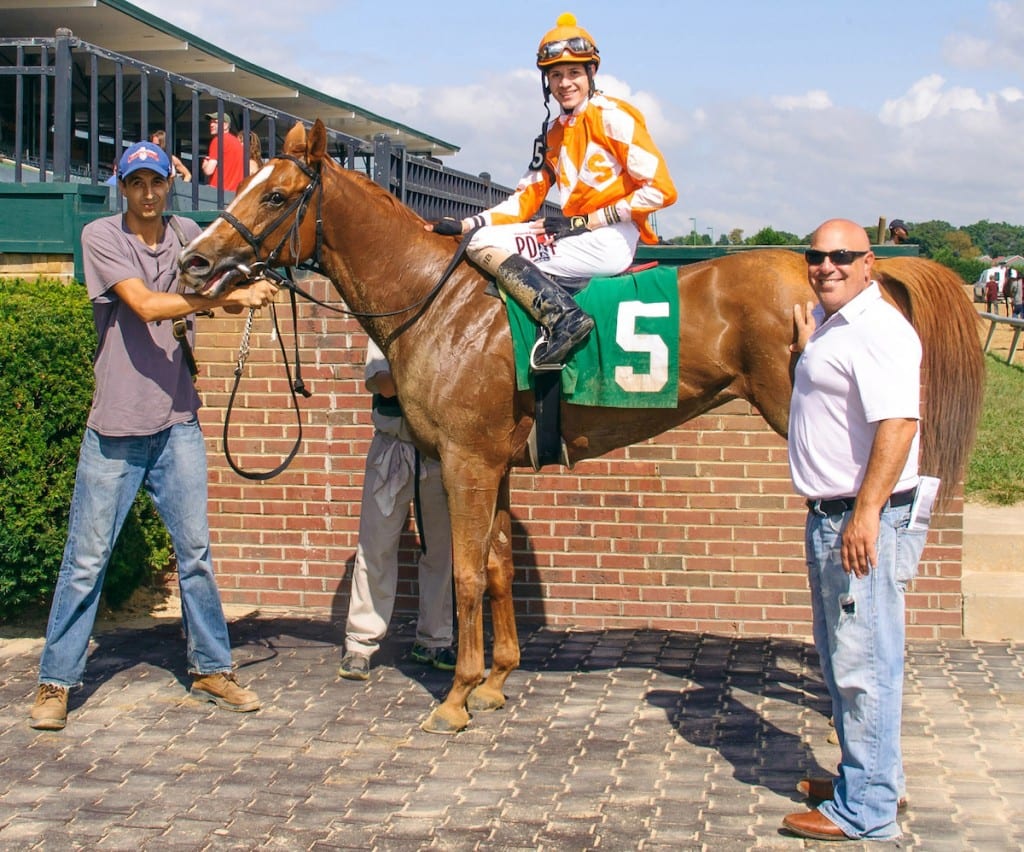 Michael Catalano at Delaware Park in 2017. Photo by HoofprintsInc.com.
by Doug McCoy
Michael Catalano Jr. has been training horses for more than four decades, and by his own admission, the journey has been filled with some incredible highs and some crushing lows.
As a young man Catalano was lucky enough to work and learn from two of the top horsemen in New England, Al Borosh and Vincent "Vinny" Blengs. Borosh rarely strayed from New England, but when he did ship to places like Saratoga or Belmont, shrewd horseplayers knew it was wise to give his horses a long look. Blengs went south to Florida for a number of years and more than held his own back when the quality of racing at Hialeah and Gulfstream Park was as good as any place in the country.
"They used to joke, 'Kid, we've got to get you somebody to train for so we can get you out of here. We don't want to have to compete with you,'" Catalano recalled. "It was the ultimate compliment coming from those two guys."
Catalano began training in 1976 and raced mainly in New England for the next couple of decades, but in 2000 he, like many others, saw the handwriting on the wall about the future of the sport in that area.
"It was a damn shame because there is no more passionate, devoted racing fan in anywhere like there is in New England but between mismanagement and politics, it was becoming obvious the sport in the area was dying," Catalano said.
In spite of having one of his best years in 2000 with more than $550,000 in earnings, Catalano began shifting his operation out of New England. After shipping to New York to run, Catalano moved to Aqueduct in 2001. He started horses up and down the Mid-Atlantic, as well, and then in the fall moved to Calder. Over the next 16 years the Catalano went from having solid strings to losing all his horses. In 2004 he didn't start a horse, but by 2008 he had his best year ever when he won 38 races and his runners earned $672,709.
Catalano's roller coaster ride continued, and when he had owners die or get out of the business, he was forced to disband his stable again in 2015. But like the Phoenix, he rose from the ashes, returning in 2016. Last season he had a solid year with over $300,000 in earnings despite losing more than 40 head when his biggest client, Arkansas owner-breeder Richard Hessee took his horses away from Catalano.
Catalano has soldiered on, earning a reputation as one of the most resilient trainers in the business. He has 17 head presently, with 12 at Parx Racing and five at Delaware Park. In recent weeks, the barn has been thriving, winning with seven of its last 25 starters. Another six have run second or third.
He has a mix of young runners and older veterans and is high on a couple of his juveniles.
"Start the Show looked good when she broke her maiden, and then we may have run her back a little quick in the White Clay Creek Stakes (where she finished fourth) and that was a pretty tough race," Catalano reported. "She's Delaware Certified, and I think you'll see a better race from her next time out."
The White Clay Creek was won by the promising John Servis trainee, Jaywalk, who has yet to run back. The runner-up, Congrats Gal, had previously been third in the Grade 3 Schuylerville and returned to win a Laurel Park allowance by 14 lengths in fast time.
Catalano also likes Threethehardway, a Cal Nation gelding that he purchased for a client as a gelding. "He ran second last time out in a solid race and was third the first time out," the trainer said. "He's just starting to find himself and I think he's going to turn out to be a very nice three-year-old."
Catalano has had more owners than he can count, and he says two of his top clients now, Mike Azer who races under Blackstone Street Racing – owner of both Start the Show and Threethehardway — and Tony Como, who races as Just In Time Racing Stable, have been instrumental in helping him rebuild his operation and plan for the future.
"When I was at my lowest, had no horses, Mike came to me and said, 'Mike, I know you can train and I know you know how to win. I can't understand why you don't have a barn full of horses,'" recalled the trainer. "He said, 'We're going to claim a few, we're going to get a couple of babies and show 'em what you can do.' You don't know how much that meant to me to have someone not only tell me they thought I could get the job done but put their money behind those comments and give me a chance. And Tony's been doing the same thing, showing his confidence that I can produce. After some of the dealings I've had with owners the last few years, it's sure nice to have people who have confidence in your abilities and will stand behind you."
And Catalano thinks that after years of wandering from one circuit to another he has found a home.
"I like it at Parx, they treat us well and it's a good spot for us to have for a base. We also plan on having a string at Delaware Park as well," Catalano explained. "It's always been one of my favorite tracks and horses do well in that environment. I've got solid backing now, we're trying to concentrate on young horses and babies because the claiming end of the business just isn't the way to go anymore, and I think I'm more optimistic about the future than I've been in a long time. It's never been tougher to make a go of things in racing than it is today, but if you work hard and have support, it's still the greatest game going."