Jock Steve Hamilton to undergo surgery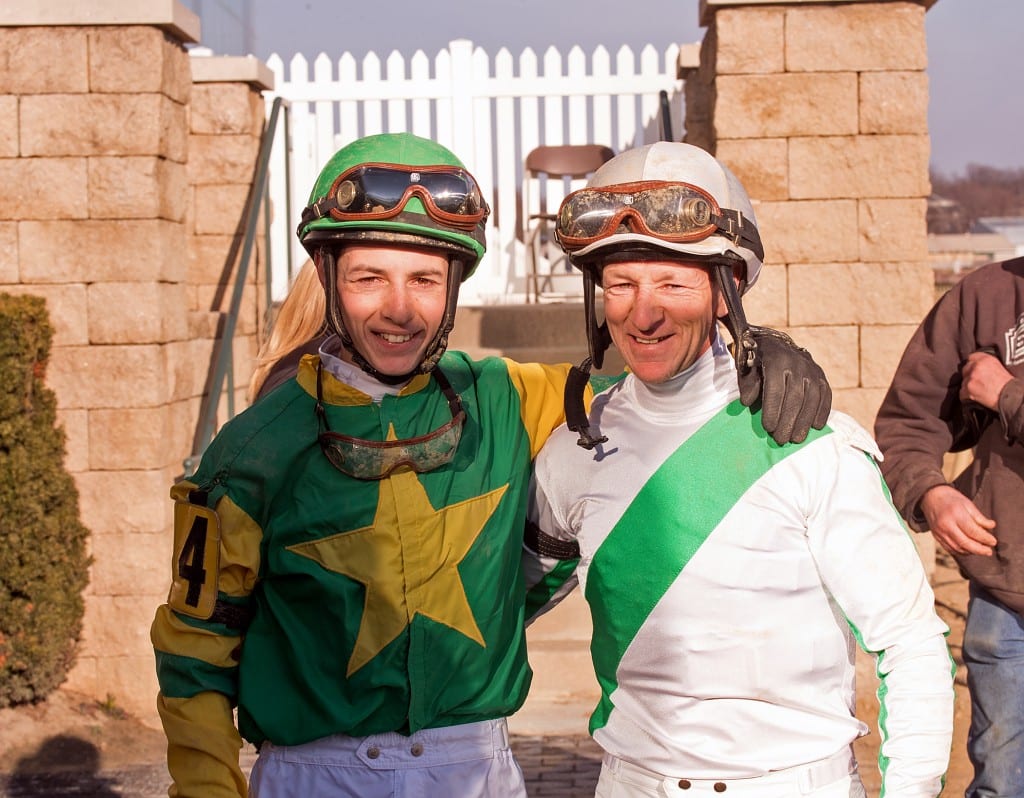 Weston Hamilton receives congratulations from his dad Steve. Photo by Jim McCue, Maryland Jockey Club.
From a Maryland Jockey Club release
Journeyman Steve 'Cowboy' Hamilton, a multiple meet champion in Maryland and winner of more than 1,370 career races, is scheduled to have back surgery Sept. 17 in an attempt to continue his riding career.
Hamilton, who turns 45 Oct. 11, has not ridden since finishing second and third in a pair of allowance races June 10 at Laurel Park. His procedure will be performed at MedStar Union Memorial Hospital in Baltimore.
"I'm doing OK. My spirits are up and I'm trying to stay positive," Hamilton said. "We'll just have to see how we come out of [the surgery] before I can say anything else. We're just trying to address it and meet it head on and go from there. I'm very thankful for all the support everyone has shown me."
Earlier this summer, doctors found three small tumors at the bottom of Hamilton's spine that was causing persistent back pain, said agent Ben Feliciano Sr. Initially, Hamilton was receiving injections in the area in an effort to dissolve the tumors.
"The shots they were giving him didn't work the way they thought they would, so they decided to go ahead and operate on him," Feliciano said. "He's going to be out a while, even after the operation. Once he heals up, he's going to have a big decision to make whether he's going to feel good enough to come back. We've talked about that. It's a matter of how everything goes."
Hamilton returned Sept. 8 from a trip to his native Oklahoma to visit family. He is in the third phase of his riding career, which began in 1990. He retired in 2000 to help raise his two young boys, returning in 2004. He stepped aside again in 2006 following a serious automobile accident, embarking on his latest comeback in August 2016.
Last year, Hamilton ranked fourth overall in Maryland with 94 wins to go along with nearly $2.9 million in purse earnings, topping $1 million at each of Laurel's meets to open and close the calendar year. He ranked third in purses ($1.03 million) and tied for sixth in wins (25) at the winter-spring meet to open 2018, and won the Weber City Miss Stakes in April aboard Goodonehoney.
Hamilton's youngest son, 19-year-old apprentice Weston Hamilton, finished second at Laurel's winter-spring meet with 46 wins and $1.18 million in purse earnings and tied for second during the summer stand with 25 wins to go along with an $844,013 bankroll. Wes Hamilton has won 91 races since making his debut last December.
"He's got a few options. He's a smart guy. Wes is doing good and he can take Wes' book or decide to do something if he doesn't think he can ride anymore. We'll cross all that when we come to it. Really right now everything's up in the air with him," Feliciano said. "Hopefully everybody that's rooting for him are keeping their fingers crossed. He's got a lot of friends. Everybody likes Stevie."
Hamilton earned his nickname on the Oklahoma bull-riding circuit as a youngster, and returned there to work on its oil fields during his first retirement. Upon his return, he was the leading rider at legendary Pimlico Race Course's spring meets in 2004 and 2005.
Wes Hamilton won Sunday's seventh race, an off-the-turf one-mile waiver maiden claiming event, aboard I've Gotta Plan ($4.80) for trainer and co-owner Donna Lockard.
"He's doing good," Wes Hamilton said of his dad. "He's tough. He'll be back. I'm sure he'll be back."