Laurel Park set for promising fall stand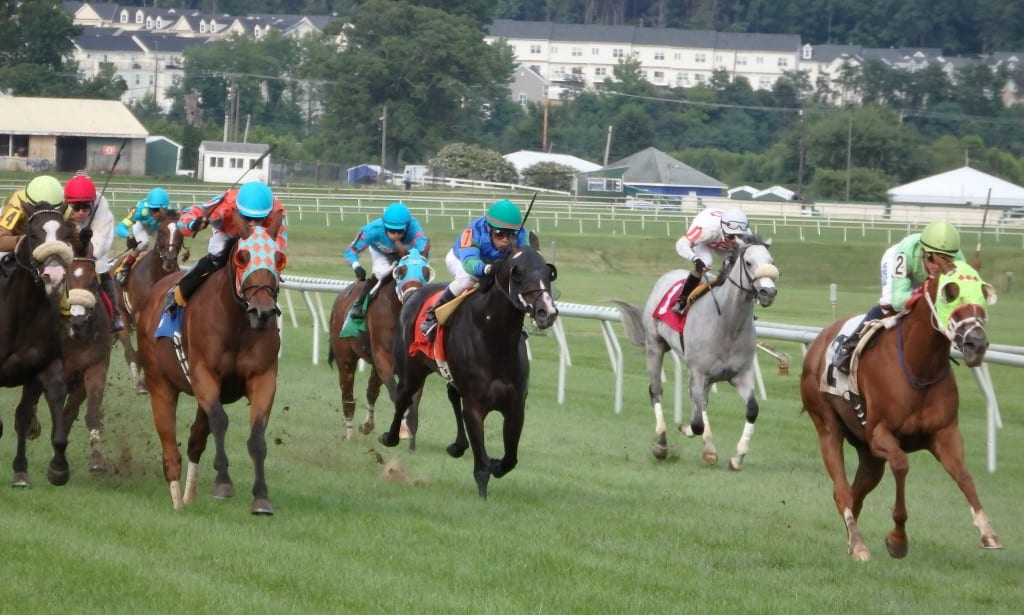 From a Maryland Jockey Club release
A September to remember featuring three Super Saturdays serving up 18 stakes, two graded, worth $1.8 million in purses, three Mid-Atlantic Championship Series finals and the debut of a $150,000 turf race for 3-year-olds and a national Pick 5 wager begins Friday, Sept. 7 when live racing returns to Laurel Park for its 61-day fall meet.
A total of 97 horses have been entered on a 10-race program which kicks off with a 1:10 p.m. first post. Six races have been scheduled for the Bowl Game and Exceller layouts of Laurel's world-class turf course, attracting 68 entries, an average of 11.3 starters per race.
It is the first day in an action-packed opening month that gets its vibrant stakes program under way Saturday, Sept. 15 with seven stakes worth $900,000 in purses, highlighted by the 27th running of the $250,000 Frank J. De Francis Memorial Dash (G3).
Overall, a total of 34 stakes worth $3.425 million in purses will be offered including both the $200,000 Baltimore-Washington International Turf Cup (G3) at one mile and the inaugural running of the $150,000 Bald Eagle Derby for 3-year-olds at 1 ½ miles Sept. 29.
In addition, the Jim McKay Maryland Million will celebrate its 33rd year Saturday, Oct. 20 with the debut of Laurel's Clubhouse Festival, an entertainment experience led by Grammy-nominated electronic dance music producers Deadmau5 and Steve Aoki along with a host of other top tier performers such as DJ duo Lost Kings and rap artist Wifisfuneral. Tickets and information can be found at www.ClubhouseFest.com.
"This is going to be one of the most exciting and competitive fall programs Maryland racing has ever had," said Maryland Jockey Club President and General Manager Sal Sinatra. "The stakes program and our incredible turf course will bring some of the best horses in the country to Laurel. Our hope is the Bald Eagle will become one of the premier turf events in the country for 3-year-olds. Meanwhile, we will attract a new generation of fans with the Clubhouse Festival and introduce them to Laurel Park and Thoroughbred racing."
"I really feel like this fall meet is going to really begin to start showcasing Laurel Park and Maryland racing to the rest of the country," Laurel-based multiple graded-stakes winning trainer Phil Schoenthal said. "The meet starts off very strong and obviously we're excited about the Maryland Million coming up in October. Having the big concert and trying to start demonstrating that Laurel Park can accommodate a large crowd with a large-scale, grand event is going to be a very positive step in the right direction.
"I feel like the MATCH Series and the graded races coming up will bring a lot of top, talented horses and horsemen down to Maryland this fall," he added. "The creation of the Bald Eagle Derby, looking to start kind of a Triple Crown series on the turf for those 3-year-old grass horses, I think is going to be a real exciting development this year and as the years go by."
Friday's featured events come in Race 5, a $45,000 second-level optional claiming allowance for 3-year-olds and up going 5 ½ furlongs on the grass; Race 6, a $45,000 second-level optional claiming allowance for fillies and mares 3 and older sprinting six furlongs on the main track; and Race 9, a $42,000 entry-level turf allowance at 1 1/16 miles for females 3 and up.
The card opens with a $40,000 maiden special weight event for 2-year-olds going a mile on the grass which drew a field of 13, and ends with a $40,000 maiden special weight at 1 1/16 miles on turf which attracted a dozen fillies and mares 3 and up.
Jevian Toledo, Maryland's leading rider in 2015 and 2017, is named in seven of 10 races Friday. Toledo, 24, won 31 races at Laurel's summer stand that ended Aug. 19 to earn his fifth career meet title.
Trainer Claudio Gonzalez, 41, will be going for his fifth title in six Maryland Jockey Club meets after leading the summer standings with 23 wins. First in purse earnings at the recently concluded Maryland State Fair meet at Timonium, he has Sarah's Treasure entered in Race 4 and My Enigma in Race 5.
The six-furlong De Francis Dash for sprinters 3 and up marks the final race in the older dirt sprint division of the renewed MATCH Series, an assortment of 25 races at tracks in Maryland, Delaware, New Jersey and Pennsylvania which kicked off May 18 and 19 at legendary Pimlico Race Course. The original MATCH Series debuted in 1997 and ran for five years.
Hillside Equestrian Meadows' Laki, based at Laurel with trainer Damon Dilodovico, has 23 points, leading Lewisfield by four points in the older dirt sprint division and Jessica Krupnick, Oak Bluffs and the retired Page McKenney by one point in the overall standings.
Other MATCH Series final races Sept. 15 are the $100,000 Laurel Dash for 3-year-olds and up and $100,000 Sensible Lady Turf Dash for females 3 and older, both in the grass sprint division. Oak Bluffs, trained by Pimlico-based Mary Eppler, leads the 3-year-old and up division with 22 points. Smiling Causeway, from the Fair Hill (Md.) Training Center barn of Arnaud Delacour, sits atop the division for females 3 and older with 12 points.
Rounding out Laurel's Sept. 15 stakes are the $150,000 All Along for fillies and mares at 1 1/16 miles, $100,000 Laurel Futurity for 2-year-olds and $100,000 Selima for 2-year-old fillies at six furlongs, and $100,000 Laurel Turf Cup for 3-year-olds and up at 1 ½ miles – all on the grass.
Virginia-bred/sired horses will be in the spotlight with five $75,000 turf stakes Saturday, Sept. 22, while the BWI Turf Cup and Bald Eagle Derby are joined on the Sept. 29 program by the $75,000 Challedon for 3-year-olds and up and $75,000 Shine Again for fillies and mares, both at seven furlongs for non-winners of a sweepstakes, along with a pair of events for Maryland-bred/sired horses 3 and up – the $75,000 All Brandy for fillies and mares and $75,000 Find, both at 1 1/16 miles on the turf.
Before the month is out, a new national Pick 5 wager, the Stronach 5, will be unveiled Friday, Sept. 28 with a guaranteed first-day pool of $50,000. The $1 minimum multi-race wager features races from Laurel, Gulfstream Park, Santa Anita Park and Golden Gate Fields and offers an industry-low 12 percent takeout. The Maryland Jockey Club will serve as host of the Stronach 5 and offer it as a separate wagering program.
Other highlights of the fall meet include:
– Nov. 10: Five $100,000 stakes races on tap led by the Safely Kept for 3-year-old fillies and the City of Laurel for 3-year-olds, both at seven furlongs. The $100,000 James F. Lewis for 2-year-olds and $100,000 Smart Halo for 2-year-old fillies are at six furlongs, and the $100,000 Richard W. Small for 3-year-olds and up at 1 1/8 miles.
– Dec. 8: Maryland-bred/sired horses are featured Dec. 8 with the $100,000 Maryland Juvenile Futurity and $100,000 Maryland Juvenile Filly Championship, each at seven furlongs, as well as the $75,000 Howard M. Bender Memorial for 3-year-olds and up at six furlongs.
– Dec. 29: Six stakes worth $550,000 in purses are highlighted by the $100,000 Dave's Friend for 3-year-olds and up at six furlongs; $100,000 Thirty Eight Go Go for fillies and mares at a mile; and a pair of $100,000 stakes for 2-year-olds in the Heft and Gin Talking.
Fall meet racing will be conducted Friday through Sunday in September and December and Thursday through Sunday in October and November. There will be no racing Christmas Day and special programs Wednesday, Dec. 26 and closing day Monday, Dec. 31.
Opening Saturday, Sept. 8, will feature food and drink specials with $2 hot dogs and select craft beer, a BBQ at the Smokehouse on the Apron, and NFL Sunday Ticket and game selection contest in the renovated second-floor clubhouse sports bar.