Frock: Big T "gives little guy a chance to win"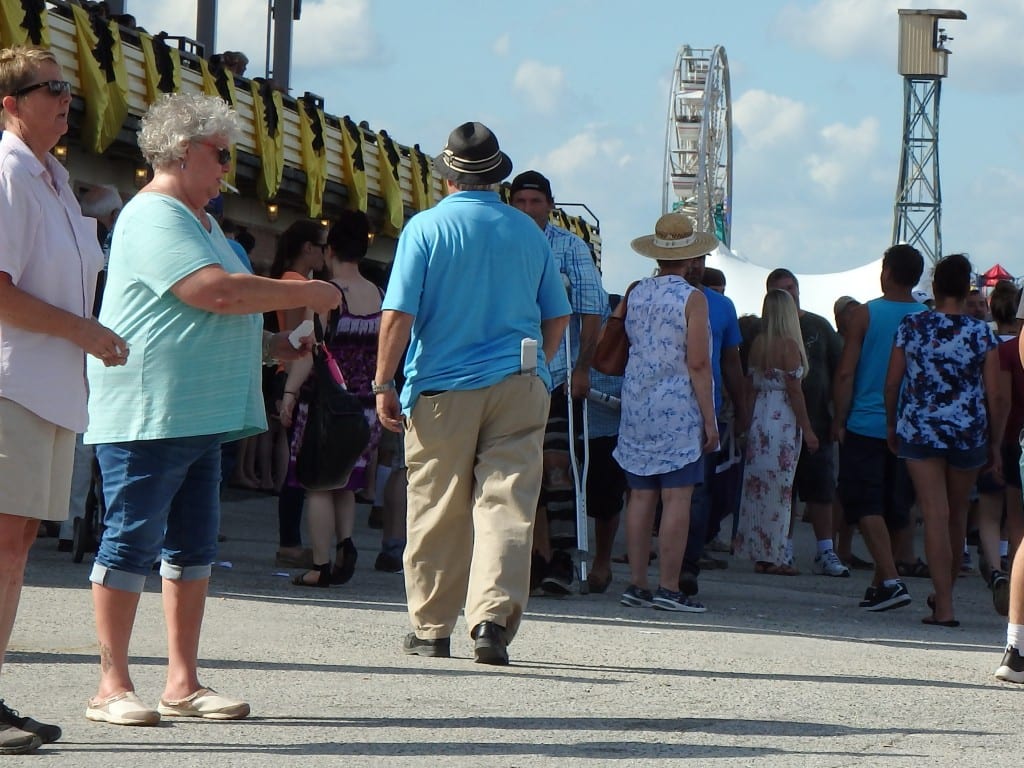 Trainer Charlie Frock struts off after a two-win day.
by Frank Vespe
There was, track announcer Dave Rodman said, "a flock of Frocks in the winner's circle" following this afternoon's second race at Timonium.
And why not?
Midnight Cry's win in the second gave 75-year-old paterfamilias Charlie Frock wins in both legs of the early double — and his first two wins at the meet to which, more than any other, he points each year.
"I thought it was great because both my sons had a piece of the action," Frock said. "My son Charlie has a piece of the first horse [Great Nation] and my son Randy has a piece of the second horse. So to win the daily double for both the boys was like a gift."
Frock will complete the seven-day Big T stand with two wins from 16 starters. The 16 runners are the third-most of any trainer to date; his two wins are tied for fifth. He entered two for Monday's closing day, but neither race went.
"We have 15 horses at Pimlico and usually during Timonium, I try to run as many as I can," Frock said. "It's fun to us. We have a box up by the winner's circle and [State Fair and Agricultural Society chairman Gerry Brewster] is right next to us, and him and my dad knew each other real well. I like to represent Timonium as much  as I can because we do real good here, and today just by accident we won two races and a second."
Frock, a winner of 477 races in his career with purse earnings of more than $6.5 million, got his start in racing galloping horses for his father, a local trainer — "My father used to race here all the time," Frock said of the Big T — and later became a jockey riding races in New York and Maryland.
But his riding career fell victim to the standard bugaboo: the dinner table.
"By eating too much, I outgrew my job as a jockey," Frock said. "Here I am at like 200 pounds. Back then I weighed 115, before eating too much and celebrating and having fun."
Fortunately, right about then, Frock's father located an 85-acre farm in Westminster for the princely sum of $10,500. The family purchased it — this would have been about 40 years ago, Frock said — fixed it up, and owns it to this day. It's fair to say it's worth a good bit more today than its purchase price.
That put Frock on the path he continues this day. It's a path on which Timonium has played an outsized role, although the Big T meet has dropped from as many as 42 days to just seven.
Of course, in part that's because he enjoys it. It's also, he said, because of the Big T's unique position in the Maryland racing industry.
"It's great because people that come off the farms that never win a race come here and they win and that's great," the trainer said. "It gives the little guy a chance to win a race. It's like me, I'm a little guy."
Frock said he has 15 or so in training at Pimlico. His barn made 22 starts during the nearly-three month Laurel summer meet — just a few more than it's made at the Big T.
All of Frock's Sunday starters — winners Great Nation and Midnight Cry; Hanalei Sunset, who finished second by a half-length at 19-1 in the fourth; and Wazzala, who ran up the track — had apprentice jockey Antonio Quiles in the irons.
"This kid's got speed and he sends a horse really good," Frock said. "I think with the right guidance at Laurel, the boy might take off because he can ride."
Frock said his wife Barbara — "She's my bookkeeper, handicapper, advisor, and actually takes all the money," he said — first suggested using Quiles. At least during the Timonium meeting, it's been a fruitful partnership.
As the day wound down, Frock made his way from the paddock towards his family box. At each step, it seemed, he stopped to shake hands and greet a friend.
"Everybody in Westminster, they said, 'You gotta shot today?'" Frock recounted. "I said listen, 'I got four horses in. I think I'll win the daily double."
BIG T NOTES My Star Potential won at first asking in a maiden special weight for trainer Claudio Gonzalez with Jomar Torres up, running down Pink Notion to win the four-furlong test in 46.59 seconds… Nine-year-old Gold Man took an allowance-optional claiming test by four lengths in a sharp 1:15.91 for 6 1/2 furlongs for trainer Tim Kreiser with Angel Rodriguez up. It was his 18th career win; he was claimed by trainer Hugh McMahon…  Heading into Monday's closing day card, jockey J. D. Acosta's six wins give him a narrow lead over Angel Cruz (five) and Erin Walker (four)… Gerald Brooks, with four wins, leads all trainers. Phil Schoenthal and Joan Reynolds have three each…