Timonium: Gerald Almodovar logs win 2,000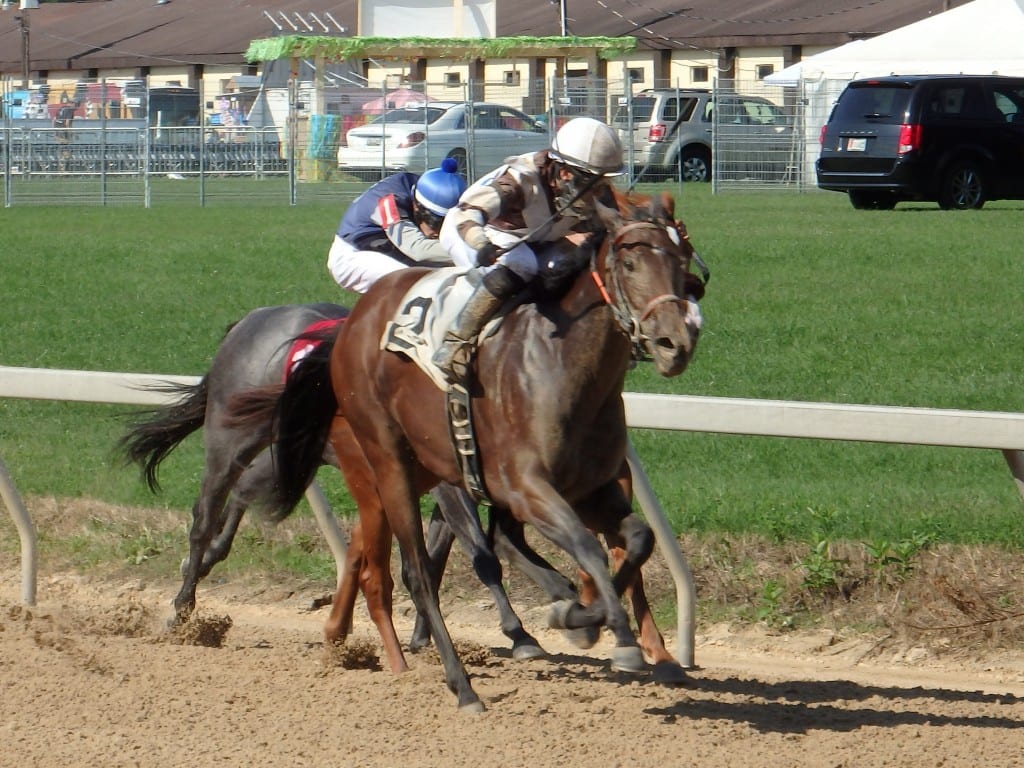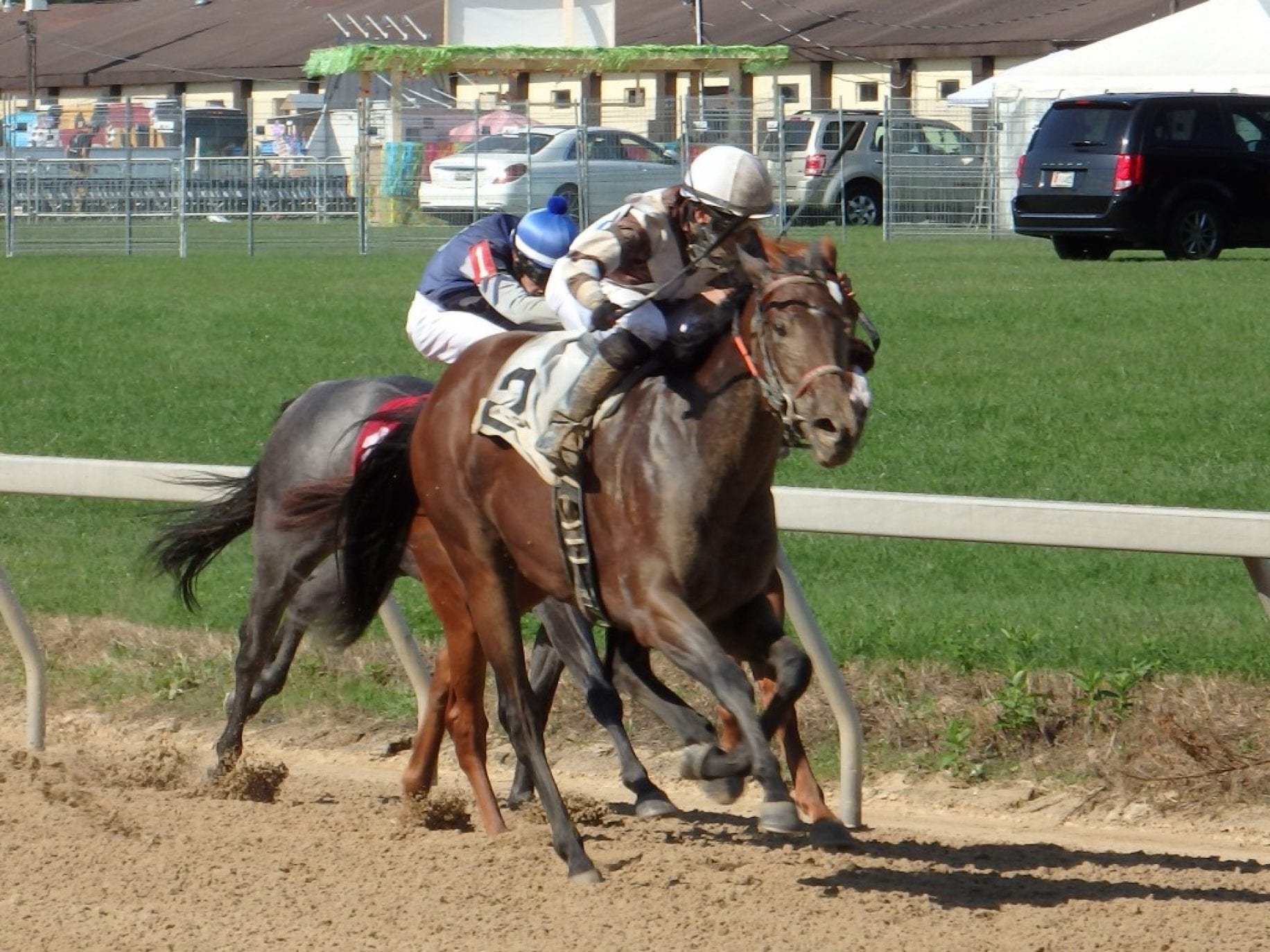 No Refunds give Gerald Almodvar win number 2000. Photo by The Racing Biz.
by Frank Vespe
Jockey Gerald Almodovar gave a fist pump as he and his mount, No Refunds, flashed past the wire in Friday's seventh race at Timonium — and not just because the two-year-old filly was a 16-1 outsider at post time.
No Refunds' win, the second in her last three starts, provided Almodovar the 2,000th win of his riding career.
"I was thinking of everybody that helped me, everybody that got me here," Almodovar said of his fist pump. "I've been doing this for a little while, and it seems like it's paying off."
Indeed. Almodovar, who entered the day two shy of the mark, scored in the first race aboard Goodbyeseeulater for trainer Kieron Magee. He was fifth aboard Rosuri in the fifth race before registering the landmark triumph.
He has won 2,000 races from 10,856 starters, with career purse earnings in excess of $33.5 million. His mounts have earned at least $1.3 million every year of his career, which began in 2004, with top marks of 233 wins in 2005 and over $3.4 million in earnings in 2009. In the latter year, he won four stakes, three of them aboard Trust Or Bust.
Though Almodovar has made his name and enjoyed most of his success at Charles Town — he's currently second by wins and purse earnings at that track's 2018 meeting — he's also won more than his share at the Big T. He was second here last season with seven wins at the brief one-week stand.
"I always like coming to Maryland," he said. "The Fair, the atmosphere, the people [are] so nice."
Jevian Toledo had ridden No Refunds in each of her first five starts, the fourth of those providing her maiden-breaking score. But with Toledo taking mounts elsewhere during the Timonium meeting — not an uncommon practice among the top Maryland jockeys — trainer John Salzman, Jr. turned to Almodovar.
No Refunds and Almodovar lagged well off the early pace set by Barbsgray Lion, while pressed by Come On Callie. Those two navigated the opening half-mile of the two-turn, 6 1/2 furlong journey in 47.73 seconds, while No Refunds was about six lengths back in fifth.
No Refunds began to mount a rally, and Almodovar steered her out to the three-path nearing the lane. Come On Callie took the lead leaving the turn and was resolute in the lane, but No Refunds drove clear to win by just over a length in 1:19.99 for 6 1/2 furlongs.
No Refunds paid $34.40 to win and topped an exacta worth $75.50 for a buck with Come On Callie in second. Barbsgray Lion held third, while favored Lucky Be a Lady faltered to sixth.
"When she was making her run, I thought this was going to be my 2,000th win," said Almodovar.
And then it was all over but the fist-pumping.
BIG T NOTES Trainer Gerry Brooks and jockey Erin Walker teamed up to take two, winning the fourth with 13-1 My Pirate and the fifth, a maiden event for two-year-old fillies, with Elysium… Another Charles Town-based rider, Jose Montano, also won two…