"Lucky man" Galvan feeling his way, step by step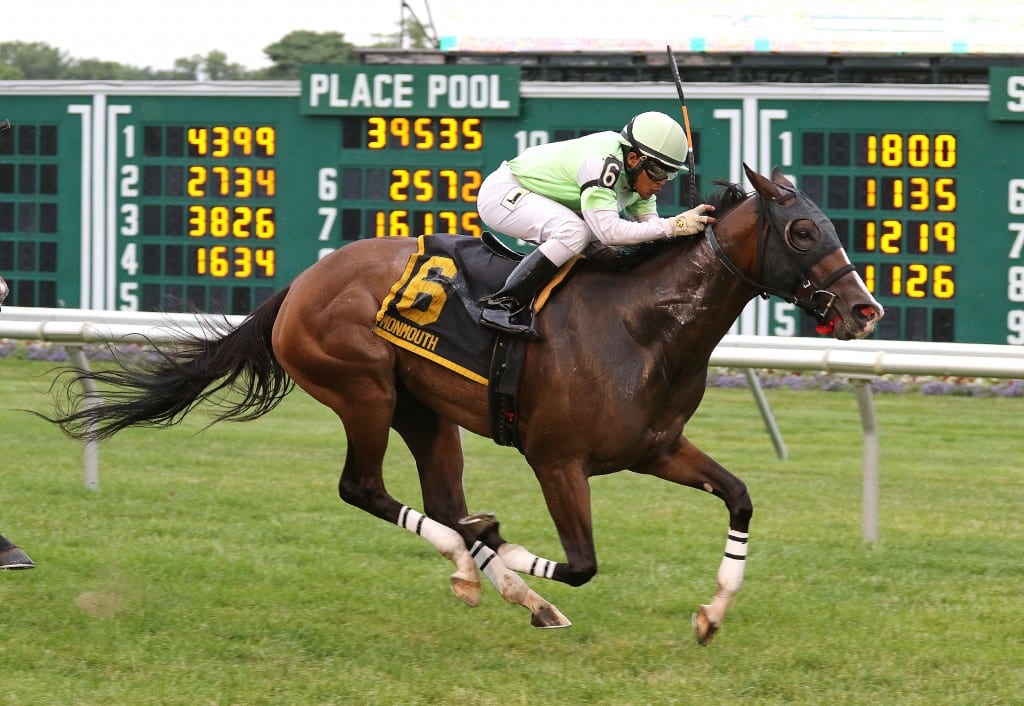 Miss Deplorable winning the Blue Sparkler at Monmouth Park. Photo By Ryan Denver/EQUI-PHOTO.
by Doug McCoy
Since he can remember getting on his first horse as a youngster in Silao, Mexico, Baltazar Galvan has always felt the unique bond of communication that exists between man and animal.
"It's not easy to explain, but any good exercise rider or jockey will tell you there's a connection between horse and rider, a bond where rider and horse can sense each other's vibes and work as one," Galvan explained recently from his headquarters at Delaware Park. "You can talk all you want to someone who's getting on your horses, but you'll never get as much input about the horses that you'll receive from getting on them yourself."
The 38-year-old trainer began his racing career as a jockey in Mexico and then later moved to the U.S. where he worked for some time with quarter horses.
"I used to break quarter horses and was lucky enough to have been on some of the top quarter horses in the business," he recalled. "I worked in Georgia and Florida, and it was when I was in Florida that I met owner Richard Weiss."
Weiss, who owns Sorrento Oaks Farm in Eustis, Florida, met Galvan and was impressed enough with the young man to give him three young horses to develop.
"He had watched me with the babies and I guess he saw how much I enjoyed working with them so he gave me some yearlings to break and train. When they were ready to go to the track I took out my trainer's license. That was in 2013 and we've been expanding and working to build a competitive outfit ever since."
Galvan has 20 head stabled at Delaware Park, down from the 24 he started the meeting with.
"We've culled a few out," he said. "This is a business, and when you've got a blue-collar operation like we have you can't afford to carry horses too long if they're not paying their way. I'm lucky in that my owners like Weiss, David Posey and Randle Glosson are all patient men who understand the business. They realize when it comes to thoroughbreds, you have to be willing to take your time and allow your horses develop and grow up."
That's because of the nature of the game — and the nature of horses themselves.
"No two horses are the same, whether it be physically or mentally," Galvan pointed out. "Some are quick learners, some mature at a rapid rate, while others are slow to come around. You may have a horse who is filling out nicely from a physical standpoint but is still very much a child mentally. Giving your young horses time is probably the biggest lesson I've learned as a trainer."
Galvan still gets on most of his runners from the time they begin their education at Florida's Williston Mile Farm, and it was there that he first got on a Big Drama filly who would in time be named Miss Deplorable.
"Nobody's ever put a saddle on her but me," the trainer pointed out proudly, "and you could tell right from the start she was something special. That's why we started her the first time in a stake (The White Clay Creek Stakes for two-year-olds at Delaware Park last August). We knew she had talent."
After that sixth place finish in her debut Miss Deplorable was given time to grow and develop and it was six months before she next saw action. After a couple of starts in south Florida, Miss Deplorable was freshened again for three months before she next started at Delaware Park in a five furlong maiden dash on the turf June 28. She won that race, and her effort that day so impressed her connections they decided to start her next at Monmouth in the $60,000 Blue Sparkler Stakes going 5 ½ furlongs on the turf.
"The most recent race here (at Delaware Park) told us she had arrived as a race horse," Galvan said. "A lot of people wouldn't have wheeled a maiden winner right back in a stake, but we knew she was ready to take that jump in class."
And ready she was. Dismissed at 12-1 in the Blue Sparkler, Miss Deplorable dueled the early speed rivals into defeat into the stretch then had enough left to hold off a late challenge from the favorite and post a length win while covering the 5 ½ furlongs in 1:02.74. It was the first stakes win by a Galvan-trained runner.
"She's an awful nice horse, something out of the ordinary," her trainer exclaimed. "We haven't picked out any place to run her next. She's a black type winner now, and we're not going to rush things, not after taking the time to let her come around. When you've got a limited budget, you understand you're not going to have a barn full of superstars. Most of my horses are honest, hard-trying types but I have to admit, having an exceptional runner like Miss Deplorable in the barn every day sure makes things a little brighter."
Galvan is married to wife Isabella and the couple has three children, Eliza, Elijah and Eron.
"I'm a lucky man. I love what I do for a living, and my wife understands that and allows me to pursue my dream," the trainer admitted. "Hopefully Miss Deplorable's success will help the stable grow and improve. It's a tough business, but we're on track to have our best year yet in terms of earnings this season, so we're optimistic for the future."