Past, present, future celebrated on Maryland Pride Day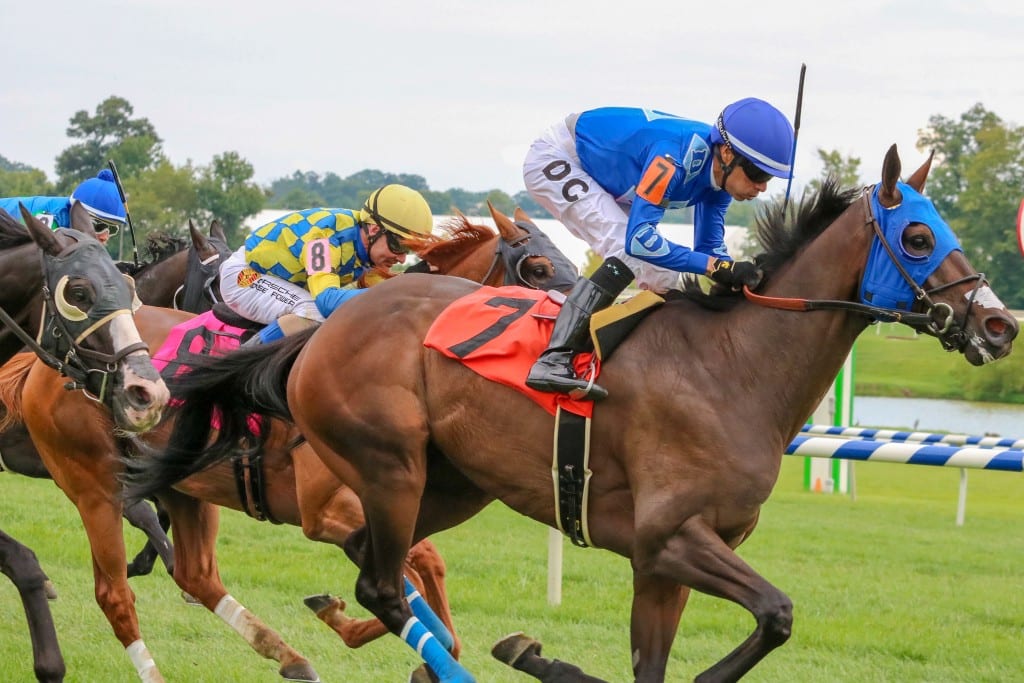 Sonny Inspired won the Ben's Cat Stakes. Photo by Dottie Miller.
by Ted Black
On the day when two Maryland-breds were added to the growing list of Maryland Thoroughbred Hall of Famers, Laurel Park offered a deep and contentious Maryland Pride Day card highlighting numerous Maryland-bred runners and offering several stakes named for horses that have either already entered the Hall or among those with aspirations of someday being inducted.
In the first of the four stakes races on the card restricted to Maryland-breds, Sonny Inspired regained his forgotten fondness for the turf course when he rallied from off the pace to forge a 9-1 upset in the $75,000 Ben's Cat Stakes, named in honor of the late, great King T. Leatherbury homebred who seems destined for enshrinement in the Maryland-bred Hall of Fame in due time.
Heading into the Ben's Cat, much of the attention had been on English Minister, although the eight-year-old English Channel gelding had not recorded a win all season and would eventually settle for third as the 7-5 choice. But Sonny Inspired benefited from an ideal trip behind speedsters Spartianos and Smile For Eternity, sat third through the early stages and then angled toward the center of the track in the lane, overhauled the early leaders and held safe the late bids of Grandiflora and English Minister to score by a length in 1:08.95.
A seven-year-old Artie Schiller gelding trained by Phil Schoenthal for owner D Hatman Thoroughbreds and bred by Charles & Cynthia McGinnes of Thornmar Farm in Chestertown, Sonny Inspired notched his second win in eight starts this year and now owns eight wins and nearly $565,000 banked from 52 career outings. He has won three times and earned nearly $150,000 banked in 15 starts on the grass and his next start will likely come against Maryland-bred company on the Laurel lawn.
"Early in his career he made over $100,000 running in grass races," Schoenthal said. "But he's always been a notch below the graded stakes horses. Now the best thing is just to find races where he fits. We might try him in an $80,000 claiming race in New York or we might go in the Find Stakes here on the grass. He's always been good in the one-turn sprints, but we might have to run him in spots where he can win and the Find at one-mile on the grass might be the next spot for him."
Then two races later in the latest renewal of the $75,000 Miss Disco Stakes for state-bred three-year-old fillies, Majestic Reason (Jorge Vargas, Jr) rallied from just off the pace while changing course several times in the last furlong to edge clear from the speedy Zorally and Caught Dream'n to score by two lengths in 1:10.80 for the six panels on the main track. The sophomore daughter of Majestic Warrior trained by Graham Motion had been second as the favorite in her previous outings after winning her debut smartly on June 8, but rebounded smartly for co-owner and co-breeder Ellen Charles.
"She ran a great, great race," Charles said. "She really found her best stride at the end. I was disappointed with her previous race. I thought she ran so well in her first start, but then was was just okay in her last one. Through most of the race today I thought she was going to be fourth or fifth. But the jockey did a great job getting her to the inside. She really finished well. Maybe the next time she'll go seven furlongs."
Then one race later in the $75,000 Jameela Stakes at six furlongs on the grass, Rocky Policy (Centeno) gained command from favored Crabcakes (Forest Boyce) past the opening quarter, surged to a clear lead through the far turn and then held safe Crabcackes through the lane for a one-length score in 1:08.78, a clocking slightly faster than the older males posted in the Ben's Cat. A six-year-old daughter of Slide trained by Dale Capuano for owner Richard Vermillion, celebrating his 50th year in horse racing, recorded her fifth win in 27 career outings and posted her first score in 10 tries on the turf.
"The way she had been training, I knew she would be tough to beat on the front," Capuano said of Rocky Policy, who represented his third winner on the card. "It didn't look like there was a lot of speed in the race and I knew this was Crabackes first try on the grass. She's a great filly, but sometimes it is tough to transition that form over from dirt to turf. My filly had run some big races on the grass. She had three Beyer figures in the 90's, but she had not been able to win one until today."
Crabcakes, the reigning Maryland Million Distaff Handicap heroine, was making only her second start of the season and her first ever on the grass. The Bernie Houghton trainee raced well in defeat while settling for the runner-up honors and still sports a stellar 7-4-1 slate and $345,000 banked from 13 lifetime outings. The four-year-old daughter of Great Notion trained by Bernie Houghton for the late Binnie Houghton (Buckingham Farm) showed speed early and raced evenly through the lane in her turf debut.
Then two races later in the $75,000 Star De Naskra Stakes for Maryland-bred three-year-old colts and geldings, Whereshetoldmetogo (Jeremy Rose) lived up to his role as the 3-5 favorite when he rallied from just off the pace and overhauled Onemoregreattime in the lane for a two-length score in 1:09.11. A sophomore son of El Padrino trained by Anthony Pecoraro for the Black Cloud Stable, Whereshetoldmetogo recorded his third straight score and now owns six wins and $260,000 banked from 14 career tries and continues to impress his rider.
"He's one of those horses that keeps getting better and I just try to stay out of his way," Rose said. "He doesn't like to change leads, but he still finishes well. I didn't want to get too cute with him early. I just let him settle into his stride and he finished up well when I asked him. He really is continuing to progress with each race. It was only my third time aboard him and he's run well all three times."
Saturday afternoon both Caesar's Wish and El Gran Senor were formally inducted into the Maryland-bred Hall of Fame just prior to the running of the Ben's Cat Stakes, who appears destined for enshrinement one day. Jameela, who won 27 of 58 races and earned over $1 million in her career, was among the inaugural dozen inductees, while Star De Naskra, who won 15 of 36 races and earned nearly $600,000, is among the potential Hall of Fame members. Star De Naskra won three Grade II races, including both the Whitney Handicap and Carter Handicap which have since been elevated to Grade I status.