Spa Diary: "Crooked, ugly" Ruby Notion keeps it in the family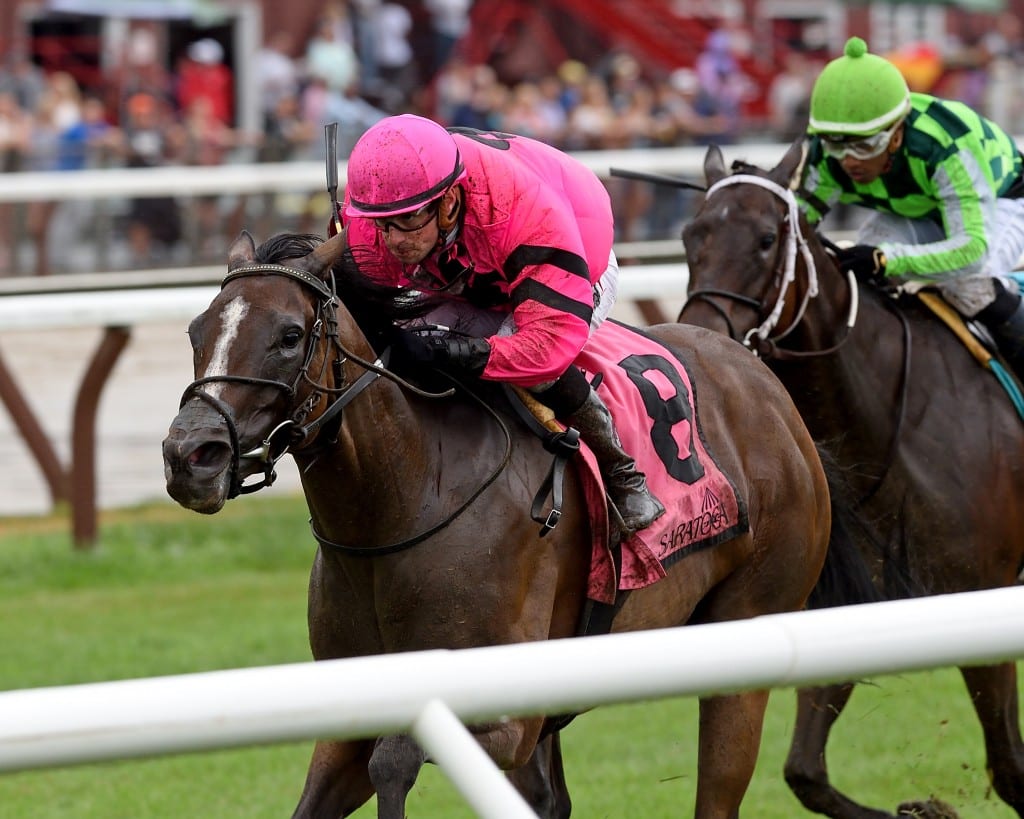 Ruby Notion won the Caress. Photo by NYRA/Chelsea Durand.
Teresa Genaro keeps her eye on Midlantic horses and people in Saratoga once again this summer in her Spa Diary.
by Teresa Genaro
If Daisy Buchanan's voice is full of money, Bonnie Hamilton's is full of merriment.
Returning a message that had been left on her husband's phone a week before, she bubbled apologies, then launched into a delighted, and delightful, story of the mare that she and her husband Tommy had bred and own as Silverton Hill Farm.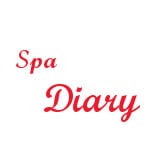 At odds of 27-1, Ruby Notion had won the listed Caress Stakes at Saratoga on July 23. She had run in the same race the year before, finishing fourth; Saratoga is one of eight tracks she's run at, including Ascot.
So how did a pair of Kentucky breeders end up with a West Virginia-bred that ran in England?
"Trainer Jeff Runco is a good friend," explained Hamilton, referring to the Charles-Town based stalwart, "and we have some of our horses be West Virginia-breds to be eligible for the state-bred races."
Out of the New Zealand-bred Modena Bay (whose sire is Britain-bred), Ruby Notion is by Great Notion, who stands in Maryland (are you still with me?) at Northview Stallion Station. She didn't, at first, impress her breeders.
"She's crooked, she's not big, she's all the things that you'd never buy in a horse," said Hamilton. "But she's such a personality, and she's just the coolest. We've had the best time with her."
With a record of 13-5-0-3, the five-year-old mare has earned $276,000 and won three stakes, two of them black type at Monmouth Park and Laurel Park. She may be the only horse in the history of racing that made her debut in a maiden claimer and her next start at Ascot.
She won that maiden claimer at Churchill Downs by 3 1/4 lengths for trainer Wesley Ward. Known for taking his two-year-olds to England, he took a shine to the filly that nobody else wanted.
"We gave her to Wesley in January of that year," said Hamilton. "He went on and on about Ruby, this little, crooked, not-impressive horse, and said, 'We're going to run her at Keeneland and then run her at Royal Ascot.'"
Bucked shins prevented her from running at Keeneland, so Ward said that he'd run her for a tag at Churchill, then ship her across the Atlantic.
"By then we were really attached to her," said Hamilton, "And I thought she had a fair amount of talent. I said to Wesley, 'I'll never speak to you again if they claim that filly.'
"He said, 'She knocks the buckets off, she's crooked, she's ugly. Nobody's going to take her.'"
And he was right: no one took her, and she won, as Hamilton put it, "easy, easy, easy."
She then ran fifth in Ascot's Windsor Castle Stakes against males in a field of 26, an outcome that completely satisfied her owner.
"She ran really, really well and was just so cool about everything," she said.
Thirteen races in a four-year career may not be much, but the Hamiltons have no trouble bringing Ruby Notion home when she needs a break, which happens frequently, as she has tended to get body-sore after running, a tendency that seems to be diminishing this year.
"She's like one of the dogs," said Hamilton. "When you come home, she's right by the gate, ready to say hi."
The Hamiltons bought Ruby Notion's dam and two other horses from New Zealand. A six-year-old when she came to the States, Modena Bay ran for the Hamiltons for two years and has produced four runners, all winners, Ruby Notion the best by far.
They also purchased Great Notion as a yearling for $82,000 and raced him during a career whose highlights included a runner-up effort in the Grade 1 King's Bishop at the Spa.
"We raised both of the parents, and that doesn't happen very often," said Hamilton. "When you win with a horse you raised and race, it just means a lot more."
Now trained by Darrin Miller, Ruby Notion, a dark bay mare, was ridden in the Caress by Julien Leparoux and came out of the race "great." Her owners are contemplating her next race, which could come at Kentucky Downs or Presque Isle.
"I get really excited when we win a $10,000 claiming race," Hamilton said. "When she won the Caress, we were so crazy you'd have thought we won the Kentucky Derby.
"It's great to win with any horse, but to win with Ruby is so special to Tommy and me."