Charles Town: Dr. Feelgood a killer "Panda Bear"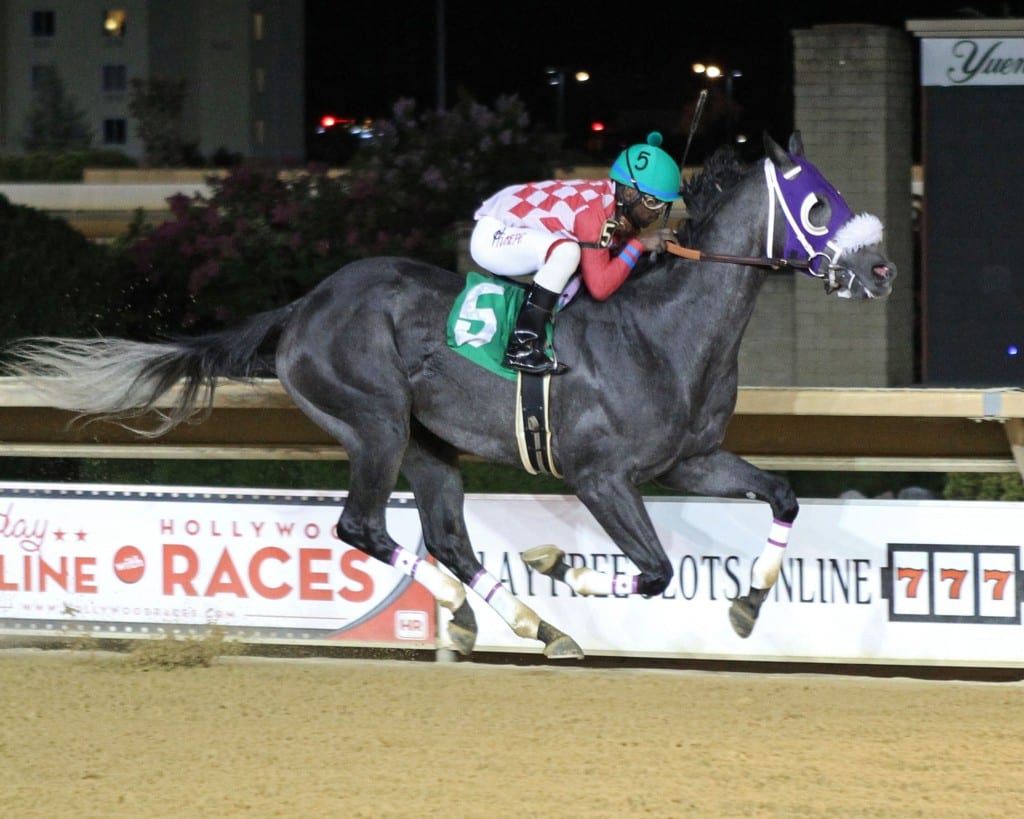 Dr. Feelgood and Darius Thorpe won at Charles Town Races July 20. Photo by Coady Photography.
by Ted Black
Following a belated start to his career while his mental state caught up with his physical frame, Dr. Feelgood has won all three of his starts since making his career debut Memorial Day weekend. The Crystal Pickett-trained sophomore — nicknamed "Panda Bear" for his calm demeanor — is on the cusp of seeking stakes success.
A gelded son of Fiber Sonde out of the Polish Numbers mare Happy Numbers, Dr. Feelgood was bred by Francis "Chip" Daniel, III and owned by Jill Daniel. Pickett has given jockey Darius Thorpe a leg up on Dr. Feelgood for all three of his starts, and each time the gelding has prevailed handily, winning those three races by a combined margin of 12 lengths. His last two allowance victories have been at the two-turn distance of 6 1/2-furlongs, which should have him primed for the seven-furlong Robert G. Leavitt Stakes for state-bred sophomores August 18.
Dr. Feelgood is also the half-brother to another former Pickett trainee, Get The Sensation, who won four of eight starts and earned just over $100,000 before she broke down in the Sylvia Bishop Stakes.
"Last year he definitely had the speed to make it to the races, but he was such an immature horse that it seemed better to just give him time to let his mental state catch up with him physically," said Pickett, who has saddled 336 winners with earnings of $7.25 million in her training career, including multiple stakes with Flattering Bea. "He's a huge horse, but he wasn't quite mature enough mentally to make the races last year. He's also the friendliest horse in the barn. He seems a lot calmer than most of the Fiber Sondes, and his nickname around the barn is 'Panda Bear' because he's always looking for treats."
Pickett began gearing up Dr. Feelgood for his career debut in the spring and found a one-turn maiden special weight dash for him on Memorial Day weekend at Charles Town. Although convinced his better races would be in the two-turn events to follow, Pickett was confident that Dr. Feelgood had enough speed to be a factor in his May 25 debut going 4 ½ furlongs, and the Fiber Sonde gelding overcame his 7-1 price to lead throughout and draw clear to a five-length score while getting the distance in 52.74.
"He's a big horse but he's always been quick early," PIckett said. "Going into his first race going four-and-one-half furlongs I thought he would be able to get away from there and do okay. He showed plenty of speed and then he really finished up well. From there I was looking for a two-turn allowance. He came out of that first race really good, and I didn't really have to do much with him between starts."
Five weeks later Dr. Feelgood made his first attempt against winners and going two turns when he tried a 6 1/2-furlong state-bred allowance over the strip. This time the Pickett trainee was sent postward as the 2-1 favorite in the field of nine and he again displayed enough early speed to gain the advantage through the clubhouse turn and then proceeded to draw clear from runner-up Pagan Smart in the lane to a 4 1/2-length score while getting the distance in 1:20.03 while being geared down late by Thorpe.
"That second start he was really keen, and then he was definitely a little green in the lane," Pickett said. "I knew he had enough speed to make the front before the turn and he just opened up down the backside. It looked like he was 10 lengths clear on the far turn and Darius just wrapped up on him. He still was looking around a lot through the stretch, but he's still learning what he needs to do out there."
But in his most recent start on July 20, Dr. Feelgood was not as keen early and he finished much stronger, edging clear from older rivals Jeffery Scott and Who's My Boss to score by nearly three lengths while getting the 6 1/2-furlongs in 1:18.84 over the fast strip as the solid 9-5 favorite. It was his third win in as many starts and his second triumph against winners and going two turns and convinced Pickett that the Fiber Sonde gelding deserves a chance to tackle stakes foes in his next start.
"He showed me a lot in his last start," Pickett said. "He seemed to relax a little more on the front and he finished a lot better. It will be about four weeks between that race and the Leavitt and I think the seven furlongs will be perfect for him. He's been beating older horses in each of his first three starts and now he will only have to face three-year-olds in the Leavitt. He's eligible to the Breeders Classics, so that would be the next step for him after the Leavitt. He's just one of those horses that is friendly to everyone at the barn and the first horse in the morning everyone comes to see."