Delaware Park Racing Notebook 2018: Mid-meet review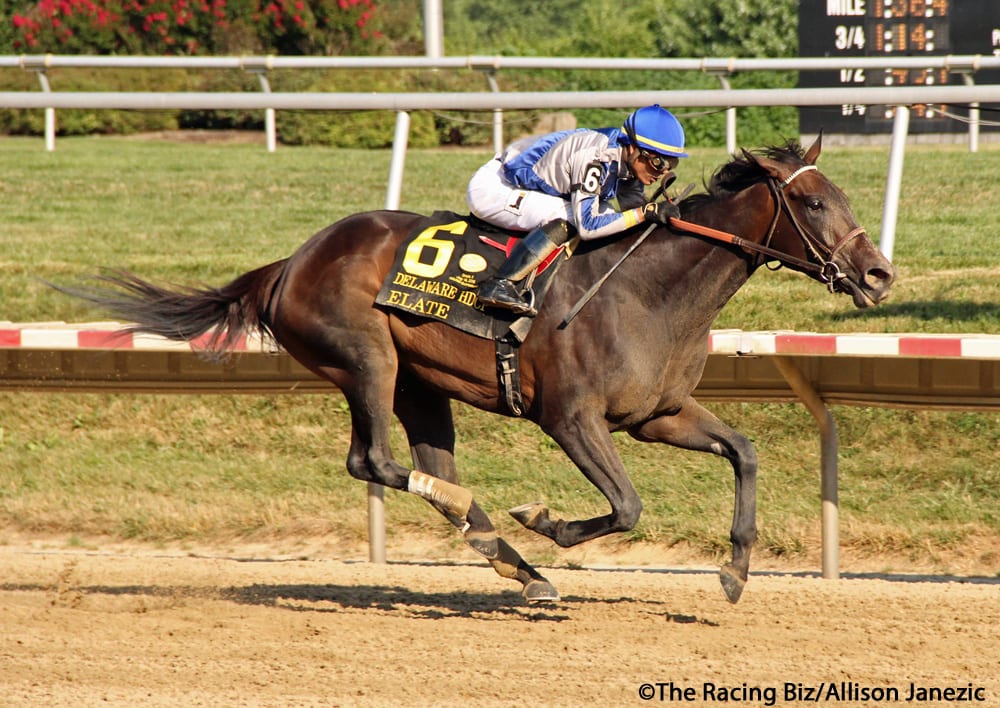 Elate. Photo by Allison Janezic.
by Doug McCoy
As this year's 81-day Delaware Park meeting approaches the halfway mark, it's a good time to review the racing through the first two-plus months and talk about some of the noteworthy performances and accomplishments of 2018.
Of course, whenever you talk about racing at Delaware Park, you have to talk about the Grade 2, $750,000 Delaware Handicap. The longstanding fixture is the centerpiece of each year's racing program at the Stanton oval, and the race has seen some of the greatest distaff stars in the sport bring their brilliance to the DelCap. Champions like Susan's Girl (1973-75), Optimistic Gal (1976), Blessing Angelica (1971-72) and more recently Royal Delta (2012-13) and Songbird (2017) have captured the race that has managed to stand the test of time and maintain its reputation as one of the premier distaff tests in the business.
The 81st running of the DelCap again attracted one of the top distaffers in the business when trainer Bill Mott decided to kick off Elate's 2018 season in the mile-and-a-quarter classic. The beaten favorite in the 2017 Breeders' Cup Distaff, Elate had been off since November when she shipped in for this year's DelCap, and there were some who questioned the wisdom of running a horse a mile and quarter off an eight month layoff.
But you don't earn a place in the Racing Hall of Fame making poor decisions with good horses, and Mott said before the race he felt confident he had his star fit enough to handle both the distance and competition.
And he was right. After watching the leaders crawl through a slow opening half-mile Jose Ortiz decided to show the competition what they were going to have to contend with. He zipped up the outside with Elate down the backstretch to shadow the leaders then cruised to the lead in the second turn. The 4-year-old daughter of Medaglia d'Oro won by just over three lengths, and even though she understandably may have tired a bit at the end, she gave every indication that if all goes well she'll be a serious threat this fall at the Breeders' Cup.
Mott admitted she may have been a bit over her peak in last year's Distaff but plans on bringing a fresher, sharper Elate to Churchill Down this year. So again this year an exceptional performer showed her brilliance in Delaware Park's crown jewel.
When talking about noteworthy performances, a horse who raced on the undercard on DelCap day turned as many heads in defeat as many horses do by winning.
Untamed Domain finished just a length back of Mendelssohn in last fall's Breeders' Cup Juvenile Turf, and that was just one of the races where the Animal Kingdom colt might have been best in but didn't win during his career. He was clearly the class of the Kent field but was the victim of one of the worst trips imaginable.
Within striking distance along the rail early under Jose Ortiz, Untamed Domain was checked, steadied and in tight quarters no less than three times by the time the field swung into the stretch of the nine-furlong, Grade 3 stake, and then to top it off, the colt was stopped dead along the inside by a drifting rival to wind up fifth in another race he should have won but didn't. This colt has a ton of talent and ability, and most Animal Kingdom offspring only get better with age. Keep an eye on Untamed Domain.
One other runner to keep an eye on came out of the meet's other top race, the Grade 3 Delaware Oaks. This year's edition attracted what looked on paper like a solid, contentious field. What it turned into, however, was an absolute tour de force for the Kellyn Gorder trainee Red Ruby. The Tiznow filly, entering off a win in the Grade 2 Black-Eyed Susan Stakes, made short work of her rivals in the Oaks, powering to a dazzling 13-length victory in the race's third-fastest time in the last 20 years. She's expected to go hunting bigger game at Saratoga in her next start.
There were some eye-catching efforts sprinting from locally-based runners, most notably Whereshetoldmetogo's smoking win in 1:08.62 here earlier in the meeting. That Anthony Pecoraro runner proved that race was no fluke by shipping to Laurel and winning a stake the next time out.
Gerry Bennett's talented My Boy Lenny turned in one of the best efforts sprinting by a three-year-old when he dusted a field of allowance/optional claiming sprinters in 1:09.61 on June 7. Even through the colt didn't follow that up his next time out, we still think he's got the speed and talent to race competitively at the stakes level.
The big rider's story of the meet is Carol Cedeno. The quiet 27-year-old, who came to Delaware Park in 2014 trying to kickstart her career, is now queen of the local riding colony. She has been on a roll since the beginning of the meeting, and on June 11 she put her name in the record book by winning seven races on a single program, the first time that's ever been done at Delaware Park.
She has a commanding lead over Angel Suarez, (45 wins to 30) and looks well on her way to capturing her fourth riding title.
Suarez has made quite an impression in his first year riding here full time and Johan Rosado, who was spotlighted in an earlier feature, leads all apprentices and continues to improve as he hones his game.
The training race is a tight one with perennial powers Jamie Ness (15 wins) and Scott Lake (13 wins) leading the way. The Pecoraro stable is right behind the top two with 12 while winning with 33 percent of starters. It should be no surprise that the top 10 thoroughbred trainers in the standings are all veterans and accomplished horsemen with proven track records. Claudio Gonzalez, Gerry Bennett, Victor Carrasco Jr., Wayne Potts and Michael Gorham are all survivors in what has become an increasingly difficult occupation in which to be successful. Good horsemen have been training and racing here since the days of Virgil "Buddy" Raines and Henry Clark and the tradition continues.