NJ racing interests welcome new Big M sportsbook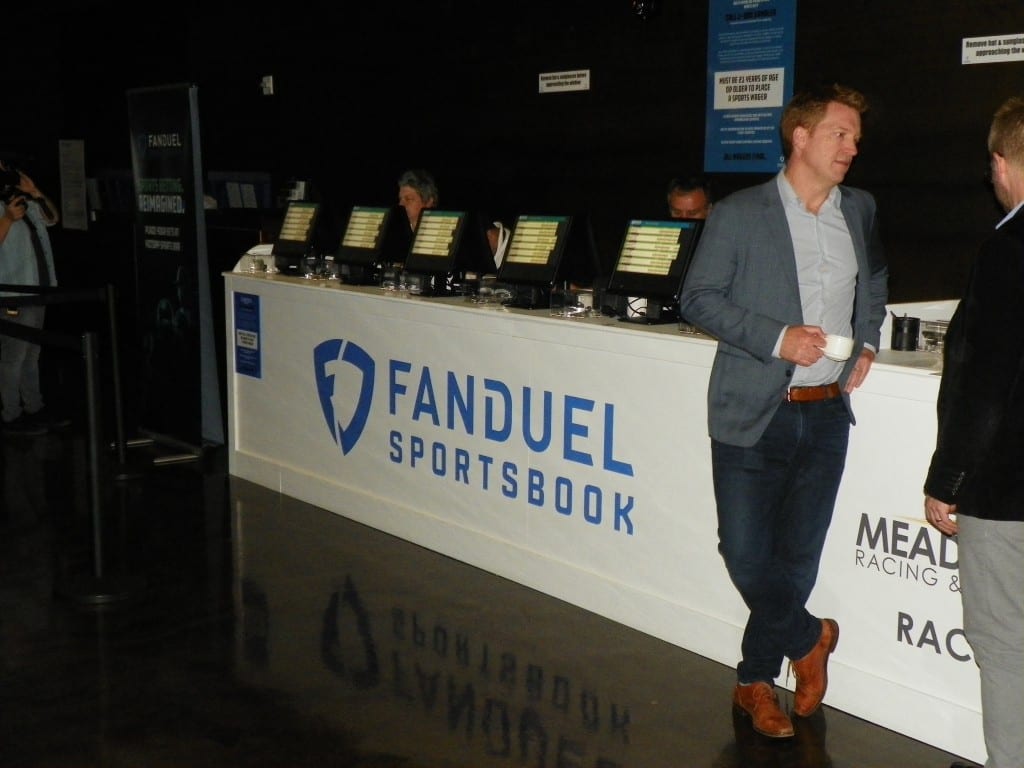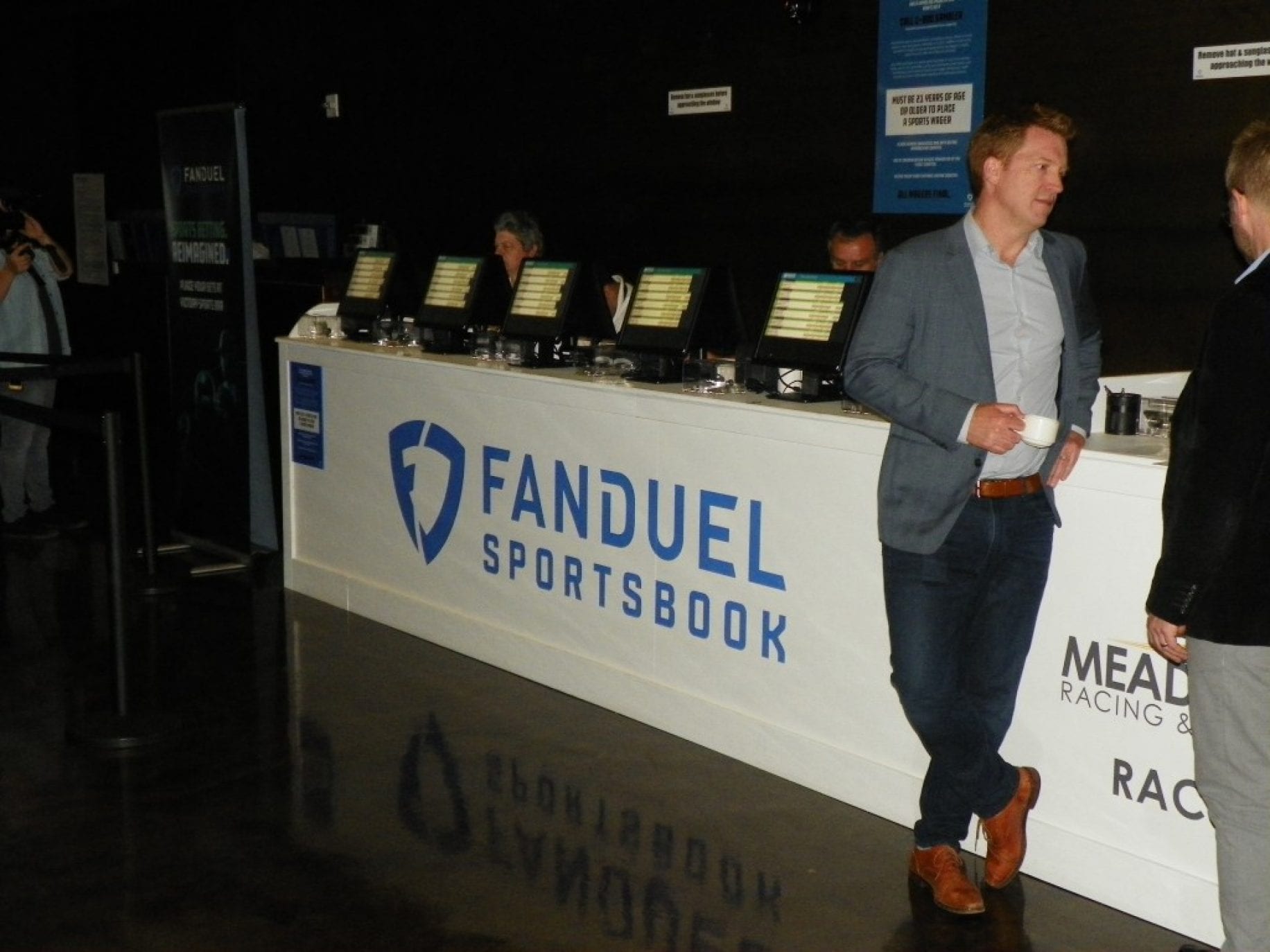 by Jim Hague
Jennifer Stovall was more curious than anything else. A retired airline worker from Towaco, NJ, Stovall wanted to be among the very first to enter the new FanDuel Sports Book at the Meadowlands Racetrack, so she got to the track 45 minutes before the scheduled 11:00 a.m. opening to the general public Saturday morning.
Little did Stovall know was that she would be among the very first to place a legal sports bet in northern New Jersey.
"I bet $20 on Croatia to win the World Cup tomorrow," Stovall said. "I didn't think I'd be one of the first ones to bet here."
The FanDuel Sportsbook will feature bets on all professional major sports, including baseball, football, soccer, basketball, golf, boxing, and motorsports. There are currently 10 teller windows and 27 televisions, but by the start of the football season, the FanDuel Sportsbook will expand to 15 betting windows and 65 television screens of all sizes.
"We believe this will be the premier sports betting experience for fans in New Jersey, New York and across the northeast region," said Matt King, the CEO of FanDuel, a fantasy sports company.
The first bet at the new sports wagering facility was actually placed by former New Jersey State Sen. Raymond Lesniak, who was also one of the first to make a bet at Monmouth Park's William Hill sports book a few weeks ago. Lesniak was one of the biggest supporters in the New Jersey state legislature of legalizing sports gambling in the state.
Lesniak bet on France to win the World Cup at Monmouth Park, so he "double downed" on France again Saturday at the Meadowlands, which turned out to be a smart move. Lesniak also enhanced his wager on the New York Giants to win the Super Bowl in February; that one may be less profitable.
"We lost eight times in court," Lesniak said. "But after seeing this today, it was worth the fight. We're hoping to give the horse racing industry a boost in the arm in New Jersey. We wanted to give the people of New Jersey the same things that they have already in Las Vegas."
Lesniak attended Saturday's grand opening wearing a Giants cap and a Colombian soccer jersey, but his money is on France in the World Cup finale.
Former New Jersey Governor Richard Codey, a longtime supporter of horse racing in the state, was also on hand for Saturday's historic opening. Codey never truly believed that there would be a day where sports wagering would be legal in the Garden State.
"I was surprised that the (United States) Supreme Court actually heard the case," Codey said of the decision made by the nation's top court to overturn the Professional and Amateur Sports Protection Act (PASPA) of 1992; that law had prohibited sports betting in most of the country. "This really changes the landscape of sports in the state."
Codey said that his only concern would be with "young males who might bet over their heads."
"That's the only negative thing about having this," Codey said. "But this gives hope to the horse racing industry. It's not the end-all and be-all, but it's a good start. It's a great start, but we need to do more."
Dennis Drazin, the president of the New Jersey Thoroughbred Horsemen's Association and the chief executive officer at Monmouth Park, was also on hand to lend his support to the cause. Drazin was the one who led the charge to change the laws to allow sports wagering in the state.
"The public has been clamoring for this," Drazin said. "It was important to get the whole state involved. It's great for New Jersey. It's all very positive."
Drazin said that the first day of legalized gambling in New Jersey, Monmouth Park saw an increase in attendance of over 1,000.
"We had a handle of $8.1 million on just sports betting," Drazin said. "On Father's Day, our attendance at the track was up more than 5,000 than last year. We've had people come at 7:30 in the morning to bet on the World Cup and had others that came to watch baseball games on the West Coast and hung out until 2 a.m. There's been an increase as well in our food and beverage sales. It's all been positive. Our original numbers have been terrific. We're thrilled."
That's good news to Drazin's good friend Jeff Gural, who owns and operates the Meadowlands Racetrack, which houses the state's premier Standardbred racing facility and now houses the lone legalized sportsbook in northern New Jersey.
"I think this is going to be an immense help to our industry," Gural said. "We have 12 million people living within 20 minutes of this track. Tell me, who has that kind of market in the country? No one else has this. We have plenty of parking. Everyone knows where it is. When things really get rolling, we'll be great."
Gural said that he's in negotiations with the Giants and Jets who occupy the adjacent MetLife Stadium for home games so that his facility could be open on Sundays when the NFL is playing. As it stands now, the National Football League is hoping to maintain its strict policy against sports wagering and will more than likely prohibit the opening on game days.
"I have no idea what's going to happen," Gural said. "I've loaned $18 million to this place. I almost fell off my chair when I realized it was $18 million. I haven't given up on the idea of being open on Sundays during the football season. This is just the start of the process of changing sports in America. Five years from now, people are going to say, 'Why did it take so long?'"
Gural was enjoying a big day, because later Saturday night, one of the jewels of the harness racing season, the Meadowlands Pace, was scheduled to race.
Both Gural and Drazin admit that sports betting will help horse racing in New Jersey, but that the state legislature has to return the subsidies it used to provide the industry in order to truly help purses and the amount of racing days both the thoroughbred and standardbred racing need.
"No way can I continue to compete with what goes on in New York and Pennsylvania, because they have slot machines," Gural said. "We need the subsidies to survive. "
Codey said that there is a plan in place to provide $31 million in subsidies to the horse racing industry.
"I think we can get it done," said Codey, who remains a member of the New Jersey State Senate. "This gives the industry some hope."
As long as fans like Stovall keep returning, after the curiosity wanes.
"I would come back," Stovall said. "It's just another option. I don't have to go to Frankie and Louie on the corner to place a bet. I can come here."
Robert Halsey, a truck driver/operator from nearby Moonachie, echoed those sentiments.
"This will probably eliminate the local bookie," Halsey said of the new facility. "I think it's convenient. It's close to my home. I can come here, make my bets, and then go home to watch on television. It's a great thing for all of us."
On another note, Drazin expressed disappointment that Justify, the recent winner of horse racing's Triple Crown, would not run in Monmouth Park's upcoming Grade 1, $1 million Betfair.com Haskell Invitational. Justify has experienced ankle swelling and will be kept off the track for the next two weeks, eliminating the chance of racing at the Haskell.
"We have been in touch with (Justify's trainer Bob) Baffert almost daily," Drazin said. "Initially, he wanted to have Justify run, but now has backed off. It's disappointing, because we probably would have had 60,000 (in attendance) like we did for (2015 Triple Crown winner) American Pharoah (who won the 2015 Haskell). But we're talking about an undefeated Triple Crown winner whose worth is around $85 million (in syndication), so they're doing the right thing. The owners will figure out his future. We will still have other top horses in the race, but when you don't have the top horse, it's disappointing for sure. But we're still going to host a wonderful race."