DelCap: Elate "ready to run" in season debut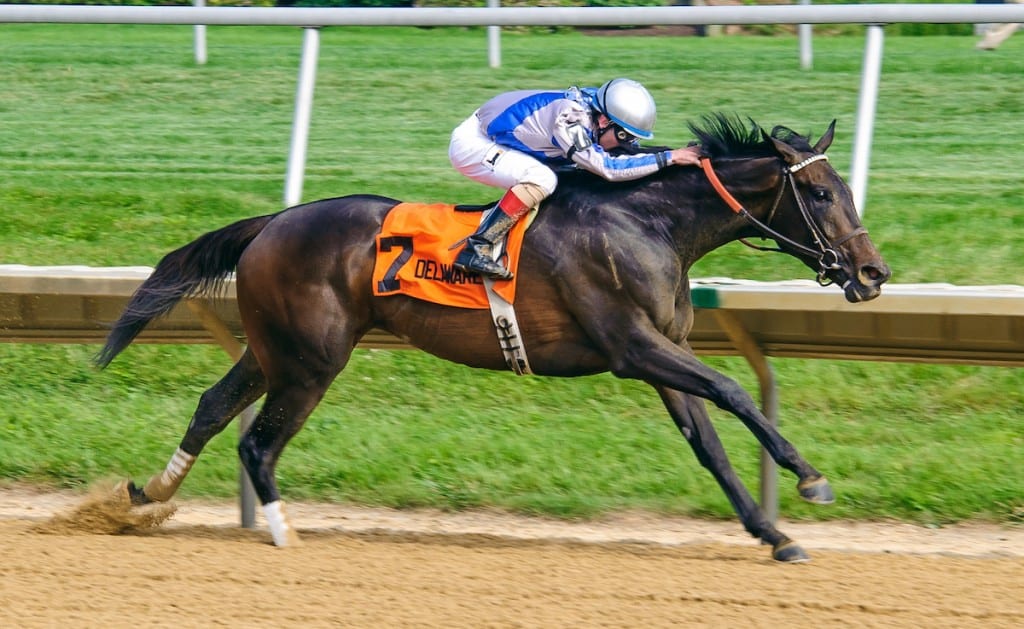 Elate won the 2017 Light Hearted Stakes at Delaware Park. Photo by HoofprintsInc.com.
by Doug McCoy
Last season it was a convincing win at Delaware Park in the $50,000 Light Hearted Stakes that kick-started Elate's season, a season that saw her win a pair of Grade 1 contests before finishing fourth as the favorite in the Breeders' Cup Distaff.
Trainer Bill Mott is hoping to use Delaware Park again as a springboard to another trip to the Breeders' Cup for Elate when she goes to the post as the probable favorite of a field of nine fillies and mares in Saturday's Grade 2, $750,000 Delaware Handicap. Elate is the 2-1 morning line favorite.
The DelCap will be Elate's first start in over eight months and most trainers would think twice about running a horse a mile-and-a-quarter after being off that long. But Mott isn't most trainers, and Elate isn't any ordinary horse. The Hall of Fame conditioner said the distance is well within Elate's comfort zone and says his charge comes up to her seasonal debut a fit and more mature individual.
"If we were asking her to go farther than she's comfortable with, it would be one thing, but we're not," the master horseman said from his New York headquarters this week. "I know she'll handle the distance, and she's been training great leading up to this first race. It's time to get started with her, and we think the DelCap's the place to do it."
Mott previously has won the Delaware Handicap twice, in 2012 and 2013. Both years it was with the champion Royal Delta.
That Elate seemed to like the Delaware racing surface played a factor in Mott's decision to kick off her 2018 season in the DelCap. Elate won the Light Hearted by over five lengths
"The Light Hearted was the race that seemed to turn the corner for her (Elate) last year," her trainer recalled. "She ran lights out that day and that started a period where she won three of her next four races and got beat a head to Abel Talisman in the Alabama in a race where she was in tight late. She may have been just a bit past her peak and a little bit tired when she ran in the B.C. Distaff, but it was the Light Hearted that got her going."
Many horsemen feel how a horse progresses from their age three to four is even more crucial than from two to three. Mott says Elate has filled out and gained weight over the winter and is now a bigger, stronger specimen.
"She's about 1250 pounds now," he reported. "She's matured even though she was always an intelligent individual and is now a very attractive mare."
Elate is a homebred for Claiborne Farm and Adele B. Dilschneider. A four-year-old filly, she is by Medaglia d'Oro and is the first foal to race out of the stakes-winning Distorted Humor mare Cheery.
The Breeders' Cup Distaff is, of course, Mott's ultimate goal with Elate, and the DelCap is the first step on that road to Churchill Downs.
"We're looking at racing her perhaps three times before the Breeders' Cup, assuming everything goes smoothly and there aren't any interruptions in training," the trainer explained. "If all goes well after Saturday we'll be looking at the Personal Ensign (Grade 1, $700,000 at a mile-and-an-eighth on August 25 in Saratoga) then perhaps the Beldame ( Grade1, $400,000 and a mile-and-an-eighth on October 6 at Belmont Park.) or the Spinster (Grade 1, $500,000 at a mile-and-an-eighth furlong on October 7 at Keeneland). She ran nine times as a 3-year-old and as I said earlier, she may have been a bit over the top when she ran in the Distaff. This year hopefully she'll go into the race a little fresher and the outcome will be different. The DelCap will be the first step down that road. She's been training well at Saratoga and I think she's ready to run. As a trainer that's all you can hope for."