Jock Alex Cintron "feeling great" after first stakes win back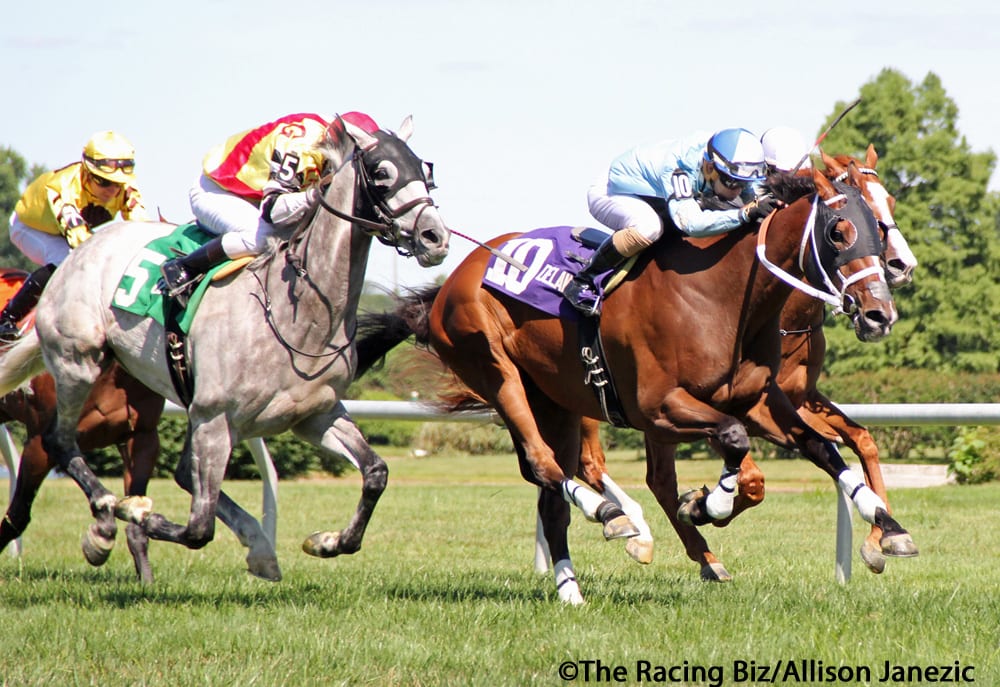 O Dionysus (#10) and Alex Cintron prevailed in the Cape Henlopen Stakes. Photo by Allison Janezic.
by Frank Vespe
Just a few months ago, rumors swirled that Alex Cintron's riding career was over, felled by the injury bug that has bitten him repeatedly throughout a career marked by good success and bad luck.
Yet just as the rumors of Mark Twain's death were greatly exaggerated, so too were these.
And now it looks as if the 30-year-old native of Puerto Rico is back – all the way back.
On Saturday, almost nine months to the day after he steered Analyze to victory in the Winter Memories Stakes at Delaware Park, he piloted O Dionysus to a thrilling score in the $75,000 Cape Henlopen Stakes over the Delaware turf – the first stakes win of his latest comeback.
"It feels great," Cintron said. "I've been working so hard since I came back."
Cintron was en route to his best season late last year, with 132 wins and over $4.1 million in purse earnings – both numbers second-best in his career – when he was injured in a November 19 spill at Laurel Park.
He suffered serious injuries to his facial area, shoulder and knee, the facial injuries severe enough that doctors had to wait for weeks for the swelling to diminish before working to fix them.
For a time, it appeared his riding days were over. But by April of this year, Cintron was already making plans to get back on horseback, and on May 19, he returned to action with one mount at Monmouth Park, followed, five days later, by three more at Pimlico.
He recorded the first victory of this latest comeback on May 25, kicking off a four-day blitz in which he won with five of eight mounts. But it hasn't all been smooth sailing. Through July 10, he has 17 wins from 125 starts.
"I had a great beginning, the first week," he said Saturday. "Then it was a little slow. It was a lot of riding, working hard."
But now things seem to be coming around. Cintron had mounts in all four of Delaware Park's stakes on Saturday, including a pair of Grade 3 events. That suggests trainers are taking note of the rider's talents.
Cintron splits time between Laurel Park and Delaware – he has a house near Delaware Park – and his Saturday mounts included two for Laurel-based trainer Gary Capuano, including that aboard O Dionysus.
In the Cape Henlopen, a 1 ½-mile turf test for three-year-olds and up, O Dionysus bobbled slightly while breaking from the far outside. He was quickly into stride, though, and Cintron guided him to the two-path to press the pace of Utmost.
"He broke from the outside post, and I never got a chance to get him covered up and relax him," Cintron said. "He was keen a little bit. He was on the muscle the whole way."
Those two front-runners were never more than a half-length apart through a half-mile in 48.62 seconds and three-quarters in a sharp 1:11.66.
"At one point, I said, 'You know, I just want to let him be happy. I just want to stop fighting him.' When I fought with him, he started lugging out," Cintron explained. "When I dropped his head, he came back to the inside. I said, 'You know what, if you want to be there, we'll just be there and see what's going on.'"
The two front-runners – remaining glued to each other – got a bit of a breather through the next couple of quarters, the 1 ¼ mile mark reached in 2:02.60. But that set them up for a torrid run to the wire.
"I was a little worried because I never rode the horse before and I didn't know how much he could handle it," Cintron said. "He gave me a nice kick in the end."
O Dionysus, a Maryland-bred Bodemeister gelding owned by Marathon Farms, finally wore down Utmost in the late stages and still had enough to fend off a strong late rally from Vintage Matters. O Dionysus ran the last quarter-mile in 23.39 seconds.
Running time for the mile-and-a-half over firm turf was 2:25.99 – a track record. The margin of victory was a head, and O Dionysus returned $9.80 to win.
And, for the first time in nine month, it put Cintron back in the winner's circle following a stakes race.
"It's taken me a little while to get my business back," he said. "I just take it easy and keep my head up and keep going, you know?"