MATCH Series reaches key juncture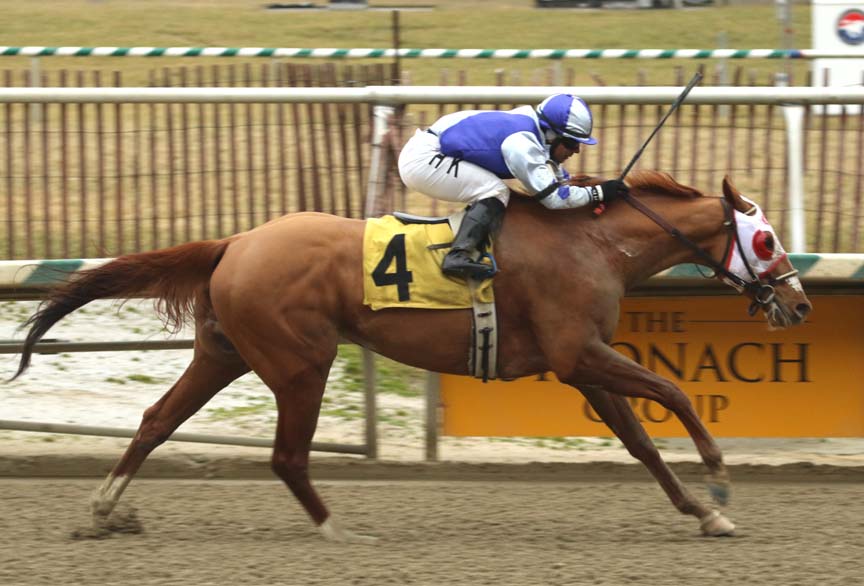 Page McKenney. Photo by Laurie Asseo.
by Tom LaMarra, courtesy of MatchSeries.com
With the June 30 running of the Grade 3, $100,000 Philip H. Iselin Stakes at Monmouth Park, each of the five MATCH Series divisions will have two races in the books.
It's an important point in the four-month-long series, because in order for a horse to qualify for bonus money, it must participate in at least three MATCH Series events. Bonus points are awarded for horses that participate in four or all five races in each division.
Two horses that top their divisions by points have each competed twice: Oak Bluffs, with 15 points in the 3-Year-Olds and Up Sprint—Turf Division, and Lewisfield, who has earned 12 points in the 3-Year-Olds and Up Sprint—Dirt Division. Oak Bluffs finished third in the Jim McKay Turf Sprint and then won the Pennsylvania Governor's Cup, while Lewisfield finished third in the grade III Maryland Sprint Stakes and second in the Mr. Prospector Stakes.
Oak Bluffs, a New Jersey-bred owned by Mary Eppler Racing Stable and bred by Patricia Generazio, and Lewisfield, a Maryland-bred owned and bred by Linda Zang, also top their respective "breeder awards" divisions for colts or geldings. The Thoroughbred Breeders' Association of New Jersey and Maryland Horse Breeders Association are among four groups offering $5,000 to the breeder or certifier of the leading colt or gelding and filly or mare based on final MATCH Series points.
Horses in each MATCH Series race earn points accordingly: 10 for first, 7 for second, 5 for third, 3 for fourth, 2 for fifth, and 1 for sixth through last. Bonus points, which are awarded regardless of finish position, are 5 for a fourth start in a series race and 7 for a fifth start.
Adam Staple and Jalin Stable's Page McKenney, winner of the grade III, $100,000 Salvator Mile, tops the 3-Year-Olds and Up Long—Dirt Division and also has the most points for top Pennsylvania-bred colt or gelding thus far. The Pennsylvania Horse Breeders Association also is offering MATCH bonuses for breeders.
Page McKenney is the 5-2 second choice in the Iselin, behind the multiple Grade 2 winner Imperative, who has not raced in over a year.