Deal struck to restart Maryland-bred stakes program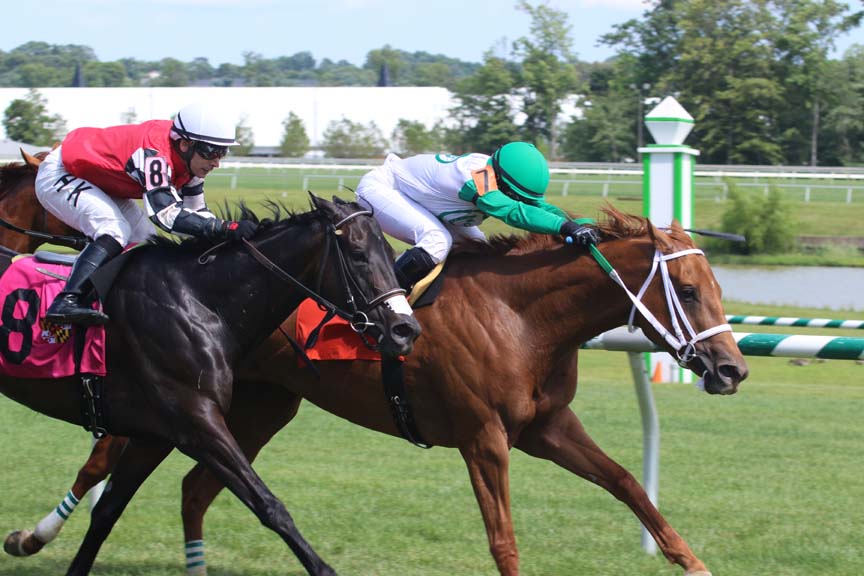 Daylight Ahead. Photo by Laurie Asseo.
by Frank Vespe
It was mid-May, just over a month ago, when Stewart Nickel learned that his long-held plans for Daylight Ahead, the five-year-old mare his Winners Circle Partners operation bred and owns, would not come to fruition.
That's the day when he discovered that the $75,000 Jameela Stakes, a six-furlong turf test that Daylight Ahead won in 2017, was no longer on the racing calendar. Nor, it turned out, were any other stakes restricted to Maryland-breds.
"We had geared our comeback for Daylight Ahead to this race," Nickel said. "Our target was to get one race in her and then go into the Jameela."
But when he checked the condition book for the race's exact date and details — it took place June 24 last year — he found that it wasn't there. And as he investigated, he learned that the entire Maryland-bred stakes program was on hold while the state's racing policymakers struggled to find a way to maintain both a robust state-bred stakes slate and the popular 30 percent bonus paid out to breeders of Maryland-breds who finish in the money in races in Maryland.
They finally did, and their agreement, signed earlier this week, was approved by the Maryland Racing Commission at its monthly meeting Thursday afternoon in Laurel.
"One thing about a compromise is everybody walks away happy — or unhappy," said commissioner David Hayden, who is chairman of the Maryland-Bred Race Fund Advisory Committee, which oversees expenditures out of the fund, which are administered by the Maryland Horse Breeders Association.
But most in the state are likely to walk away happy from this deal, which is in place for the balance of 2018, 2019, and 2020.
The agreement calls for the Maryland Horse Breeders Association to scale back on three bonuses that it pays out. The bonus paid to breeders of Maryland-breds that win open or state-restricted stakes will drop from 30 percent to 15 percent. Likewise, the bonus paid to the owners of stallions whose offspring win open or restricted stakes will drop from 10 percent to five percent.
And the 20 percent bonus paid to the owners of Maryland-sired horses when they break their maidens — a new program — will disappear.
Those savings, coupled with some other changes, will allow the state's breeders to contribute $500,000 to the stakes program.
For their part, the Maryland Thoroughbred Horsemen's Association, which manages the purse account, will save $500,000 by eliminating 14 Maryland-bred "a-other-than" allowance races and dedicating those funds to the stakes. The combined contributions, totaling $1 million, will allow the state to run its full slate of Maryland-bred stakes, which typically carry $75,000 purses.
"I think it's great that we're working together with the horsemen and the tracks to make this program sound for the next three years," said Cricket Goodall of the Maryland Horse Breeders Association. "It's very important to the breeders because the black type can improve the pedigrees and make their mares more attractive."
Hayden agreed.
"I think it's really important," he said. "When you have a filly — sometimes it's their only stakes win — it really means a lot when you sell progeny out of those mares."
The problem — the bred fund was running out of money — is the result of the success of the state's efforts in recent years to make owning Maryland-breds more attractive and more financially viable. In 2013, Maryland-breds earned just about 44 percent of their money in-state.
By 2017 — with Maryland racing more days and more races and having instituted a program paying owners of Maryland-breds 30 percent for finishing one-two-three in in-state races — Maryland-breds garnered roughly two-thirds of their purse earnings in the Free State.
But the revenue available wasn't growing as fast. Though this agreement, the parties said, should put the Fund on firm ground through 2020, the problem could return; the Maryland-bred foal crop, which bottomed out at 370 is 2012, rose back to 638 in 2016.
"The Bred Fund has a finite amount of money," Hayden pointed out. "They can't go over budget."
When push came to shove, the sides eventually agreed that preserving the owner bonus and protecting the stakes program were paramount. And the reduction in Maryland-bred allowances shouldn't hit too hard; there currently are four in each one-month condition book.
"People like the a-other-thans, and obviously, people like the stakes, too," Goodall said. "They get both this way."
"I think it's a great trade," Hayden agreed.
Goodall said she expected the remainder of this year's state-bred stakes program to look broadly similar to last year's, though there may be some changes. She said she expected the first group of them to come in August at Maryland Pride Day.
Meanwhile, Nickel and his mare will hope that the Jameela comes back at the same distance on turf, and that it comes at a time when she is ready.
NOTES The Commission held hearings for jockeys Taylor Hole and Weston Hamilton following the regular meeting. Both riders had failed to appear at a May 22 hearing despite having been subpoenaed. Hole was let off without penalty after the Commission determined that he had not been properly served; Hamilton received a three-day suspension and fine of $1,000 after admitting to having forgotten to appear.