Obeah: Consistent Trace of Grace "in her prime"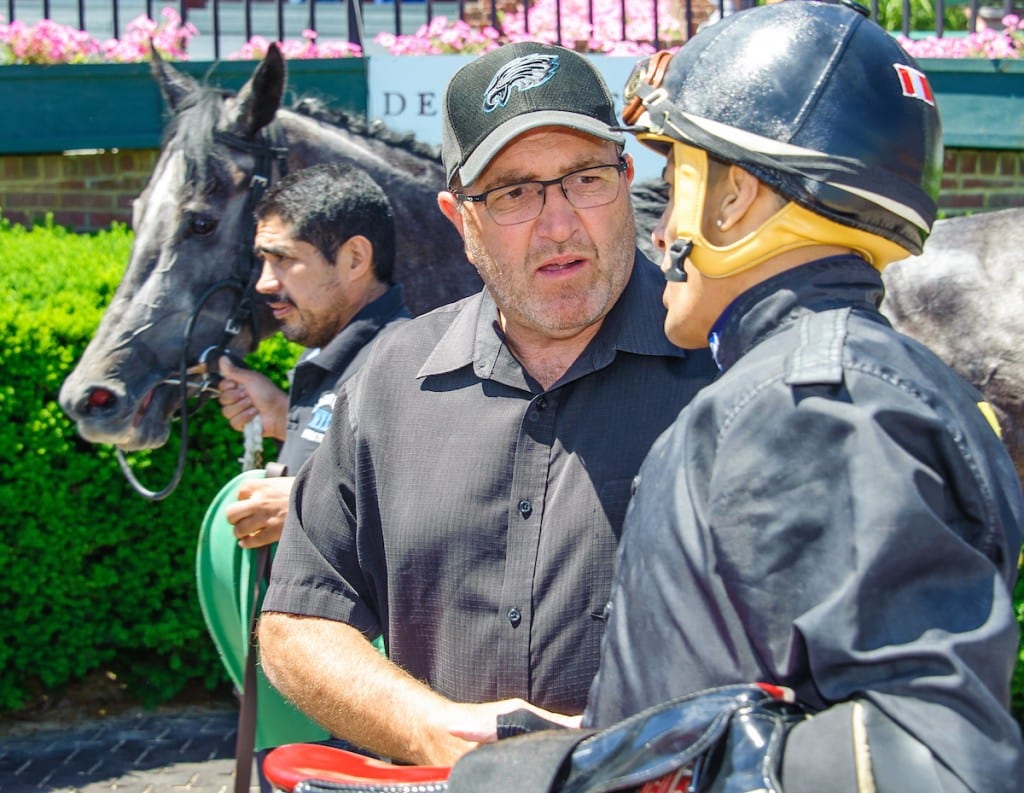 Bernie Houghton. Photo by HoofprintsInc.com.
by Doug McCoy
Consistency: it's what every horseman looks for in a horse.
That's why trainer T. Bernard "Bernie" Houghton will tell you he's lucky to have a horse that epitomizes consistent form and performance with his 5-year-old mare, Trace of Grace.
Trace of Grace is entered in Saturday's $100,000 Obeah and could earn a shot at the Grade I $750,000 Delaware Handicap with a good effort in the nine-furlong feature. She is 8-1 on the morning line.
While Houghton admits the nine furlongs of the Obeah is probably a bit farther than Trace of Grace is used to, he feels his charge has gotten stronger with time and deserves a chance to prove herself at the longer distance.
And while distance may be a question mark, he has no doubt his homebred will show up ready to run. Trace of Grace is just one of those kind of horses.
"From her first start Trace of Grace has always been one of those kind of horses that come ready to run every time you lead her over," the horseman said. "She matured quickly, and unlike a lot of horses we didn't have to worry about her being green or slow to understand what was expected of her. Right from the start she was focused and dialed in and very competitive. No matter what the race or the competition, she's always given us all she's got."
A look at Trace of Grace's record confirms Houghton. Trace of Grace has finished worse than fourth just once in her last 15 starts; that one was a failed experiment over the Tapeta surface at Presque Isle Downs in which she finished eighth.
While racing from seven furlongs to 1 1/16 miles against a variety of company from allowance/optional claiming to stakes, Trace of Grace has won four times, finished second three, and third three additional times in her last 13 outings. Only once during that period did she go off favored when, oddly enough, she finished fourth.
Overall, Trace of Grace has amassed earnings of $279,974, and Houghton feels she's as good now as she's ever been.
"I think she's in her prime right now," the veteran horseman observed. "She's bigger and stronger than last year and like I said before, we've never had any problem with her tailing off or getting sour. She loves to compete and she's never lost that competitive spirit."
The Obeah field doesn't feature an overabundance of early speed types, and while Trace of Grace, a Pennsylvania-bred daughter of Petionville, doesn't need the lead, it's well within her scope to win on the front end.
"She's got plenty of natural speed and she's tough to pass if she gets to the front, so if we can get an early lead without using her up that would be just fine with me," Houghton said. "The distance is a bit of a question mark, but as I said before she's older and stronger now and I think she can handle it. She's been training good and was sharp when we worked her last week (five furlongs in 1:02 2/5 at Penn National on June 9, best of five that day for that distance) so she's doing good coming into the race. I know she'll give us an honest effort. She always does; hopefully it's good enough to win it."
Houghton has been training for 30 years, but the 54 year old trained off the farm for a number of years with modest success. He moved to Penn National several years back to train primarily at the track and the move has paid off.
His horses earned over $1,000,000 in purses for the first time in 2010, and last season the stable's runners cracked the $2,000,000 mark for the first time. Long respected in the business, he has a reputation for developing young runners and has had unusual success with distaffers like stakes winners Crabcake, (winner of 6 wins from 11 starts and earnings of $293,542), Bound, (eight wins and earnings of $419,174) and Imply (seven wins and earnings of $408,998).
"I think it's just a case of just taking a little lighter hand when you're training a filly or mare," he explained. "As a rule, you don't have to lean on fillies and mares like you might have to do with a colt, and I think that helps them maintain their form. I don't see a lot of peaks and valleys in form with females, like you often do with colts and geldings."
Trace of Grace is a homebred for W. M. T. Stable, which Houghton explained is named for three of his four children: Walter, Madison and Thomas.
"I sure hope she (Trace of Grace) runs good Saturday," he joked. "The kids need new shoes."