Hot Headed Gal cheated death, looks for second win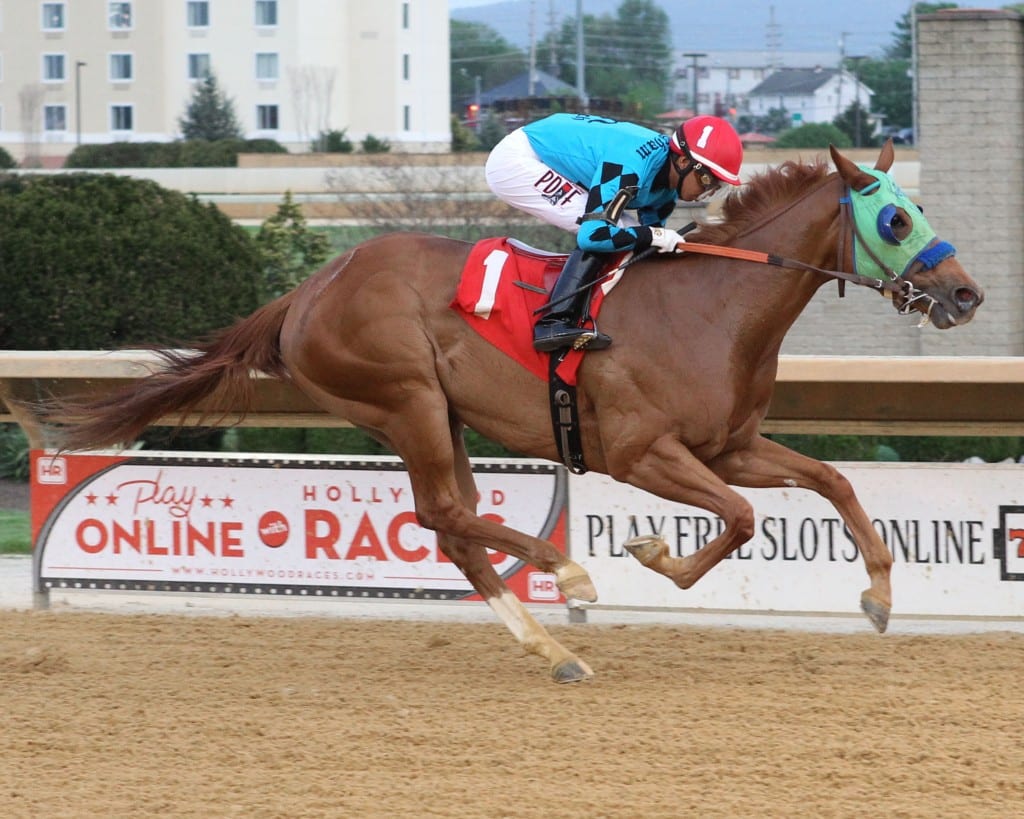 Hot Headed Gal was much the best in her debut at Charles Town Races. Photo by Coady Photography.
by Ted Black
In the aftermath of the tragic fires that claimed the lives of roughly ten percent of the horses based at the San Luis Rey Training Center in Bonsall, California in early December, Hot Headed Gal, now a three-year-old daughter of Run Away and Hide trained by Jeff Runco for owner Rockingham Ranch, emerged from the flame and ashes with an injury that could have ended her racing career even before it began. That career will continue on Friday night at Charles Town.
At the time of the San Luis Rey fire, which killed 46 of the roughly 475 horses that were stabled there by most estimates, Hot Headed Gal was trained by Peter Miller and was on the precipice of making her career debut at Santa Anita. But amid the flames and smoke that claimed the lives of nearly four dozen of her stablemates at San Luis Rey, Hot Headed Gal escaped with an 18-24-inch portion of skin on her hip torn off.
"When we heard about the fire we were concerned for all of the horses and trainers and grooms that work at San Luis Rey and all of the residents in the vicinity," said Rockingham Ranch's Brian Trump. "It basically all happened so fast, it's amazing that more horses were not killed in the fire. It was sad to hear how many of them lost their lives. Fortunately for us, Hot Headed Gal got through it alive and she had a large portion of skin torn from her hip. If it had reached the muscle or a tendon, she definitely could not have raced."
Hot Headed Gal, who originally went through the sales ring as a yearling at Keeneland and sold for modest $11,000 and was eventually bought by Rockingham Ranch for $70,000 at the Barretts May two-year-old sale, bypassed a possible career debut at Santa Anita to head east to Charles Town and trainer Jeff Runco. The move was not an entire surprise to those who follow racing locally or on the West Coast, since Runco has trained horses for Rockingham Ranch for well over a decade now, having won several one-turn sprints recently with Strong Like Bull, who also averted a near-tragedy of his own.
"We've known Jeff through mutual friends for a long time, so we're always glad to send horses his way," Trump said. "You know, he's a straight-up guy. If he thinks the horse needs time off or needs to fit at a certain level, he's going to tell you. Not long after we sent him Strong Like Bull, he called us and said the horse was rolling around in serious pain and he found out that he needed nearly two feet of his intestines removed. It cost $15,000, but Gary's wife (Rockingham owner Gary Hartunian) insisted on saving him whether he raced again or not. He's probably won six or seven races for us since then, and we would have kept him even if he wasn't going to race anymore."
In fact, when Runco first got Hot Headed Gal from Rockingham Ranch after she survived the San Luis Rey fire, Runco admitted he was cautious with her at first. She only posted one official workout before her career debut on May 3, but it was enough for Runco to see that the filly had ability and had overcome her fear of being in tight quarters. With just a modest half-mile breeze (49 3/5 seconds) under her belt, Hot Headed Gal romped home seven lengths clear in her career debut, stopping the timer in 52.65 for the one-turn dash distance of 4 1/2-furlongs.
"I thought she came into her first race great," Runco said. "I really didn't sense that anything bothered her. She trained well the first month or so that I had her and I thought that one workout was enough to get her ready for her first start. She ran really well that night, but I backed off of her right after that just because I really didn't see much in the [condition] book for her. She's definitely been training great again leading up to her next start [this Friday night at Charles Town]. I've known Brian and Gary for a long time and they're great clients."
Hot Headed Gal returned to the workout tab with a three-furlong breeze in 35 3/5 seconds on May 26 then followed that up with a 36 4/5 move on June 1. With one emphatic win under her belt heading into Friday's one-turn allowance dash for fillies and mares that have never won two races, Hot Headed Gal is the 2-1 morning line favorite for the $24,000 contest.
Other logical contenders include four-year-old Remy's Rocket (3-1), the five-year-old mare Silent Notion (7-2), and four-year-old Southern Marsh (5-1).
"When we bought her at the sale, we thought she might go for anywhere from $65-75,000," Trump recalled. "But I liked the way she looked and I think Run Away and Hide is going to be a productive sire. Peter (Miller) always liked her and we thought she could do well out here in California. After the fire, we didn't know if she would ever race again and honestly, we were going to keep her no matter what. I think she would have fit right in here with our other 14 broodmares, and someday when she's no longer racing she'll have a home here as a broodmare."
Plenty of good horses have come through the San Luis Rey Training Center, which is located in Southern California, not farm from Del Mar, Santa Anita, and Los Alamitos racetracks. The facility bills itself as "the choice of champions," as well as "the home of Nyquist," the 2016 Kentucky Derby winner.
Hot Headed Gal may never join any of those horses in terms of accomplishment. But surviving the fire despite a serious wound and then venturing 3,000 miles from home to get her first victory to date – those are significant accomplishments in and of themselves.
"First of all, the rescue effort at San Luis Rey was exceptional," Trump said. "Considering how many horses were there and how many could have been lost, it's amazing that so many survived and returned to the races. Even when we saw the wound that Hot Headed Gal suffered, our main concern was her health and well-being and not about how it would affect her racing career. We're thrilled that she survived and the fact that she won a race the way she did just makes it even more special. Now we know Jeff will take good care of her and put her in spots where she can win."