Delaware Park Racing Notebook 2018: Vol. 1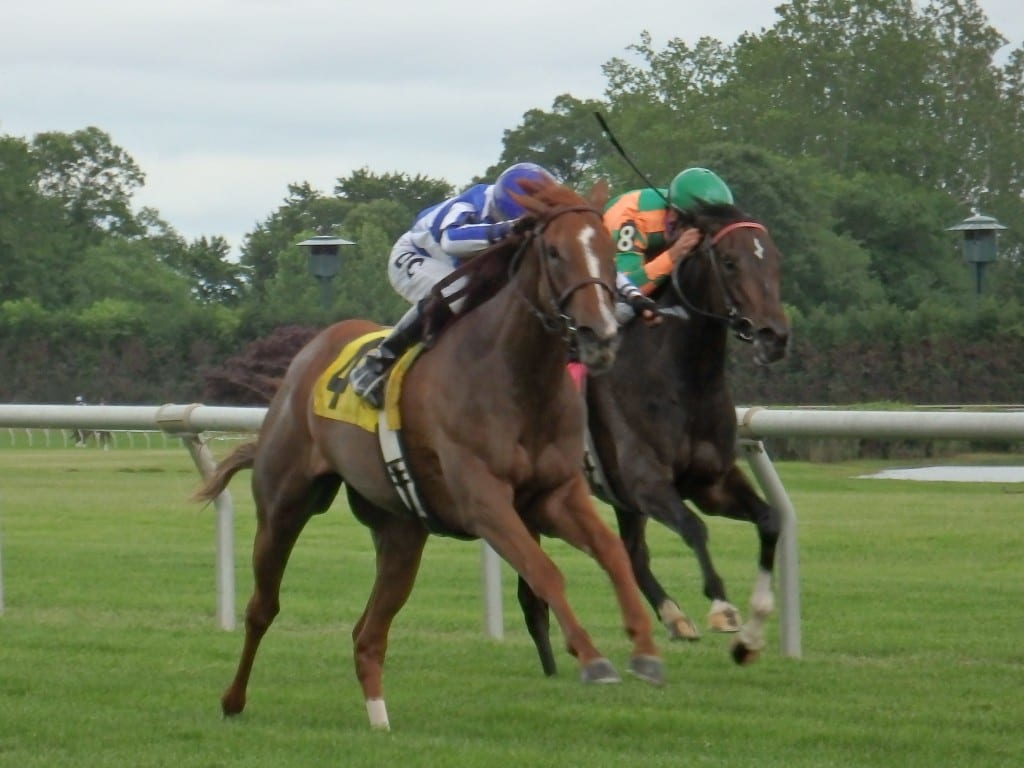 Frippery broke her maiden at Delaware Park. Photo by The Racing Biz.
by Doug McCoy
Every week during the Delaware Park racing season, The Racing Biz will publish The Delaware Park Racing Notebook. This page is designed to give helpful information to both horseplayers and horsemen about the racing picture at Delaware Park from the past week.
In the notebook, you'll find:
"Horses to watch" section highlighting both horses who have shown promise those who may have had poor "trips" in their last starts.
"Clocker's Corner" where track clockers will point out horses who have worked in noteworthy fashion during the past week.
Track tendencies or biases during the week's races. While it would be great if every race track was completely fair and even and an equal number of speed horses, stalkers, and closers won each day, observant handicappers know this just isn't the case. Every track's tendencies and biases (favored styles) change and vary, often from one racing program to the next due to any number of factors, most notably weather. While these changes are often minor, there are also days where a certain type of horse (like a speed horse) has a decided advantage, and there also days where one portion of the racing strip is a better spot to race over (like the inside) than another.
Leading trainers and jocks and who's been hot during the last week.
HORSES TO WATCH
MYTHICAL MISSION – This Graham Motion runner simply overpowered an allowance optional claiming field in her second start in a new barn May 31. Regally bred, this Giant's Causeway 4-year-old looks like she could develop into a stakes-level performer on the grass if this race was any indication of her talents.
ROBIN HOOD – Another Motion trainee, this Scat Daddy colt raced much closer to the pace last out May 31 after being outfitted with blinkers, and while he is still a bit green and learning the ropes, he had a strong kick down the lane to out game the leader and bears watching.
FLEET CRUISER – The time for this one's debut win wasn't that quick but the Value Plus gelding looked professional and had plenty of early speed en route to his first career victory, galloping by eight lengths for veteran conditioner Anthony Pecoraro.
DESTINEDTOBE – Broke in the air to be last in the early going but overcame a pronounced speed bias to rally past the leaders and leave the winless ranks. The final time of the race wasn't that impressive but considering what this one overcame to win, he could well come right back with another strong effort with non winners of two races lifetime.
FRIPPERY – This Arnaud Delacour-trained City Zip filly — a half-sister to Grade 1 winner Furthest Land — made her career debut a winning one when she stalked a moderate early pace before going on to win by a length in a 7 1/2-furlong turf test. A bit green in the lane, she was still clearly best here and looks like she has some upside.
CLOCKER'S CORNER
Delaware Park clocker has this to say about several noteworthy morning moves:
HOMER HAPS worked a sharp half mile in :47.20 for trainer Scott Lake on 5/30, a good move for a lower priced claiming type. He finished third last time out and bears watching when he enters next.
TOUGH WEATHER – Another Lake runner, this one skipped through a half in :47.00, also on 5/30 and the fastest of 29 at the distance, and even though this one's been away since October of 2016, she could come off the shelf with a big effort.
BURN CONTROL – This Ness runner drilled five furlongs in a very solid 1:00 2/5 on 05/31. Fourth in an allowance optional claiming race at Parx, this is just one of the Ness runners who looks ready for a good effort.
JOCKEYS AND TRAINERS
The jock's room at Delaware Park is a mixed bag most days with riders headquartered primarily at the Stanton oval competing for mounts with jockeys from Maryland, Pennsylvania and New Jersey.
The first week featured a quick start for several of the locally based reinsmen as Keiber Coa, Augusto Marin, Angel Suarez, and Daniel Centeno each won three races the first four days of racing; one of Coa's wins came in an Arabian race. Carol Cedeno, who in recent years has always been among the leading local riders, was 0-20 the first three days but scored a riding double on Monday.
Jomar Torres, Pablo Rodriguez, and Feargal Lynch each won two races. Lynch's two wins came from just three starters, and his third mount finished second. Coa's average winning mutuel payoff was $17.50.
| RANK BY WINS | JOCKEY | WINS | WIN PCT. | EARNINGS/START | $2 WAGERING ROI |
| --- | --- | --- | --- | --- | --- |
| 1 | Centeno Daniel | 3 | 50.00% | $6,502 | $2.80 |
| 2 | Marin Augusto A | 3 | 27.27% | $3,319 | $2.56 |
| 3 | Suarez Angel | 3 | 13.64% | $2,078 | $0.56 |
| 4 | Cedeno Carol | 2 | 8.70% | $2,095 | $0.52 |
| 5 | Coa Keiber J | 2 | 15.38% | $2,223 | $3.70 |
| 6 | Lynch Feargal | 2 | 66.67% | $16,667 | $3.74 |
| 7 | Rodriguez Pablo | 2 | 11.76% | $2,204 | $0.64 |
| 8 | Torres Jomar | 2 | 40.00% | $5,843 | $3.00 |
| RANK BY WINS | TRAINER | WINS | WIN PCT. | EARNINGS/START | $2 WAGERING ROI |
| --- | --- | --- | --- | --- | --- |
| 1 | Carrasco Jr Victor | 3 | 60.00% | $5,265 | $4.12 |
| 2 | Motion H Graham | 3 | 100.00% | $21,200 | $5.00 |
| 3 | Ness Jamie | 3 | 33.33% | $3,883 | $1.28 |
| 4 | Potts Wayne | 3 | 20.00% | $3,116 | $0.94 |
| 5 | Ashby Lynn A | 2 | 100.00% | $6,300 | $5.50 |
| 6 | Gonzalez Claudio A | 2 | 100.00% | $12,720 | $7.50 |
| 7 | Gorham Michael E | 2 | 22.22% | $2,883 | $2.46 |
| 8 | Pecoraro Anthony | 2 | 50.00% | $5,550 | $2.74 |
| 9 | Tsirigotis Jr James | 2 | 50.00% | $5,425 | $12.00 |
On the trainer's side of the board Victor Carrasco, who spent the winter racing at Tampa Bay Downs, had some runners fit and ready the first week and won with three of the five starters. Likewise, Graham Motion hit the ground running in Delaware; all three of his starters through the first four days of racing came back winners.
Jamie Ness, who tied for the top spot in the training race with Scott Lake last year, also sent out three winners and looks like he has his string here sitting on go. Wayne Potts had a bunch ready to go the first win and also won three races from a whopping 15 horses he sent to the post.
Five stables posted two wins, with Claudio Gonzalez going two-for-two. Lynn Ashby won with both of her Arabian starters and was two-for-three overall on the week.
James Tsirigotis Jr also won two races and his average winning payoff was a whopping $24.00.
TRACK BIAS REPORT
05/30 – Fans got through first chance to see how the main track surface would play with a new track superintendent in charge on opening day and the answer was clear right from the start: if you're going to bet at Delaware Park you need to look for SPEED, SPEED, and more SPEED. Horses with speed and those racing close to the pace had a marked advantage throughout the program on opening day and stalkers and late closers had a tough time making up appreciable ground through the stretch. The rail was a bit dull and horses racing from the three to the six paths appeared to be travelling best but one thing was abundantly clear, the surface was extremely favorable to speed types.
05/31 – The surface continued to favor speed and the middle of the strip continued to be the best part of the track. Horses racing three and four wide disputing the pace actually seemed to fare better than their inside rivals.
06/02 – The speed bias continued Saturday, especially in sprints as speed runners and those pressing the issue from the start had the most success while late closers continued to struggle.
06/04 – Runners with strong early foot and tactical speed dominated again, especially in the sprint races. The middle of the strip from the three out to about the six path was best and as has been the case since the beginning of the meet, being hung outside two of three horses isn't a detriment and may actually be the preferred place to be.