Black-Eyed Susan: Trainer Gorder gets back to top of sport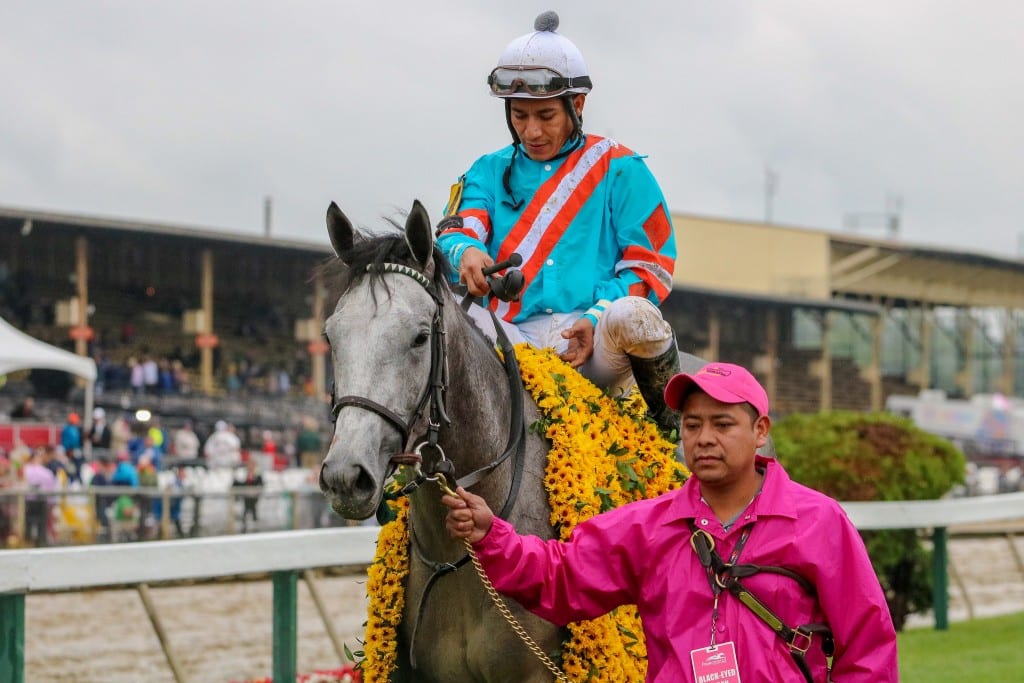 Red Ruby. Photo by Dottie Miller.
by Frank Vespe

Kellyn Gorder picked his words carefully, like a man advancing through a minefield. One wrong step, and…
Red Ruby, a three-year-old filly he trains for Sandra Sexton, Brandi Nicholson, and Steven Nicholson, had just delivered a powerful, 4 3/4-length victory in the 94th running of the Grade 2, $250,000 Black-Eyed Susan Stakes. But the look on Gorder's face, the sound in his voice, wasn't joy, not exactly.
More, perhaps, like vindication. Or relief.
"Huge," he said. "It's huge. Umm…" His voice trailed away for a moment.
The win marked Gorder's first graded stakes triumph in nearly five years, since September of 2013, when General Election won the Grade 3 Jefferson Cup at Churchill Downs.
In between came a positive test, for methamphetamine, on one of his horses, and a lengthy legal process in which the Kentucky stewards determined that the drug was an ingredient in a popular over-the-counter medication rather than a street form of it. As a result, they agreed to reduce Gorder's penalty from a 14-month suspension to 60 days.
That suspension began in November 2016, and it came at a significant cost to Gorder's business. His barn made 333 starts in 2015, while earning over $1.9 million, but just 137 starts last year, with earnings under $1 million.
The first act of Gorder's career saw him train Bourbon Courage to over $1 million in earnings, a Grade 2 victory, and a fourth-place finish in the Breeders' Cup Sprint.
The second, perhaps, began today.
"You know, when you're living the dream, I mean, you just keep doing what you love to do, and it all comes together," he said. "You know?"
Red Ruby, a homebred daughter of Tiznow, won the Martha Washington Stakes at Oaklawn Park two back and then was fourth in the Grade 3 Honeybee at that same track.
But the Oaks dreams Gorder harbored went up in smoke.
"We were devastated when we missed the (Kentucky) Oaks," Gorder said.
Red Ruby "got spooked in the shedrow," he explained, when confronted with a horse running the wrong way. "She wheeled around and drug the hotwalker down the shedrow and crashed into a metal ladder, and she had four cuts in her, like 13 stitches total."
That cost them both the Fantasy, the logical next step at Oaklawn, and the Oaks. But the nine-furlong Black-Eyed Susan presented an inviting opportunity, a rich purse, a grade, and a chance to get back on track.
Now that she is, Gorder said, the 1 1/4-mile Alabama Stakes becomes a longer range goal.
"This filly, the longer the better," he said.  "That's why the Alabama is a logical target. How we get there, I'm not sure."