Force the Pass prevails narrowly in Cliff Hanger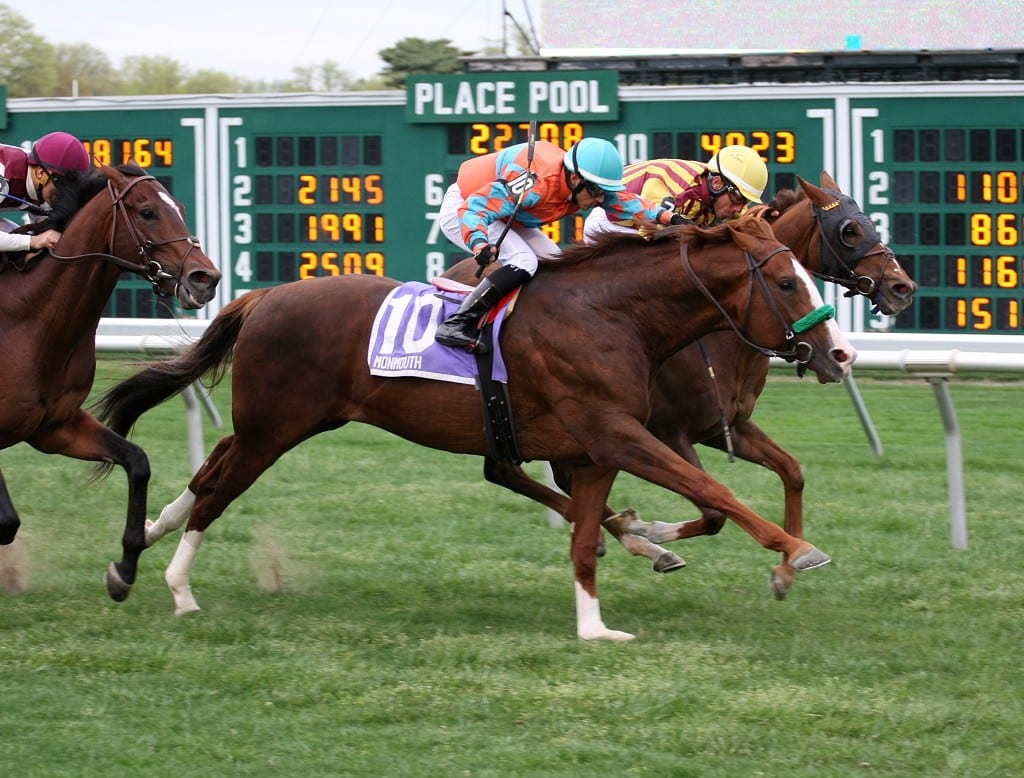 HOW IT HAPPENED
Force The Pass #10 narrowly prevailed in the Cliff Hanger Stakes. Photo By Ryan Denver/EQUI-PHOTO.
In a thriller worthy of the race's name — the Cliff Hanger Stakes — a pair of horses returning from lengthy layoffs slugged it out through the length of the Monmouth Park stretch in Saturday's opening day feature at the Jersey Shore track.
In the end, Force the Pass — a Grade 1 winner who last raced in 2016 and had not won a race since June 2015 — got the bob, taking the one-mile turf test by a nose over Irish Strait, who himself had last raced last September.
With Jevian Toledo up, Force the Pass ran in tandem with Hit It Once More through the opening half-mile. Those two were three lengths behind the leader, Sawyer's Hill, closely pressed by Irish Strait through a half-mile in 47.54 seconds.
In the lane, Irish Strait shed Sawyer's Hill and Force the Pass ditched Hit It Once More, leaving the two favorites to settle matters. Force the Pass came to Irish Strait's outside, the two of them hooking up in the final furlong and fighting it out to the wire.
Dalarna, at 14-1 the longest shot in the field, rallied from last to be a fast-closing third, just a half-length behind the top pair. Running time for the mile over firm turf was 1:33.73.
Force the Pass is a six-year-old horse by Speightstown.
QUOTABLE
"At first I thought we were beat, maybe because I had a bad angle. Then when I was walking back I looked at a TV and said, `We might have won.' He's just all class. He had been training so well for this but when they're off that long (20 months) you never know. He showed his class today." — winning trainer Alan Goldberg
"I had a ton of faith in Alan to get this horse ready off the layoff. Once he got next to (Irish Strait during a stirring stretch duel) his heart got big and he gave me everything he had. I'm so thankful to ride a horse like this." — winning rider Jevian Toledo
FACTS AND FIGURES
Winner paid: $8.00 – $4.00 – $3.00
Winning time: 1:33.73
Margins: A nose from Force the Pass to Irish Strait, a half-length farther back to Dalarna, 1 1/4 lengths farther back to Serjeant at Arms
Winner's record: 14-5-4-4, earnings of $1,307,154
CONNECTIONS
Owner: Colts Neck Stables LLC
Trainer: Alan Goldberg
Breeder: Colts Neck Stables LLC
Pedigree: Speightstown-Social Queen, by Dynaformer
Jockey: Jevian Toledo
OTHER INFO
It was opening day at Monmouth Park, moved up from last year's May 13 lid-lifter… The track announced attendance of 20,726, a major jump from the 3,835 that attended last year's rainy opener… Handle rose from over $2.3 million to more than $3.1 million… Tough day for longshot players: eight of the nine races were won by horses 3-1 or less at post time…
IN YOUR STABLE MAIL
In a race in which the top pair were close to the lead throughout, the longest shot in the field closed with the most vigor. Dalarna, 14-1 at post time, angled outside approaching the stretch and closed stoutly to make up nearly five lengths in the last quarter-mile, falling just a half-length short while getting the final quarter in under 23 seconds.