For NJ natives, no place like Monmouth Park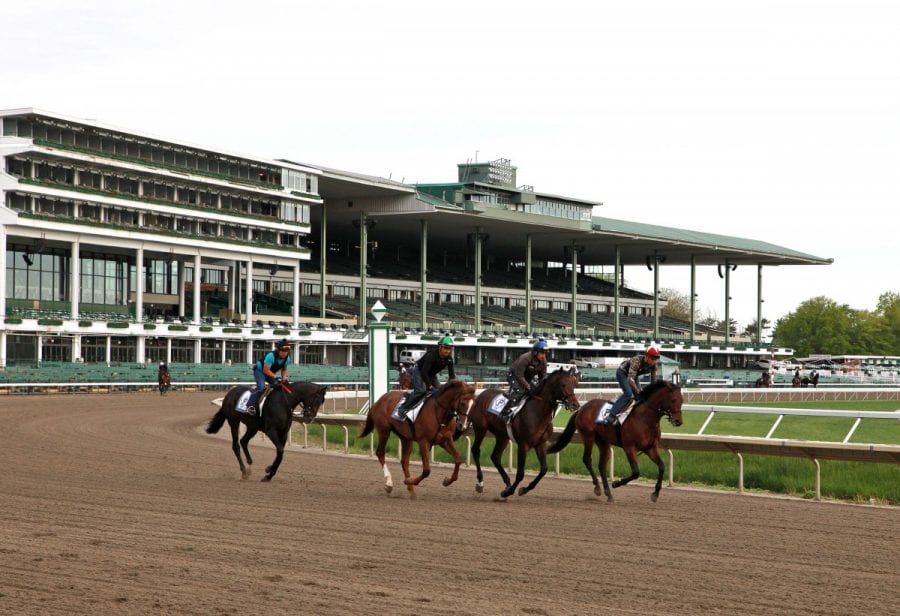 Eddie Plesa trainees gallop at Monmouth Park in 2016. Photo by Bill Denver, Equiphoto.
by Jim Hague
It's been almost 50 years that Chuck Spina has been saddling horses and sending them out to race at his home racetrack Monmouth Park, but the excitement never dips when a new meet opens at Monmouth, like it will Saturday on Kentucky Derby Day.
"I'm thrilled to be back," said Spina, a full-time resident of Monmouth Beach, N.J., just a stone's throw away from Monmouth Park's location in Oceanport. "I think we all want to be racing on Derby Day. Last year, we had a good crowd at Monmouth without live racing. Now, they're bringing it back, and I hope it turns out to be a great day."
The 2018 meet will mark the 48th year that Spina has trained horses to race at Monmouth. Spina's dedication and devotion to the sport paid off four years ago, when he was presented with the prestigious Virgil "Buddy" Raines Distinguished Achievement Award.
The Raines Award, instituted at Monmouth in 1996, honors the men and women who have demonstrated a commitment to the sport of thoroughbred racing as an owner and/or trainer and whose role in the sport is exemplary for professionalism, integrity and service.
"Racing at Monmouth Park is always exciting," Spina said. "I've been doing this now forever there. And I've been looking forward to the start of this meet for a while now. It's been a long, cold winter. It should be a great day, being that it's Derby Day and Cinco de Mayo."
The management group that runs Monmouth Park, Darby Development, LLC, is hopeful that starting the 2018 meet on Kentucky Derby Day will bring more fans to the track to kick off a year that could be a historic one.
It could be historic, that is, if the United States Supreme Court renders a decision that will allow sports betting at Monmouth Park. The case has been reviewed by the nine-member highest court in the land, and a decision could be made official, either positively or negatively, within weeks.
"We need more racing days," said Spina, who saddled 10 winners in the 2017 meet and had 25 of his 60 starters finish in the money, collecting $304,528 in purse money, good for 14th in the trainers' standings at Monmouth. "We all want to showcase Monmouth Park. Everyone loves Monmouth. There's only one like it around here now. Hopefully, sports betting will happen and that should equate to more racing days that can only help the industry. We were hoping to have it in place in time for the NBA and NHL playoffs."
But both leagues have already moved past the first round of playoffs and are into the conference semifinals. Spina believes that the next day that the U.S. Supreme Court could render its decision would be Monday, May 14.
"We just need it to happen," Spina said.
In any case, Spina will send three horses to the gate on Derby Day, all three New Jersey-breds. Light's Gone Wild is a 6-year-old gelding who is coming off two straight third place finishes in claiming races last August at Monmouth. Phone My Posse is a 4-year-old gelding who is coming off a win in his last start at Penn National in a starter handicap. Phonemyposseagain is a 3-year-old gelding who ran second in the Tyro Stakes last August at Monmouth.
"He had a great year as a 2-year-old," Spina said. "He hasn't raced since November. We had him freshened up for this year and gave him the winter off. All three should run pretty decently. We have some nice horses that are sound and healthy and ready to go."
Spina currently has 15 horses stabled at Monmouth, six of which are 2-year-olds just looking to break into the racing side of the sport. He will certainly miss old reliable mare Bustin Out, who was retired last November following a third-place effort in the Pumpkin Pie Stakes at Aqueduct. Bustin Out won nine of 19 career starts and collected $354,132 in purses in her career.
Kelly John Breen is another New Jersey-based trainer who calls the Garden State his home year-round. The Tinton Falls, N.J. resident is best known for taking Ruler On Ice to victory in the 2011 Belmont Stakes and Pants on Fire to a ninth place finish in the Kentucky Derby that same year. Both horses won more than $1.5 million in purses during their stellar careers.
Breen had 19 winners last year at Monmouth, fourth most at the track, and had 50 of his 86 starters finish in the money, collecting $593,070 in purses, good for sixth in the trainer's earnings standings.
Breen currently has 40 horses stabled in Monmouth Park and will have one horse, the 3-year-old Ark in the Dark, slated to run in the first race on Derby Day, post time at 1:45 p.m. He also has three runners on the also-eligible list.
"It's only his second start," Breen said of Ark in the Dark, a George Hall-owned horse that had his first race in Gulfstream Park in February. "We hope he has a good 3-year-old year. He has a lot of speed and hopefully we'll see what speed brings."
Breen said that he's always buzzed for Opening Day at Monmouth.
"There's always a place in my heart for Monmouth Park," Breen said. "To have a chance to race on Kentucky Derby Day at Monmouth Park is just awesome. Of course, I'd rather be racing in Churchill Downs on Derby Day, but this is the next best thing. We're getting a chance to showcase Monmouth Park early this year. Monmouth Park is beautiful no matter how many people come. To have live racing there this year is just incredible."
Breen had a reason to be in Kentucky the last two years on Derby Day and looked to have Take Charge Paula all set for this year's Kentucky Oaks. However, Take Charge Paula was sold to Peter Deutsch following her win in the House Party Stakes at Gulfstream Park last December, ending that relationship.
"It's still a good rooting interest," Breen said. "It would have been three years in row. We have to start a new streak with some young horses."
Greg Sacco is another New Jersey-based trainer who lives in Ocean Township, N.J. Sacco, the son of legendary New Jersey-based trainer Wiilliam (who won the Monmouth meet in 1962) is a third-generation horseman, following in the footsteps of his father and grandfather. Sacco had 13 winners in 2017 and had 35 of his 74 starters race in the money, collecting $314,497 in purses.
Sacco has 40 horses stabled at Monmouth Park.
"It's just great to be back home," Sacco said. "We're ready for Monmouth. We want to get off to a good fast start. The last two years, we uncharacteristically got off to slow starts, so we can't have that happen again."
Sacco's stable of horses took a major hit in March, when long-time owner John J. Brunetti, Sr., the owner of Hialeah Park in Florida, died at the age of 87.
"He's been my stable's and my racing backbone for many years," Sacco said. "Luckily, his sons Steven and John have decided to take over. My brother, Rick, is their racing manager, so that's a big help."
Sacco said that he has a host of talented 2-year-old colts and fillies that will be ready to race later in the campaign.
"I think we have about 10 of them," Sacco said. "A lot of quality backgrounds. We have a nice group of homebreds."
Famed harness horse owner Jeff Bamond is now getting into the thoroughbred side and has a host of horses that Sacco is currently training.
"We need more people like him in the business," Sacco said of Bamond. "We had some others who have dipped their feet in the waters. We have a diversified group of owners. We've worked hard to get a good group."
Perhaps the premier prize in Sacco's barn is a 4-year-old filly named Filibustin, who won three times as a 2-year-old in 2016, including a pair of stakes. Filibustin won $175,000 in purses that year, but struggled a little last year as a 3-year-old, placing second three times in six starts and collecting just $45,000 in earnings.
Pier Village is another 4-year-old filly who will return to the track this season.
"Look for her this year," Sacco said. "Things are in place for her to have a good meet."
Sacco also has a 2-year-old unnamed colt by renowned sire Uncle Mo that will hopefully hit the track this summer.
Sacco is pleased to be at his home track for Derby Day.
"It's the biggest day in racing and this year, it means so much to all of us here at Monmouth," Sacco said. "It's a showcase for racing fans as well as non-racing fans who just want to come out and watch the horses run. I think Monmouth historically has had a great day for the Derby. Having live racing is just going to make it better. We hope we can put on a great show."
Sacco will send three horses out on the Monmouth Park opener. Two of them — Corporate Raiderand Jersey Joe B, named after the famed New Jersey native jockey Joe Bravo, who will be in Kentucky racing in the Oaks this weekend – run in the colors of the Brunettis' Red Oak Stable.
Sacco said that he took some of his horses to Parx in Pennsylvania and to the New York tracks over the winter, with six winners out of 30 starts.
"But it's time to come home," Sacco said. "And there's nothing like being home."
The current plan is to have 52 racing cards at Monmouth Park and an additional six on the grass at the Meadowlands Racetrack in the fall. But hopes are high that a favorable Supreme Court decision could lead to more robust future racing schedules at the Shore.
"We hope that there are some first-time people who come out on Derby Day, enjoy themselves and come back," Breen said. "We get a chance to show everyone how beautiful Monmouth Park is a little earlier this year. It makes everything a little nicer. It's a beautiful track and it's just great to be back."