Laurel Park: Alternative trainer stats through May 2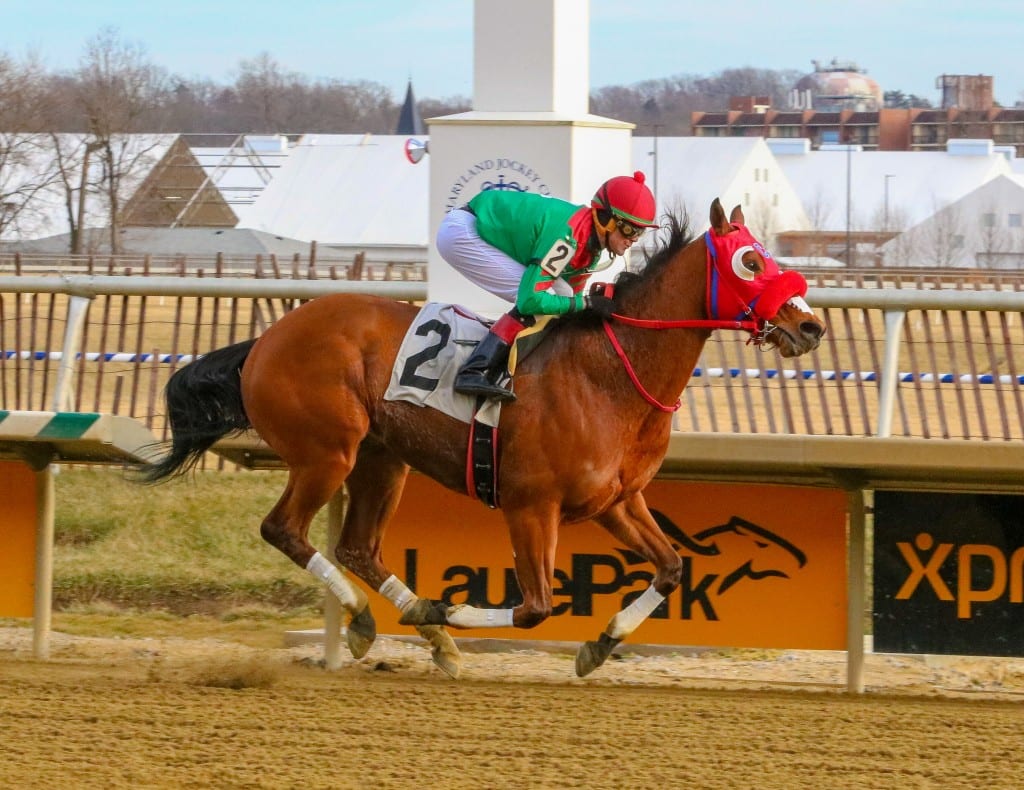 Afleet Willy won the Native Dancer Stakes for trainer Claudio Gonzalez. Photo by Dottie Miller.
by Chelsea Lowman
Claudio Gonzalez has been on a roll, adding five victories to his total and maintaining his advantage over his fellow trainers at Laurel Park in our alternative trainer rankings. With 337.33 points, Gonzalez holds a strong lead over Hugh McMahon, who narrowly is ahead of Dale Capuano; McMahon has 292.97 points.
Capuano, fourth in our last ranking, won four times in the intervening period and now is third, just behind McMahon with 291.94 points. Phil Schoenthal and Tim Keefe complete the top five, with 264.46 and 244.70 points, respectively.
Our ratings system combines wins, win percentage, earnings per start, and $2 wagering return on investment. It is formulated to highlight trainers who win frequently in big races, along with those who can strike with a solid percentage of runners. The top trainer in each category receives 100 points, meaning that a trainer who can lead a colony in all four categories will earn a perfect score of 400.
We applied this method to every trainer at Laurel Park who has made at least 30 starts and walked away with at least one victory.
The colony remains fairly consistent in the win category, as Gonzalez and Kieron Magee remain first and second. Gonzalez, with 37 wins, has a 17-win advantage over his nearest competitor, Magee, with 20.
Just like before, McMahon sits in third with a total of 18 wins, tying him with Capuano, and is also third in terms of win percentage, with a strike rate of 23.68 percent. McMahon also is third in wagering return on investment, providing bettors $2.70 for each $2 win wager on his horses.
Gonzalez's strength in the overall standings is built not just on wins but also on his high ranking in other categories. With a win percentage of 25.17 percent, Gonzalez sits close in second, just behind Capuano, who leads the colony with a strike rate of 29.51 percent. With earnings per start of $6,842, Gonzalez resides third among his peers.
Keefe, who is ranked fourth with a win percentage of 19.15 percent, leads the colony in terms of earnings per start, banking an average of $7,347. Michael Trombetta is not far behind, second with earnings of $7,081 per start, with Gonzalez in third. Schoenthal and Graham Motion complete the top five, with earnings per start of $6,345 and $6,251, respectively.
For every $2 win wager placed on Schoenthal's horses, his backers have received an average payout of $2.92, allowing him to maintain his top position in terms of wagering ROI. Ann Merryman slides into second, with an ROI of $2.76. Rounding out the top five is McMahon ($2.70), Anthony Farrior ($2.28), and Mary Eppler ($1.98).
The rankings include all races run through May 2, 2018.
LAUREL PARK TRAINER RANKINGS
| RANK | TRAINER | RATINGS POINTS | WINS | WIN PCT. | EARNINGS/START | $2 ROI |
| --- | --- | --- | --- | --- | --- | --- |
| 1 | Gonzalez Claudio A | 337.33 | 37 | 25.17% | $6,842 | $1.72 |
| 2 | McMahon Hugh I | 292.97 | 18 | 23.68% | $5,260 | $2.70 |
| 3 | Capuano Dale | 291.94 | 18 | 29.51% | $5,797 | $1.88 |
| 4 | Schoenthal Phil | 264.46 | 8 | 16.67% | $6,345 | $2.92 |
| 5 | Keefe Timothy L | 244.70 | 9 | 19.15% | $7,347 | $1.62 |
| 6 | Trombetta Michael J | 237.80 | 12 | 15.79% | $7,081 | $1.62 |
| 7 | Farrior Anthony | 219.19 | 8 | 16.33% | $4,714 | $2.28 |
| 8 | Magee Kieron | 216.81 | 20 | 17.70% | $4,632 | $1.16 |
| 9 | Eppler Mary E | 205.08 | 6 | 17.14% | $4,626 | $1.98 |
| 10 | Decker Kenneth | 204.40 | 8 | 13.33% | $5,429 | $1.86 |
| 11 | Capuano Gary | 198.30 | 7 | 14.58% | $5,019 | $1.80 |
| 12 | Lynch Cathal A | 189.10 | 10 | 15.87% | $4,785 | $1.26 |
| 13 | Maldonado Jonathan | 185.21 | 11 | 16.42% | $3,863 | $1.38 |
| 14 | Smith Hamilton A | 182.83 | 8 | 14.55% | $5,656 | $1.02 |
| 15 | Dilodovico Damon R | 179.67 | 5 | 13.51% | $5,924 | $1.16 |
| 16 | Merryman Ann W | 179.15 | 3 | 8.57% | $3,488 | $2.76 |
| 17 | Lake Scott A | 178.82 | 15 | 16.67% | $3,141 | $1.14 |
| 18 | Gaudet Lacey | 176.94 | 9 | 12.68% | $4,534 | $1.40 |
| 19 | Corrales Jose | 175.58 | 11 | 10.68% | $4,937 | $1.24 |
| 20 | Ness Jamie | 174.75 | 13 | 14.29% | $3,581 | $1.24 |
| 21 | Motion H Graham | 169.38 | 5 | 12.20% | $6,251 | $0.86 |
| 22 | Robb John J | 166.93 | 8 | 12.12% | $3,984 | $1.46 |
| 23 | Brooks Gerald E | 164.29 | 7 | 11.67% | $3,297 | $1.78 |
| 24 | Potts Wayne | 163.22 | 9 | 16.07% | $3,083 | $1.24 |
| 25 | Allen III A Ferris | 138.70 | 7 | 10.45% | $3,985 | $0.88 |
| 26 | Eubanks Annette M | 129.33 | 3 | 8.57% | $2,595 | $1.66 |
| 27 | Worton Dorothy E | 123.73 | 4 | 9.52% | $2,704 | $1.28 |
| 28 | Mancilla Carlos A | 100.69 | 3 | 7.14% | $2,759 | $0.90 |
| 29 | Bailes W Robert | 94.62 | 2 | 6.06% | $3,284 | $0.70 |
| 30 | Gorham Michael E | 78.26 | 2 | 6.45% | $1,985 | $0.70 |