Lake Ponchatrain provides satisfying Dance to Bristol win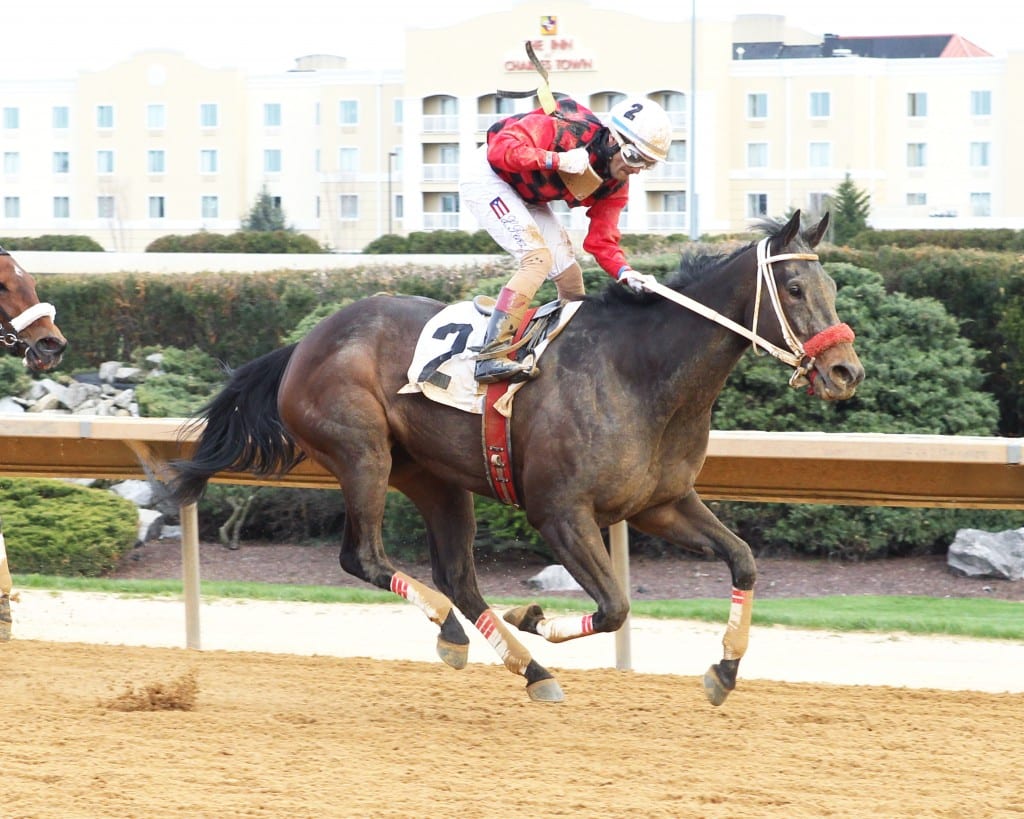 Lake Ponchatrain. Photo by Coady Photography.
by Ted Black
Among the races leading up to the Grade 2, $1.2 million Charles Town Classic on Saturday afternoon were several open stakes that proved to be very formful as runners from prominent barns arrived to display the lethal combination of early speed and late acceleration while posting final clockings that were perhaps even quicker than the racing surface figured to produce.
One race before the Classic in the inaugural running of the $100,000 Dance to Bristol Stakes – a race formerly run as the Sugar Maple and won emphatically by its new namesake five years earlier – Lake Ponchatrain (Xavier Perez) rallied from well off the pace up forge a mild 4-1 upset in 1:25.76 under a visibly exuberant rider crossing the wire. A six-year-old Afleet Express mare owned and trained by Ernest Haynes, Lake Ponchatrain posted her second straight score and now owns nine wins and $246,000 banked from 19 local outings and a solid 12-7-6 slate and over $330,000 earned from 33 career tries.
"This is definitely something very special," Perez offered. "Winning this race, being the first one they named for Dance to Bristol, means more to me than a lot of those other stakes races combined. Dance to Bristol gave me my first Grade III, my first Grade II and my first Grade I wins and she gave me the chance to ride in the Breeders Cup. She took me all over the country. Then to come back here and win this race named for her just means so much to me. It's difficult to explain."
Dance to Bristol reeled off seven straight wins at one point during her 2013 campaign for trainer Ollie Figgins, III and owner Copperville Farms (Susan Wantz) and she emerged on the scene locally by capturing the $200,000 Sugar Maple Stakes on the Charles Town Classic undercard that year by nine lengths in 1:23.78 as the 6-5 second choice. She would later win three consecutive graded stakes in New York, capped by a narrow, determined score in the Grade I, $500,000 Ballerina Stakes at Saratoga, the first such tally for owner, trainer and rider.
"When Erich Zimny called me and told me they were renaming the Sugar Maple for her, I was honored and very flattered," Wantz said. "She still holds the stakes record and she was such a remarkable filly. Everything just really fell into place for her that year. Then when Erich called me and asked me to take part in the trophy presentation, I was honored and flattered. I was just hoping to have a filly in the race. Next year!"
"She runs pretty good anywhere," Haynes said. "I got beat a length in a stakes in Maryland off a four-month layoff. She runs pretty good all the time. Everyone gets a good horse once in a while and sometimes you get lucky. I just thought [when he claimed her for $25,000] she was a good horse. She was breaking bad almost every time she ran. She's been doing better every time I run her – I'm happy."
Two races earlier in the seventh running of the $85,000 Robert Hilton Memorial Stakes for three-year-old males, Parx invader Midnight Poker (Irad Ortiz, Jr.) lived up to his role as the tepid 8-5 favorite in his local debut and first attempt at going two turns when he gained command soon after the break and kept his rivals at bay through the lane en route to a two-length score while getting the seven furlongs in 1:25.14.
A gelded sophomore son of Smarty Jones trained by John Servis for owner Main Line Racing Stable (Louis Bucky), Midnight Poker notched his second straight win of the season and remained perfect in four career outings and pushed his lifetime earnings toward $150,000 while recording his first stakes win. At the time, it was the third open stakes win on the card for Ortiz, who had immediate praise for both the horse and his trainer after guiding him to the Hilton score. Another Servis trainee, Diamond King, won the $125,000 Federico Tesio Stakes at Laurel Park later that afternoon to punch his ticket to the Grade I, $1 million Preakness Stakes on May 21.
"It was my first time on him, but I thought he ran really well," Ortiz said. "He broke really well and when he made the front he was really just cruising. I thought he was looking around a little down the backside and on the far turn. But when I asked him, he responded for me. He's four-for-four now and I knew John Servis would have him ready. Anytime you get a chance to ride for him you know they're going to be ready."
Three races earlier in the second running of the $35,000 Caixa Eletronica stakes for open sprinters, Florida invader Delta Bluesman broke alertly and dueled with local speedball Strong Like Bull down the backside and by the opener in a brisk 21.2 and disposed of that foe on the far turn and then drew clear in the lane to a nine-length score while stopping the timer in 50.95, less than a second above the track record of 50.09 for the distance established by Immortal Eyes seven years ago in the Charles Town Dash on the Classic undercard.
He's eight years old and he's been in my barn for five years and every time I think I'm going to retire him, he runs a race like this," Navarro said. "He's got speed, but I honestly didn't think he could run with those other two local horses [Strong Like Bull and Roman Officer] early. But the jock told me not to worry and he went after [Strong Like Bull] and wore him down and then drew clear in the lane. He's a tough old horse with a lot of back class and I can never seem to find the right time to retire him."
One race earlier in the second running of the $50,000 Russell Road Stakes, an open event named for one of only two West Virginia-bred runners to eclipse the $2 million barrier in career earnings, defending champion Shaft of Light successfully defending his title in the two-turn sprint when he gained command soon after the start, forged an easy, uncontested lead and then drew clear in the lane to a seven-length score while getting the seven furlongs in 1:24.15 as the 3-10 favorite.
"This horse has a lot of speed and he loves to be on the lead," Navarro said. "But when he gets headed, he usually gives up. He loved it here last year and so I decided to bring him back here for this race again. He really showed a lot of speed in his last race [winning a seven-furlong event at Gulfstream Park in 1:20.85] and if he makes the front he's really tough to go by. My horses always seem to like it here. With any luck I will bring him back here again next year."