Rocket Heat lives up to name in Laurel allowance win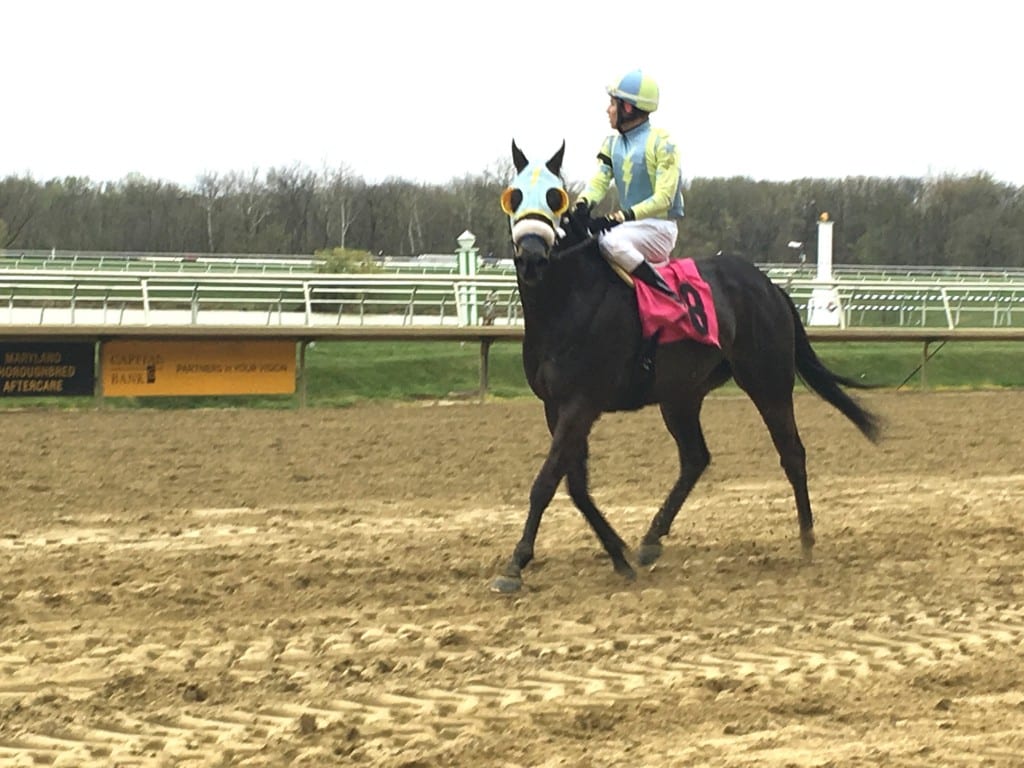 Rocket Heat and Jorge Vargas, Jr. took an allowance at Laurel Park. Photo by The Racing Biz.
by Frank Vespe
Two years ago, Rocket Heat nearly won the Jim McKay Turf Sprint at Pimlico, leading for a long, long way before settling for third, less than a length behind winner Ben's Cat.
If trainer Carlos Martin is so inclined, it looks like the six-year-old Latent Heat gelding is primed for a repeat performance.
Under jockey Jorge Vargas, Jr., Rocket Heat lived up to his name today at Laurel Park. taking an open, $50,000 allowance in front-running fashion. Running time for the 5 1/2 furlongs over firm turf was a sharp 1:00.94 — just 2/5 off Night Officer's 2012 record over the strip.
"Oh my God," exclaimed Vargas after the race. "He's really quick. He gets out of there like a rocket."
Rocket Heat, quickly into stride, had a three-length lead after an opening quarter-mile in 22.09 seconds and had a similar advantage following a half-mile in a blazing 43.96.
Vargas, the colony's leading rider, struggled to find words.
"I tapped him just once because he kinda like… but, man. He just… whoa," the rider said, his voice trailing off.
In the lane, Triple Burner made a spirited run to close within a half-length at the wire but could not get by. They were four lengths ahead of Grandiflora in third.
"I tried to slow him down (during the sharp early fractions), but he didn't want any part of it," Vargas said. "He's a good horse."
Sent off as the favorite, Rocket Heat paid $6.20 to win and topped an exacta worth $22.70 for a buck.
It was the ninth win in 31 career starts for Rocket Heat, and the winner's share pushed his career earnings to $425,560. Rocket Heat's best career win came in 2016, in the race prior to his Pimlico start. At Churchill Downs, he won the Grade 3 Turf Sprint by two lengths in 56 2/5 for five furlongs.
Since then, however, Rocket Heat had won only two races, a $40,000 claimer at Del Mar and a $25,000 claimer last out, February 17, at Santa Anita going 6 1/2 furlongs on the downhill turf.
Following that race, Rocket Heat came east for a new owner, Matthew Schera, and a new trainer in Martin, based at Belmont Park. He'd had two solid breezes since, and the horse and connections arrived at Laurel today with a simply strategy.
"He (Martin) texted my agent and said, 'Tell him just break and go,'" Vargas said.
Which is what Vargas did. As to whether Rocket Heat will return for the McKay, Vargas said he didn't know.
But he knows where he wants to be if Rocket Heat does make the journey to Pimlico.
"Oh, yes, I want to be on him," he said.
NOTES The Rainbow 6 paid out today for the first time in weeks. With 53-1 Private Tutor winning the first leg, that kicked off a sequence in which just two favorites won. The final leg went to 4-1 Soft Landing, and the payout to one winner was $399,545.94.