For trainer Hanagan, getting a Court Date pays off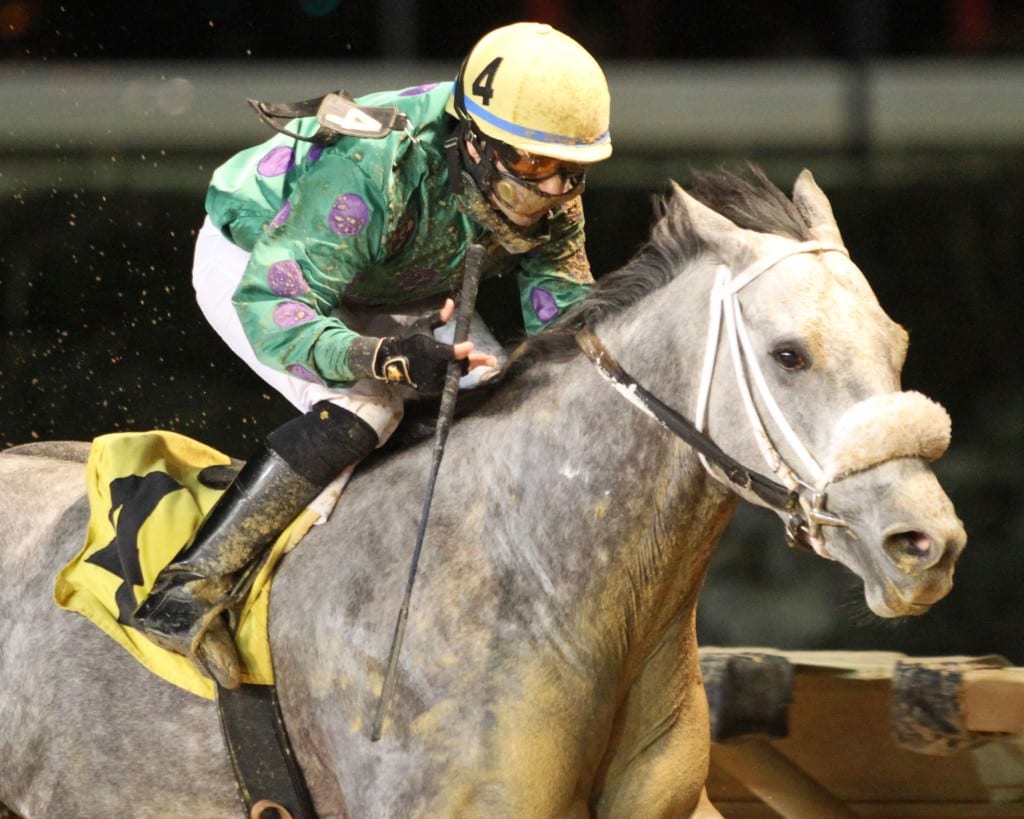 by Ted Black
After spending much of her youth grooming and riding horses that were designed for refined outings among the fox hunting set in Montgomery County, Lela Hanagan has made the transition to training thoroughbred race horses that have enjoyed plenty of success in the early stages of the season at Charles Town.
Hanagan, a 2009 Pooleseville High School graduate whose introduction to horses on her parents farm in Dickerson, Maryland centered around those who participated in fox hunting, has already saddled five winners from just 15 starters this year at Charles Town, with her talented homebred Court Date ascending to the head of the class. A four-year-old Fiber Sonde gelding out of the Tiger Ridge mare Sensationalism, Court Date didn't make his career debut until last July, He has won twice in three starts this year and three times in five career outings and earned nearly $50,000 along the way.
"I don't like to push my horses too soon, so I took my time with him when he started training during his three-year-old season," said Hanagan, who worked for trainers Jeff Runco, Ollie Figgins, III, Vernon Greaves and Crystal Pickett before striking out on her own. "He had really trained well for his first start and he ran really well. He finished second to Too Many Coronas (a son of Windsor Castle owned, bred and trained by Ronney Brown) who has done well since then, so I was confident he was going to be okay."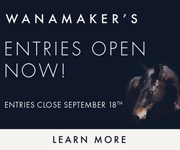 Court Date was foaled on the morning before California Chrome won the Kentucky Derby in 2014. Hanagan, whose son, Chase, is also 4, came up with Court Date's name following a peculiar circumstance in her personal life.
She and her former boyfriend had been partners on two unnamed foals, Hanagan said, and Hanagan opted to yield the first one to him and settle for the second one, which eventually would become Court Date. But instead of an amicable settlement to their parting, she said that her boyfriend initially threatened to take Hanagan to court to settle the dispute. Hanagan named the foal Court Date in honor of a day that never actually materialized.
Hanagan's ex-boyfriend, Greg Viands, disputes Hanagan's account. He claims that, although he was entitled to the horse, he ultimately allowed her to keep Court Date "for our son's sake."
Though she brought Court Date along slowly, after finishing finishing second in his career debut last July, Court Date suffered a minor injury in his stall and Hanagan decided to give him some time off to recover. It proved to be the correct decision for both horse and trainer. Court Date returned fresh and fit for his next outing on December 8 when he lived up to his role as the 4-5 favorite in a one-turn maiden special weight event and scored by five lengths in 52.35 under Arnaldo Bocachica.
"He's always had talent, but he's also been a handful at times," said Hanagan, who has saddled eight winners from 64 starters in her career since 2014. "One morning he got to playing in his stall and he injured himself. It wasn't anything more than a bruise, but I decided to give him time off and let him get well. He seemed to recover quickly and he trained well for his second start, so it was great to see him run as well as he did."
Six weeks later in his four-year-old debut, Court Date took another step forward when he handled winners and two turns for the first time by winning a 6 1/2-furlong allowance at Charles Town in wire-to-wire fashion by a neck as the 9-5 favorite while getting the distance in 1:20.54 under Gerald Almodovar. Hanagan could not find another two-turn allowance for him so she tried him back in a one-turn dash on Valentine's Day, finishing third as the 8-5 second choice behind Braxton, one of three winners on the card for trainer Javier Contreras.
But in his most recent start on March 29, Court Date quickly regained his winning ways when he prevailed as the 3-2 second choice with Almodovar in the irons in a one-turn allowance affair by getting the 4 1/2-furlongs in 53.16 and finishing two lengths ahead of even-money choice Rolling Brook. With three wins in just five starts, Court Date had lived up to his promise for his owner-breeder-trainer.
Now Hanagan has begun weighing her options with the four-year-old Fiber Sonde gelding. Those could involve either his stakes debut locally or a trip to Laurel Park in Maryland.
"There's an overnight stakes on Charles Town Classic day that I might try him in," Hanagan said, referring to the inaugural running of the Lucy's Bob Boy Stakes on April 21. "I'll look at the list of nominations and see if I want to go in there. I might take him to Maryland and try him in an allowance race down there, since he is Maryland-bred and would be eligible for a bonus there. But the races down there are so tough. If he stays here, he can go through his open allowance conditions, and his wins against West Virginia-breds won't count against him."
Hanagan, who has also won with During Gracie, Printscess Hunt, and Chickie's Trick this winter at Charles Town, remains confident that Court Date will make the transition back to the two-turn events this spring and summer and perhaps someday provide her with her first stakes victory as an owner, breeder and trainer.
"He's been really good at 4 1/2-furlongs, and it will be tough to pass on those races and look for two-turn races up here," Hanagan said. "He won his only start going two turns and I think he'll get better as he stretches out. I'm definitely looking to take my time with him. If the overnight stakes comes up too tough, I might wait for another stakes in the summer. I never liked to push horses toward a particular race. When he's ready, he'll let me know."
NOTE: This story was updated on April 9 to reflect Greg Viands' side of Court Date's story, which differs from Lela Hanagan's.