Jock Tais Lyapustina earns first win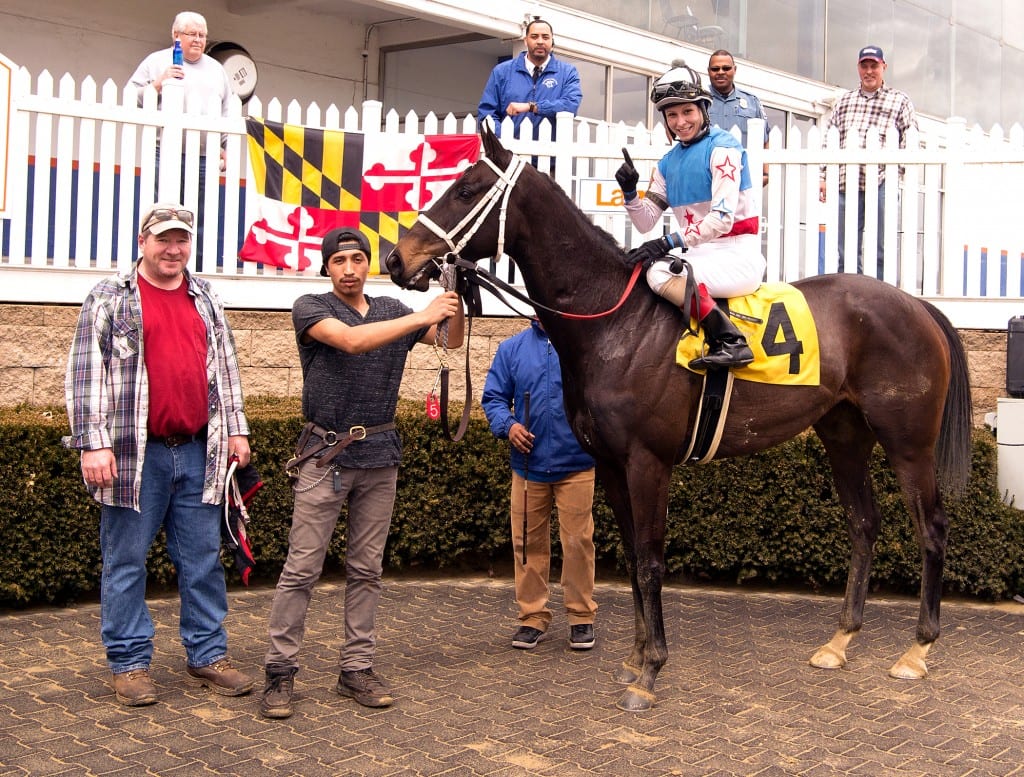 First win for Tais Lyapustina. Photo by Jim McCue, Maryland Jockey Club.
by Frank Vespe
"I've been waiting for this for a long, long time," said Tais Lyapustina. "I'm ready for it."
Moments later, she was greeted by bucket of water over the head followed by a couple more, while a hose pumped a lazy stream of water towards her face and body.
It took until her 50th mount as a professional, but Lyapustina had finally recorded her first victory, and her broad smile told the tale.
Esken Lady, the Jose Corrales trainee who was Lyapustina's mount in the $5,000 claiming contest, was a 15-1 outsider when the gates opened. But by the time they hit the wire, 1:43.01 later, Esken Lady was three lengths ahead of her nearest pursuer, the favored Boosting. It was Esken Lady's sixth win from 44 career starts, and it surprised pretty much everyone — including Lyapustina.
"Honestly, I thought last time we might get it (the rider's first win)," the rider said.
Among her prior near-misses, she'd finished second a week ago aboard Letmeslidebyyou, for trainer Bobby Lee Plummer. That day, her mount held a six-length lead after three-quarters, still led leaving the furlong grounds, but had to settle for second, just a half-length behind the winner.
After today: no more worrying about being the bridesmaid.
Lyapustina, 26, is a native of nearby Bowie, MD, but didn't come to the races until later in life "through connections through the show horse world, I guess," she said. "I'm kind of the black sheep of the family to have anything to do with horses."
A little bit late to the racing game — most riders winning their first race are in their late teens or early 20s — she cobbles together a living galloping horses in the mornings, as well as riding in the afternoon.
She said it was something of a struggle to get mounts at first. She rode her first professional race — she also has a win as an amateur back in 2014 — last July and began to ramp up her presence in October. Still, she had just 16 starts in 2017.
"I got an agent halfway through the winter, Tim Walsh, who's been helping me get mounts," she said. She'd had 33 thus far in 2018 prior to today. She has three more mounts this weekend and credits the community around her for her development.
"Jose's been a great, huge help with everything," she said of Jose Corrales. "He's also helped me a lot with the riding in general. Just everybody's kind of been helping me along here this year. It's all coming along now."
Now that she's tasted victory, Lyapustina is ready for another bite at the apple.
"It's better than anything ever," she said.