Carlos Castro: Miracle to be alive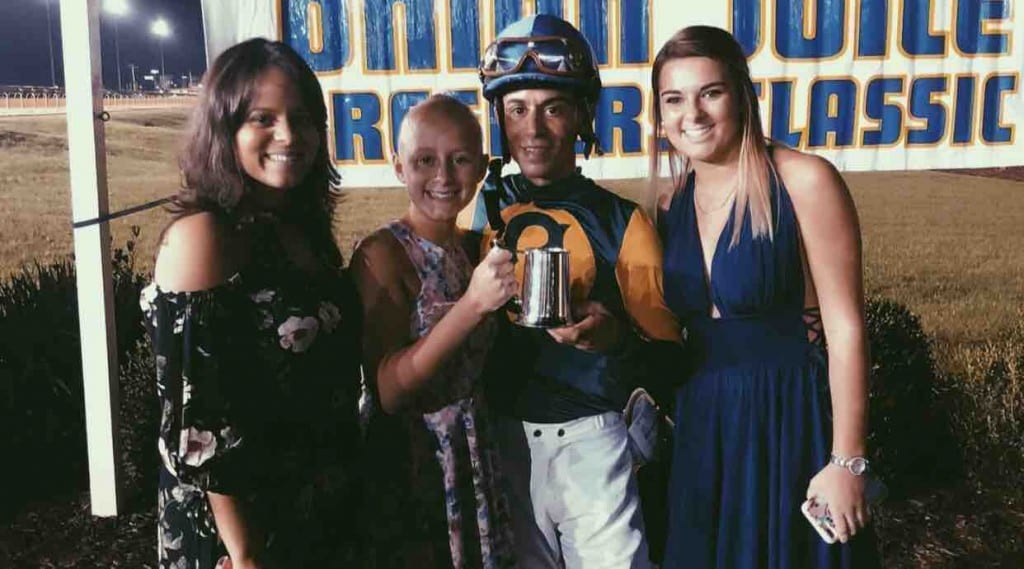 Carlos Castro with, from left, daughters Lionalyz and Carlena and stepdaughter Nikaletta Martin. Photo courtesy of Stephanie Castro.
by Ted Black
Jockey Carlos Castro's wife, Stephanie, and their two daughters, Lionalyz and Carlena, have always understood the risks the rider took every time he climbed into the saddle for a race or even a workout at Charles Town. But they hardly ever anticipated that his riding career and nearly his life could be virtually ended by a bizarre, horrific accident away from the race track.
Stephanie Castro has started a Gofundme page and is hoping to raise $10,000 to support the family "in our time of need."
"As a jockey he is self employed and has no accidental insurance which means no paycheck, no source of income," she explains on the page.
Just over one month ago, on February 18, Carlos Castro was out for his typical run along the train tracks when he heard a freight train approaching from behind. Castro, a professional jock since 2001, had navigated the tracks hundreds of times over the years and he knew where he could find safe ground away for the rails while still maintaining a decent jog. But on Feb. 18 he did not veer far enough from the tracks and was struck from behind by the moving freight train. He suffered countless injuries and a severe loss of blood and was literally moments away from death when paramedics arrived.
"When we got to the hospital the doctors told me that he had lost a tremendous amount of blood and that he barely had a pulse," said Stephanie Castro, a 1997 Jefferson High School graduate. "They told me that four or five other people had been hit by a train over the years and none of them survived. They died almost instantly. But by some miracle Carlos was still alive, although he doesn't remember anything that happened after the train hit him. I knew that he went for a walk and a jog every day, but I had no idea he was always that close to the train tracks."
Castro no longer has any feeling below his waist and doctors believe he will never walk again. He has already undergone surgeries on his heart, lower back, right shoulder and right eye socket, and he suffered broken ribs, resulting in a collapsed lung that has placed him on a ventilator for the last six weeks. But his wife and daughters are thankful that he is alive and hold out hope that at some point he could walk again.
"We know that their dad will walk them down the aisle on their wedding days!" Stephanie wrote on the Gofundme page.
"Just the fact that he is still alive is a miracle," Stephanie said in an interview. "He has had so many surgeries already and he is still in the intensive care unit at the Inova Hospital Center in Fairfax. The doctors have told us that he will never walk again, but Carlos is so strong that we believe he can recover. He will probably never be able to ride again, but he is so strong. He has movement in his arms and he has some in his fingers, and that's important because he will need the strength in his hands and arms to push himself in a wheelchair some day. But his rehab is still a long ways off. He could be in the ICU for at least another five or six weeks."
Castro rode 1,149 winners from 11,155 mounts in his career, with those runners earning nearly $20 million along the way, He twice rode more than 100 winners in a single year (2002 and 2005) his mounts earned at least $1 million ten times.
Last summer and fall, Castro became the regular rider of Unrideabull, a talented but often uncooperative four-year-old Bullsbay gelding owned, bred and trained by Michael Sterling. Castro guided Unrideabull to an allowance victory on June 15, then consecutive triumphs in the Robert Leavitt Memorial for state-bred three-year-olds on August 19 then the Frank Gall Memorial for three-year-olds and up on Sep. 23 before the gelding ended his sophomore season by running fourth in the West Virginia Lottery Breeders Classics on Oct. 14.
"Not only was Carlos a really good rider for me, he was also a really good friend," said Sterling, for whom Unrideabull is one of the top horses he's trained. "He was always there in the mornings to work horses. He was not only the rider of Unrideabull, he rode all of my horses. It was devastating to hear what happened to him. He always came to the barn with a smile on his face and a willingness to get on any horse in the morning. Unrideabull is not an easy horse to ride. Carlos was the only jockey that I would trust riding him in workouts or in races because that horse is so temperamental."
Like Stephanie Castro, Sterling is holding out hope that the jockey will continue to improve and someday would be able to regain some semblance of a normal life even if riding was not part of the equation.
"I'm hoping that someday Carlos will be able to regain most of his strength and be able to walk and talk again," Sterling said. "You just can never imagine anything like that happening to anyone, let alone someone you know so well and like so much. I know the prognosis for him moving forward is not good. But he's strong and he has a great support group there with his wife and daughters. Their love and support can only help. Stephanie tells me that he's been improving a little bit each day. That's all anyone can really hope for at this point."
Castro, who also has a step-daughter, Nikaletta, 20, along with Lionalyz, 19, and Carlena, 13, has received donations of nearly $2,500 through the fundraising efforts thus far, including those from fellow jockeys and trainers. Thus far the sum is well shy of the $10,000 Stephanie is seeking to help cover medical costs, but she is grateful for the contributions.
"Right now, anything anyone can send to help Carlos at this time is greatly appreciated," Stephanie said. "My main concern now is that Carlos continues to get better. Someday, the doctors expect that he will be able to breathe on his own and maybe get full use of his arms and hands again. They have already told me he is almost assuredly going to be a paraplegic the rest of his life. But we keep praying that some day he can walk again. It's truly a miracle that he's even alive and we're all very grateful that we can still see him every day and give him the love and support he needs."
[su_button url="https://www.gofundme.com/carlos-castro-expense-fund" target="blank" size="8″]Support the Castro family![/su_button]