It Was Considered "couldn't have done better" in maiden score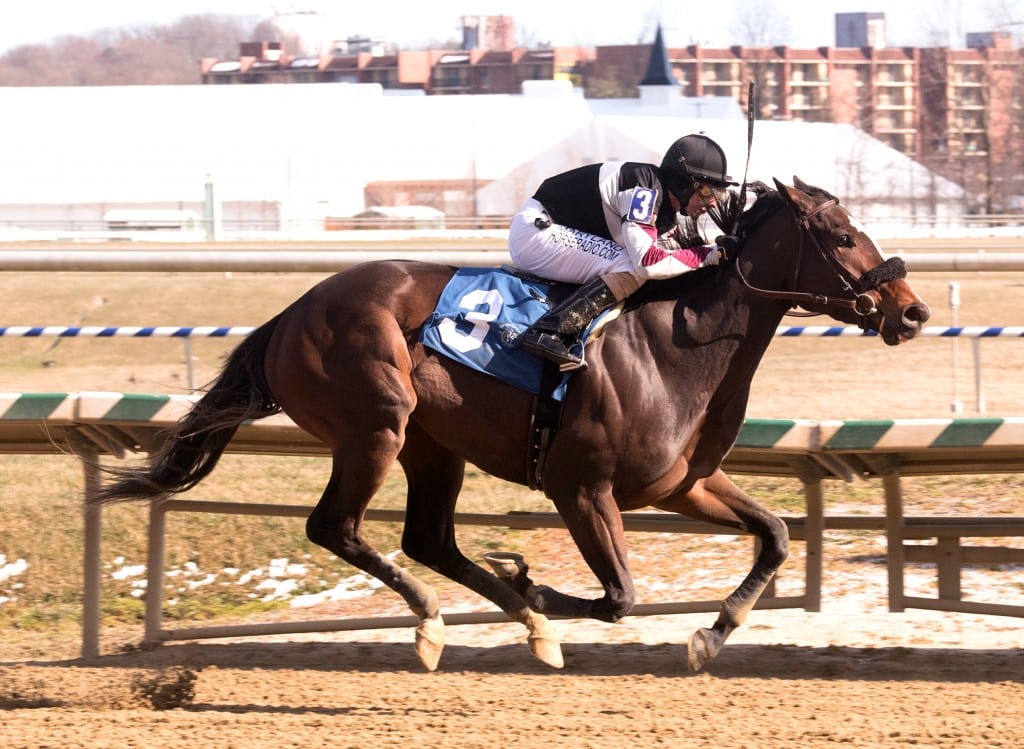 It Was Considered swept to victory in a maiden race at Laurel Park. Photo by Jim McCue, Maryland Jockey Club.
by Frank Vespe
The Laurel Park jockeys gathered in the winner's circle prior to the first post today for a moment of silence, paying respects to their fallen comrade, Jose Luis Flores, who passed away Thursday from injuries sustained in a Monday spill at Parx Racing.
Not long afterwards, though, they were back at it, riding hard and looking for whatever advantages they could find.
"As riders, we don't go through a day-to-day basis thinking about anything like that," said journeyman rider Steve "Cowboy" Hamilton. "It's always in your mind, but in the heat of the moment, you still have to do your job and do the best you can."
Hamilton rode the day's most promising victor, the Sagamore Farm-owned It Was Considered, who won a $40,000 maiden special weight test by four lengths in sharp time. Afterward, he turned reflective.
"There's not a whole lot of words you can say about something like that," Hamilton, 44, said. "He was a great man. He did a lot for racing. He won a ton of races. He was always a class act."
Hamilton is one of the older riders in the Laurel jocks' room. The mid-50s Flores was one of the older riders pretty much anywhere, though that doesn't lessen the shock or ease the pain.
"My heart and everything goes out to his family and friends," Hamilton said. "It's a rough go for anybody when anything happens like that. They're going to have a rough way to go but, you know, time heals a lot of things."
Hamilton, meanwhile, has been benefiting from his association with trainer Horacio DePaz and the Sagamore operation. The win was the team's third first-out maiden special weight win of 2018.
"They put a lot into what they do," Hamilton said of DePaz and assistant trainer Lazaro Cruz. "It shows in the afternoon."
The word was clearly out on It Was Considered, a $95,000 auction purchase as a two-year-old; she went off as the 2-5 favorite in the field of five.
"We were happy with the way the filly was coming into the race," the rider, who said he occasionally has ridden her in the mornings, commented. "She was doing everything right. She's a professional about everything."
It Was Considered, a four-year-old Tizway filly making her career bow, broke alertly and settled to sit third behind early leader Gingeresk and Magical, the debuting Brittany Trimble-trained Tapit filly who took the lead after a half-mile in 46.97 seconds.
Hamilton and It Was Considered came three wide on the turn, secured the lead in upper stretch and drew away to a 4 1/4-length score in a sharp 1:10.77. Magical held second, and it was nine more lengths back to Gingeresk in third.
"We had a good trip," Hamilton added. "She broke well, settled in nicely, and just waited for me to ask her. She couldn't have done anything any better."