Elizabeth Meehan, Fairweather Friend hope to be on track in '18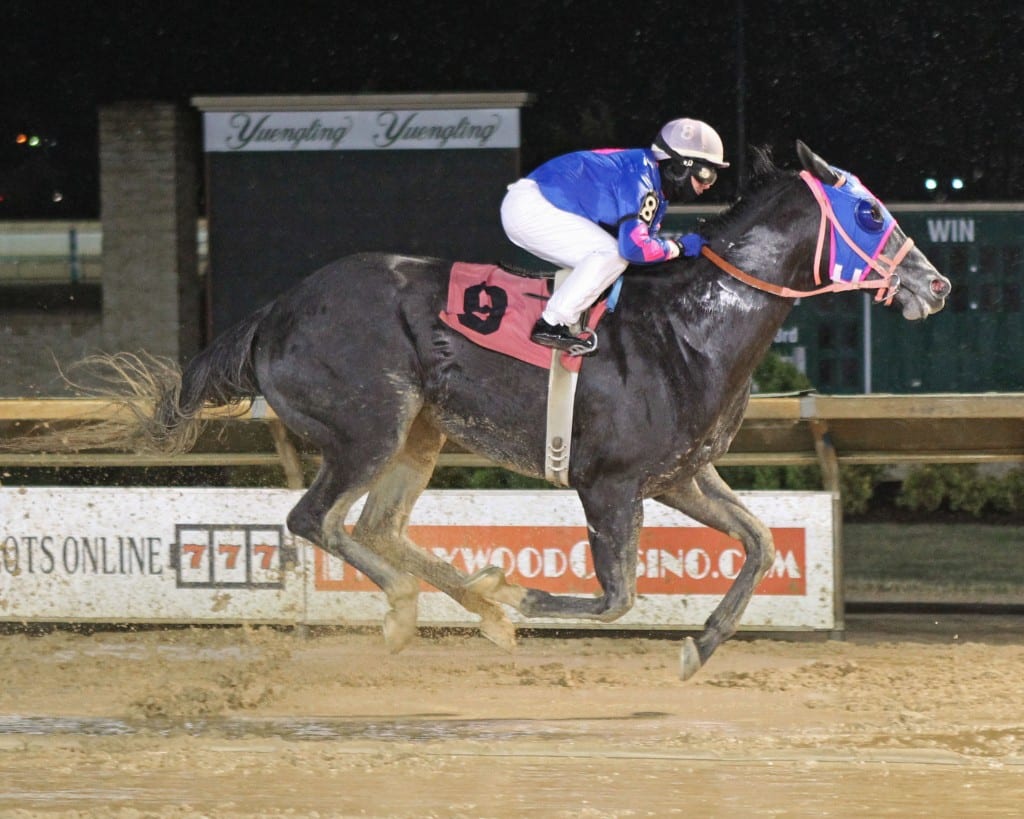 Fairweather Friend won at Charles Town Races on March 1. Photo by Coady Photography.
by Ted Black
Since first attaining her trainer's license in 2000, Elizabeth Meehan has enjoyed modest success, often conditioning horses she herself owns and bred.
One of those runners, a four-year-old Fiber Sonde gelding named Fairweather Friend, looks poised to rise up the ranks of Meehan's top runners after capturing an allowance at Charles Town March 1.
In a sport where good fortune shines on so few, Fairweather Friend actually has had very little throughout his career, and some bad luck resulted in a belated start to his racing days. It also threw a curveball to Joe Canhi, Meehan's longtime friend and exercise rider.
"One morning when Joe went out to break him, a tractor drove by and spooked my horse," Meehan recalled. "He got scared and fell over the rail. Fairweather Friend got right up, but he was sore and we needed to give him some time off. Joe suffered a broken femur and then his father died, so he moved to North Carolina. He doesn't break horses anymore, but he's fine and working the family business now."
During the summer of 2016 when Meehan was aiming Fairweather Friend for his two-year-old debut, the gelding suffered another mishap during a training accident that postponed the outset of his career for more than a year.
"I was planning on running him a couple of times at age two," said Meehan, now seven wins shy of reaching 100 victories in her career. "But then one morning when he was out on the track galloping one of Jeff Runco's horses ran right into the back of him. Both of the horses and jockeys were okay, but my horse came out of that incident a little sore. I had to give him some more time off and then bring him back slowly last year."
Fairweather Friend recovered from that collision gradually after another modest vacation and Meehan began aiming him for his career debut last summer at age three. She had initially planned to run him in a one-turn maiden special weight event for state-breds, but none of the 4 1/2-furlong races were filling in the late summer and early fall, so Meehan opted to try him in a 6 1/2-furlong event around two turns instead. In his career debut on October 12, Fairweather Friend posted a 21-1 upset as the only first-time starter in the field of 10 runners when he scored by two lengths in 1:21.22.
"I really had intended to run him going 4 1/2-furlongs first time, but they could not get one of those races to go," Meehan said. "So, I dropped him in for that 6 1/2-furlong race last October just looking to get a race in him. He ran great. I thought he would be okay in there, but he even surprised me a little."
Fairweather Friend tried allowance company three times last year after garnering his diploma, finishing second once, third once and fourth once. He then finished third in his four-year-old debut on January 18, but came right back to score as the 5-2 second choice in another two-turn allowance event on March 1, getting the 6 1/2-furlongs in 1:20.57 two lengths the best under Grant Whitacre.
"That was definitely his best race so far," Meehan said. "Everything went his way and he had a good trip and finished up really well. There's another allowance race for him at the end of the month and I will let him run through his conditions before we try any stakes with him. He's eligible to the West Virginia Breeders Classics, but it's too early to look that far ahead. I just want to bring him along slowly. He will tell me when he's ready for stakes."
Meehan, a 1995 Jefferson High School graduate whose husband, Jason Meehan, is a blacksmith, learned about the highs and lows of the business soon after graduating while working for trainer Mark McCracken before striking out on her own.
As it happens, the very first horse Meehan bred was a Two Smart mare named Salony, who went on to earn over $100,000 and black type, finishing second in the 2006 Eleanor Casey Memorial Stakes at Charles Town. Salony is the dam of Fairweather Friend.
Meehan's runners won just three times in 2017, while finishing second or third 21 additional times in 42 starts. They earned $82,237.
But she's off to a fast start this year, with two wins and two thirds from just seven starts and purse earnings of over $29,000. It's a continuation of an odd little trend in Meehan's career; she has enjoyed her best seasons in even-numbered years.
Six times during her career, Meehan has eclipsed the $100,000 plateau in earnings as a trainer, including a personal best just shy of $200,000 in 2012. Five of those years have come in years ending with an even number, and thus far in 2018 the pattern appears to be continuing in a favorable manner.
Meehan saddled her first winner in 2000 with For Lily when she recorded five wins from 21 starts. The following year she posted eight victories and her runners earned over $100,000 for the first time and one year later she sent out a career-best 16 winners from 107 starters with earnings above $155,000.