Three wins – but no Valentine – for trainer Javier Contreras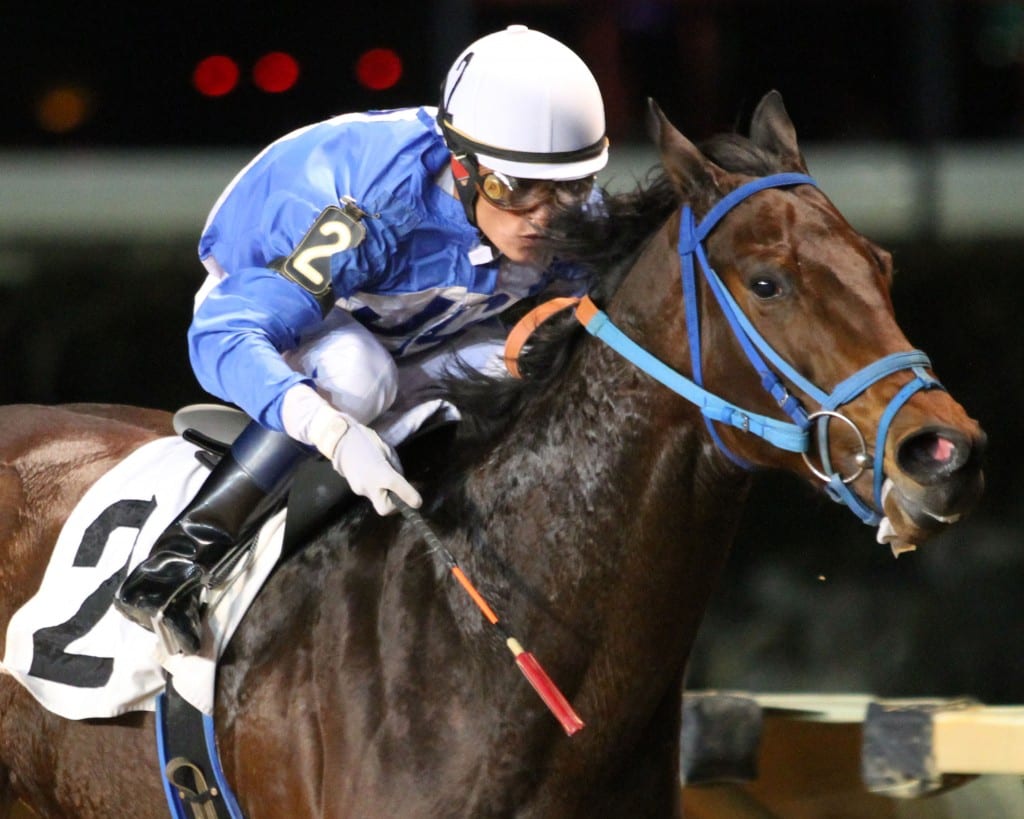 Last Print was one of three winners for trainer Javier Contreras on Valentine's Day evening. Photo by Coady Photography.
by Ted Black
Whatever you do, don't call him Mr. Valentine.
Trainer Javier Contreras saddled three winners on the Wednesday, February 14 card at Charles Town and just missed scoring with a fourth. But when a friend dubbed him Mr. Valentine, the local conditioner initially was baffled.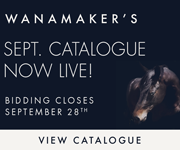 "When a friend of mine called me and called me Mr. Valentine when I answered, I was a little confused at first," Contreras sad. "I didn't do anything for Valentine's Day. Then he reminded me that I won three races the night before on Valentine's Day. It just hadn't hit me right away. It was definitely a good night. I won three races and just missed winning another [when King Of Blues was second in the finale]. It was a good Valentine's Day."
Contreras, who has sent out six winners from his first 20 starters at Charles Town through February 22, won the opener with City Of Justice, a daughter of First Samurai whose maiden-breaking score was exactly four years after the date of her birth, Valentine's Day 2014.  Then just past the midway point of the card Contreras saddled Last Print to capture a maiden special weight for state-bred three-year-olds, and two races later he sent out Braxton to prevail by three lengths in an allowance event for older state-breds that had never won three races.
Last Print led throughout to defeat state-bred maiden special weight company in his career debut for Contreras, who also owns and bred the Fiber Sonde colt, by holding safe fellow first-timer Opera Nite for a length-and-a-half score in 52.91. The winning time was only slightly higher than the clocking Roman Officer posted 30 minutes earlier winning an open allowance in 52.63.
"I've always liked Last Print," Contreras said. "He was close to making his first start last year as a two-year-old, but he had some growing pains and I stopped with him and decided to wait until this year. He was always training with my other colt, Molokai, who won his first start last month. They were both doing really good and I was glad to see them both win first time out. There's a race for both of them on March 9. I might run them both or I might run one and hope he wins and then run the other one in the next spot."
Then in the penultimate race on the Valentine's Day card at Charles Town, Contreras saddled Braxton to a sharp, three-length score in a one-turn allowance dash for older state-bred runners. A four-year-old Peak Dancer gelding owned and bred by Eagle Point Farm of Virginia, Braxton rebounded from a second-place finish as the 3-10 choice in his seasonal debut by scoring in 52.66. Braxton has won three of six career outings to this point of his career and is eligible to the state-bred stakes this spring and summer, but not the West Virginia Breeders Classics events.
"He's always had a lot of speed and I always thought he would be better in the two-turn races," Contreras said. "He's been good in the 4 1/2-furlong races. I was glad to see him bounce right back. He's got plenty of state-bred stakes down the road, but he's a Virginia-bred so he can't run in any of the Breeders Classics. I think he's going to do well this year. He's always had plenty of talent and he's got plenty of speed. I think he can do well in the two-turn races up here."
In the finale, Contreras nearly scored a training grand slam. His King of Blues carved out all the fractions and opened a three-length lead at the top of the lane only to get nailed by 2-1 second choice Dancing Denis in a 6 1/2-furlong affair for maiden claimers. Another Contreras trainee, El Cachorro, finished third in another maiden claiming race earlier that evening.
"It was a great night winning three races and I almost got a fourth," Contreras said. "At the top of the lane I thought King of Blues was going to win it. He ran a big race and lasted on the lead as long as he could and just got caught. Looking back on it, I was happy to win three races that night. I really wasn't thinking about it being Valentine's Day, but now I'll remember."
Local racing fans might associate Contreras with Hidden Canyon and Amherst Street, two talented West Virginia-breds who have both prospered in two-turn state-bred stakes this decade. While Amherst Street has been retired from racing and transitioned to a riding horse in Maryland, Contreras said that the eight-year-old Hidden Canyon is back in training and could make his seasonal debut later this spring.