Trainer Kristy Gazzier: "Wouldn't want to be anywhere else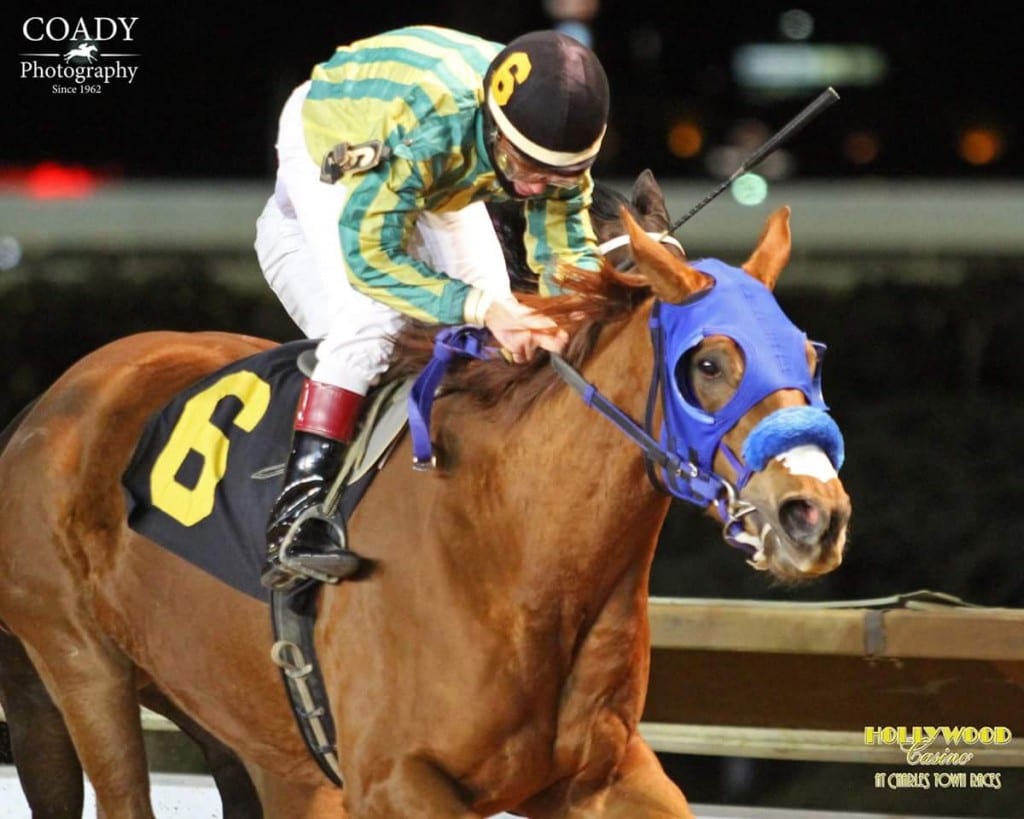 Feel the Funk won last out to break his maiden in his 11th try for trainer Kristy Gazzier. Photo by Coady Photography.
by Ted Black
Even before she graduated from Washington High School in Jefferson County six years ago, Kristy Gazzier always knew she was destined for a career involving horses competing at Charles Town — although not the one many would have suspected based on her bloodlines.
Gazzier's mother, Rebecca Gazzier, rode briefly at Charles Town nearly 20 years ago and booted home 90 winners from 909 mounts with earnings of nearly $750,000 from 1998-2001. Kristy Gazzier, though, never had much interest in following in her mother's footsteps, instead opting for career similar to that of her step-father, trainer John Dillow, who has saddled 452 winners with earnings of $4.15 million from 3,772 starters in his career.
Long before she attained her trainer's license or even started high school not far from the track, Gazzier always knew that she wanted to spend ample time around the horses. She began working for her father as a groom earning a meager $1 per day, but those mornings in the stalls enabled her to learn invaluable lessons about caring for thoroughbreds. After graduating from high school, she briefly considered furthering her education, but her passion for the animals took her a different route.
"I always liked horses growing up and I competed in horse shows, but there was no way that I could ever ride horses like my mom did," Gazzier said. "That was just too tough. I never even galloped any horses. But I always enjoyed being around them and working for my dad even though he didn't pay me much. I always knew that someday I would train horses. I thought about going to Virginia Tech and becoming a vet, but the thought of having to put a horse down for any reason was too much for me."
Gazzier officially got her trainer's license last year and saddled her first winner on her first night of racing — January 21, 2017 — with her first starter. Over the course of her first year of training on her own, Gazzier saddled 13 winners from 84 runners with purse earnings of nearly $190,000. She has already posted a pair of winners from 12 starts in 2018, including a victory February 3 with her state-bred filly, Feel the Funk, who had acquired a reputation as a bridesmaid prior to that score with four second- and two third-place finishes from her first 10 starts.
"The first time she ran when my dad had her, she was in for $12,500 and even though she didn't run well, I didn't want to lose her in a claiming race," Gazzier said. "So, I put her in against maiden special weight company and by the summer she really started getting close to winning. She ran some really good races against maiden special weight, so I decided to keep putting her in there and then last Saturday night she finally won. It was so exciting!"
In her third try against maiden special weight rivals, last July, Feel the Funk showed some legitimate signs of life when she finished second in a two-turn event for state-bred fillies and mares and then finished second again in her next start on August 10. Though it took the daughter of Yarrow Brae another half-dozen tries to break her maiden, those intervening tries included two runner-up efforts and two third-place finishes.
Feel the Funk did not make a start in January and posted only one workout for Gazzier, but she kicked off her campaign on February 3 by living up to her role as the even-money choice in a seven-furlong maiden special weight by outlasting Luna Cresente late for a length score in 1:30.79. After a quartet of runner-up efforts from her previous 10 tries, Feel the Funk had finally shed her bridesmaid status and garnered her diploma in one fell swoop in her four-year old debut. It was clearly among the most rewarding moments for Gazzier as an owner and trainer in her young career.
"She had been trying for so long to get a win and she really was doing well leading up to that race," Gazzier said. "She's such an amazing horse to be around. I am so glad that I convinced my dad not to put her back in against claimers. I knew eventually she would get through against maiden special weight horses. I don't know if she will make it into a stakes this summer or fall, but she has plenty of allowance conditions ahead of her. She's got time to show me that she can handle stakes company. But right now I'm so, so happy that she finally won!"
Last year Gazzier won three races with Letcher, a horse she claimed off trainer Jeff Runco for $12,500. She steered Tizracer, her first starter and first winner, to three wins in 10 starts last year and watched Rambam Rocker record a solid 2-2-3 slate from 13 starts. Regardless of the level or the purse, Gazzier is always eager to see her trainees race well and then greet them in the winner's circle.
"It doesn't matter to me how much they race for," Gazzier said. "I'm always glad to see my horses run well and very happy when they win. I learned a lot from my dad when I worked for him, and I've learned a lot in my first year of training horses on my own. I love being around the horses in the barn every day and I would not want to be anywhere else."