Ronney Brown: 2,500th win begins road to 3,000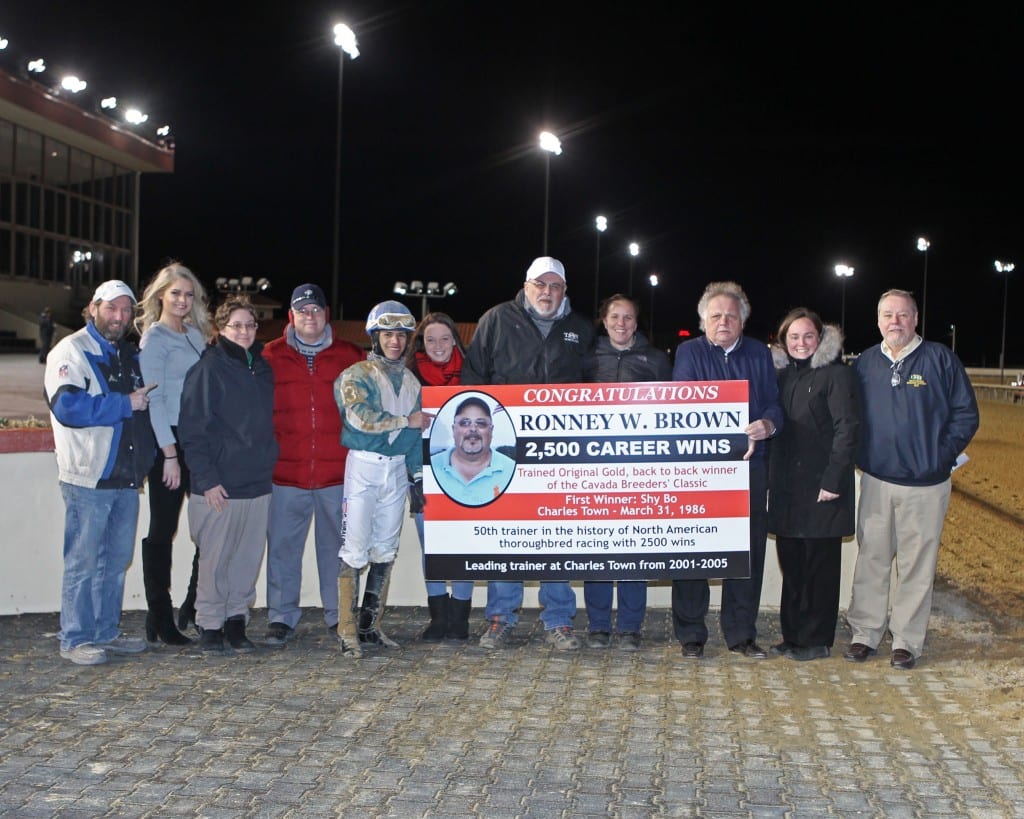 Trainer Ronney Brown celebrated the 2,500th victory of his career with a win at Charles Town. Photo by Coady Photography.
by Ted Black
Heading into the start of the 2018 racing season at Charles Town with 2,490 wins to his credit, local trainer Ronney Brown said his barn's immediate goal was to saddle his 2,500th lifetime winner.
Over the first three weeks of the current meet, Brown had saddled five winners from his first 21 starters although the track had lost three entire cards and three-fourths of another to poor conditions. Then last Friday evening Brown recorded four winners – taking down exactly one-half of the eight-race card – to get within one of the milestone after winning with two fillies he owns, Deciding Factor and Dynafleet, along with a pair of $5000 claimers he trains for others in Charitable Ellie and Katman Quick.
But after another victory eluded him on Saturday evening, Brown arrived on Wednesday, January 31, with live runners in each of the first three races and another one later in the featured allowance. He nearly reached the milestone in the opener when Take Your Chances broke best of all to gain command down the backside and led the field through the far turn before eventually being overhauled in the lane by 4-5 favorite Duzibatz and settling for runner-up honors.
Two races later, however, the wait would be over. Basket Baby, sent out as the 2-1 favorite in a two-turn event for $5000 claiming fillies and mares, settled into midpack early, launched a serious bid under Christian Hiraldo down the backside, swept to command on the far turn and drew clear to a three-length score while covering the seven furlongs in 1:29.07. The six-year-old During mare is owned by Richard Harris, a longtime Brown client who was unable to make the journey to the track on Wednesday.
"I was glad to get it with that mare," Brown said. "Mr. Harris has been a client of mine for about 25 years now. He couldn't be there last night, but he called me right after the race. I thought Christian rode her smart. She was in on heels going into the first turn and he had to take her back a little bit, but that was probably the best thing for her. When she got rolling, he found a way to get her clear. It was a nice celebration after the race."
Perhaps it was fitting that Brown would collect his 2,500th winner with a mare, because two of his top trainees over the years, Original Gold and My Sister Pearl, were talented mares that now have Charles Town stakes races named in their honor. Original Gold who won the 2004 and 2005 editions of the West Virginia Breeders Classics Cavada during a career in which she posted a 7-4-2 slate and earned over $370,000, most among all Brown trainees. My Sister Pearl concluded her career with a 9-5-1 slate and $157,000 banked from 30 starts, and she holds the Charles Town track record for one-mile and one-sixteenth, which she set back in 2001.
Brown, who also eclipsed the $28 million mark in lifetime earnings on Wednesday courtesy of Basket Baby's victory, saddled at least 100 winners from 1999-2007 and his stable surpassed 100 winners again in 2016. Horses he trained eclipsed the $1 million plateau in earnings from 2001-2010, dipped slightly to $910,000 in 2011, but have since earned at least $1.2 million in each of the last six years.
Thus far in 2018, Brown has 10 wins from 37 starts with purse earnings of nearly $100,000.
"Wow, I never imagined I had earned $28 million training horses," Brown said. "It seems like I've probably spent $29 million. It's an expensive game, but it's a fun one. We've been able to crack $1 million almost every year over the last 20 years. Now I guess the next goal is to reach 3,000 wins. That might take five or six years. But the road to 3,000 wins starts the next time we run."